Posted July 24, 2018 at 10:32 a.m.
BOONE, N.C. — Timothy Tang, of Hong Kong, chose to attend Appalachian State University for its music therapy program. Once he arrived, he quickly got involved with the university's International Friendship Program, which he said has helped him adjust to the different culture.
"It can be quite difficult for one to get use to a new culture alone," said Tang, who will be a senior at Appalachian this fall. When he learned of the program through the Office of International Education and Development's Facebook page, "I realized that this would be a great opportunity of making new friends and learning more about the culture of this completely new place," he said.
The International Friendship Program pairs families and individuals in Watauga County with international students and scholars at Appalachian with the goal of promoting friendship and cross-cultural exchange.
Those involved on both sides said the program has opened their minds and warmed their hearts.
Tang, who is one of more than 160 international students at Appalachian, said his U.S. family invites him to dinner often and has taken him hiking and apple picking. They've also celebrated holidays together, including Halloween, Thanksgiving, St. Patrick's Day and Easter.
"My host family is really, really friendly," he said. "They also try to offer me different opportunity to experience special activities or cultures in Boone and the state. At the same time, they always try to make the dishes from my culture as well. This did help me in managing the cultural shock of staying in a new environment, and regulating the stress from study."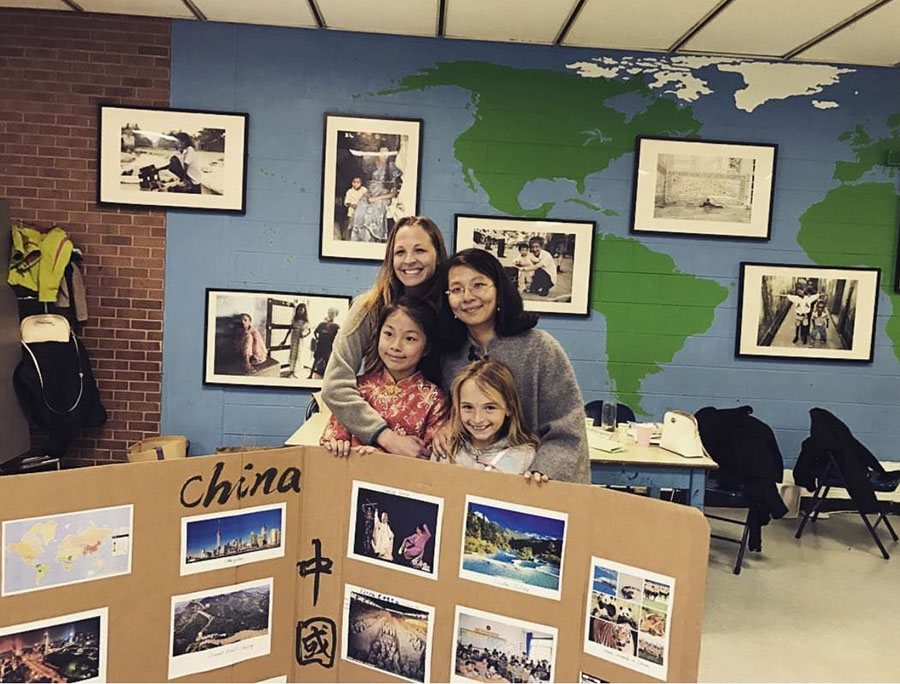 Local resident Cassie Pennington '07 and her husband, Landon, have travelled to 20 different countries. When she applied to become part of Appalachian's International Friendship Program three years ago, Pennington said she was hoping to give their children, Maya, 10, and Everett, 6, a chance to explore the world without leaving their hometown.
"We have learned so much from every friendship and found it to be one of the best experiences we have had yet," Pennington said.
"The program has helped our children accept others and build empathy," she said. "This is also a wonderful way for the international friends to feel welcome and part of the community."
Pennington graduated from Appalachian with a bachelor's degree in elementary education and is currently working on a master's degree in higher education from Appalachian in the Department of Leadership and Educational Studies.
More local participant testimonials
The International Friendship Program has had such an influence on her family that Pennington said she served as a graduate assistant in OIED in spring 2018. That position allowed her to see the program from a different angle, and she said she appreciated it even more.
She and her family have made six international friends through the program, she said — including Cristina Rodriguez, of Spain, who Pennington and her husband met up with again when they hiked the Camino de Santiago, and Tianxian Luo, a Chinese scholar whose daughter, Yimo Fan, ended up becoming best friends with the Penningtons' daughter, who was in the same class at school.
Since Luo and her daughter returned to China, the families keep in touch through the WeChat app, Pennington said.
"Every semester, it is very sad to say goodbye to our international friend," Pennington said. "I always think to myself that there is no way the next friendship will compare. This has been the biggest surprise to me. Every friendship is beautifully unique and transformational."
Tang said he definitely recommends other international students to participate in the International Friendship Program. It is "a great opportunity to experience and learn more about the local culture … and receive support," he said.
More local participant testimonials
About the Office of International Education and Development
The OIED is responsible for spearheading the internationalization efforts at Appalachian. The internationalization mission of Appalachian is to develop awareness, knowledge, appreciation and respect of cultural differences in both domestic and international contexts in its students, faculty, staff and the surrounding communities. The university is also dedicated to creating a campus environment that builds the theoretical and practical skills needed to interact effectively in a global society. Learn more at https://international.appstate.edu.
About Appalachian State University
As the premier public undergraduate institution in the state of North Carolina, Appalachian State University prepares students to lead purposeful lives as global citizens who understand and engage their responsibilities in creating a sustainable future for all. The Appalachian Experience promotes a spirit of inclusion that brings people together in inspiring ways to acquire and create knowledge, to grow holistically, to act with passion and determination, and to embrace diversity and difference. Located in the Blue Ridge Mountains, Appalachian is one of 17 campuses in the University of North Carolina System. Appalachian enrolls more than 19,000 students, has a low student-to-faculty ratio and offers more than 150 undergraduate and graduate majors.
What do you think?
Share your feedback on this story.