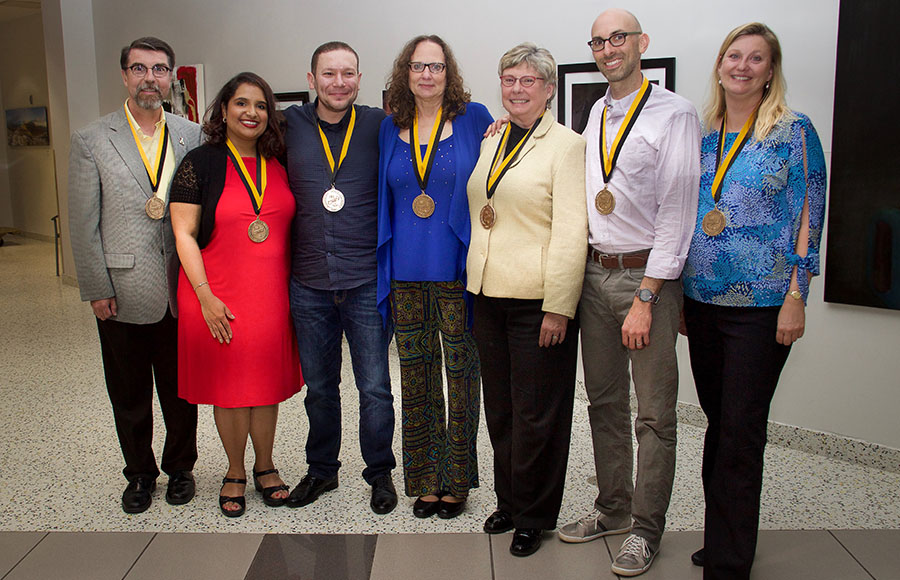 Posted July 26, 2018 at 12:28 p.m.
BOONE, N.C. — Four Appalachian State University faculty members and one staff member in the Walker College of Business (WCOB) at Appalachian State University have received the college's 2018 Sywassink Award for Excellence.
Additionally, the WCOB introduced two new Sywassink Awards in 2018 — the Spirit of Walker Awards for faculty and staff — which honor those who exhibit the values of the college through their work to fulfill the mission and vision of the college. The Walker College's values include integrity, quality, meaning, global, diversity, innovation, collegiality, responsiveness and sustainability.
"These outstanding faculty and staff members play a vital role in supporting the college's mission to deliver transformational educational experiences," said WCOB Dean Heather Hulburt Norris. "Through Mr. Sywassink's generosity, I am especially pleased to add the Spirit of Walker Awards that recognize two individuals annually who exemplify the Walker College's core values."
Dr. Onur Ince received the award for excellence in teaching; Dr. Pia Albinsson was honored for her research contributions; and the award for excellence in service was presented to Dr. Jamie Parson.
Jesse Pipes was honored as the outstanding nontenure track faculty member, and Jane Fitchlee received the 2018 staff excellence award. The Spirit of Walker Award for faculty went to Dr. Dawn Medlin, and Greg Langdon earned the Spirit of Walker Award for staff.
The Sywassink Awards are presented annually. Winners receive a monetary prize and a bronze medallion of the university seal. The awards are made possible by a contribution from G.A. Sywassink, chairperson of Standard Holding Co. of Charlotte and a former member of the college's Business Advisory Council, Appalachian's Board of Trustees and the University of North Carolina Board of Governors.
Dr. Pia Albinsson
Albinsson, associate professor in the WCOB's Department of Marketing, was honored for her research contributions.
Since joining Appalachian's faculty in 2009, Albinsson has co-edited one book, authored six book chapters, written 21 journal articles, compiled 39 conference proceedings and presented her research 69 times.
Albinsson currently holds the John W. Guffey Jr. Professorship in the Walker College. She was an inaugural member of Appalachian's Scholarly Teaching Academy Fellows and received the China Studies Institute Zhi-Xing China Academic Leaders Fellowship in 2016.
Albinsson's research interests include collaborative consumption, consumer activism, corporate social responsibility and advertising effectiveness.
Before her tenure at Appalachian, she worked in the tourism industry in Greece, Malaysia and Portugal, as well as in banking and finance in her native Stockholm, Sweden.
Albinsson earned her MBA and her Ph.D. in business administration and marketing from New Mexico State University.
Jane Fitchlee
Fitchlee received the outstanding staff award, which honors staff members who exhibit dedication in service, innovation and workplace morale to Appalachian and the community.
Fitchlee joined the staff at Appalachian in 2007 and has served as the budget director for the Walker College's six departments and its Office of the Dean since 2010.
In this role, Fitchlee maintains funds, prepares budget reports, serves as a resource for policy- and procedure-related issues and information, and serves as liaison between college administrators and university entities, including Academic Affairs and the Office of Equity, Diversity and Compliance.
Fitchlee "improves the day-to-day systems and processes used by our administrative team," said a nominator. "She makes innovations that result in improved efficiency not only for the business school, but also for the entire university."
Fitchlee also supports business students in the Walker College through the Vickie L. Fitchlee Memorial Scholarship, which offers financial support to business students who have financial need and are paying their own tuition.
Dr. Onur Ince
Ince, associate professor in the college's Department of Economics, received the award for excellence in teaching.
Ince joined the faculty at Appalachian in 2011, where he has taught Principles of Macroeconomics, Intermediate Macroeconomic Theory, Forecasting and Time Series Models, and International Macroeconomics courses. The latter is a course Ince developed in response to industry demand, which has since become part of the college's curriculum.
Ince said he views learning as an active process, where the role of an educator is to facilitate the process and provide a conducive atmosphere for learning.
"In order to engage my students in the material and stimulate the discussion," said Ince, "I use real-life applications and demonstrate how topics discussed in (the) classroom can be successfully applied to make scientific judgment(s) about the events we observe in everyday life."
A nominator said Ince is "constantly looking for new ways to enhance the quality of his courses, asking for feedback, discussing successful teaching practices with peers and experimenting with innovative teaching techniques to grow as a teacher."
"Dr. Ince is a professor who not only learns every student's name," said a nominator, "but also makes every effort to find out any academic concerns as well as personal issues and achievements (of students)."
Ince holds a bachelor's and a master's degree from Bilkent University in Ankara, Turkey, and a master's degree and Ph.D. in economics from the University of Houston.
Greg Langdon
Langdon, associate director of the WCOB's Brantley Risk and Insurance Center, received the inaugural Spirit of Walker Award for staff members.
A 26-year employee of Appalachian, Langdon has served as associate director of the Brantley Center since 2011, where he helps match students to internships and careers, coordinates interactions between students, alumni and industry professionals, and helps guide fundraising efforts on behalf of the center and students in the college's risk management and insurance program.
Langdon is "fantastic at building relationships, which is essential to helping recruit students and engage alumni and donors," said a nominator. "He is personally invested in the success of students, maintaining relationships with them after they graduate both because he genuinely cares and because he understands the critical tie of contributing alumni."
Langdon serves as an advisor for the WCOB's residential learning community, assists with the Gamma Iota Sigma Rho Chapter for risk management and insurance and actuarial science majors, is a member of the college's marketing and communications liaisons team and coordinates the college's semiannual risk management and insurance career fair.
Langdon is "one of the most collaborative people that I've worked with," said another nominator. "He is enthusiastic about sharing best practices — both giving and receiving — and is a role model in this area for other staff."
Another nominator said she thinks of Langdon as "Yosef's little brother," because he is "upbeat, energetic and always has a positive attitude."
Langdon is a two-time graduate of Appalachian, having earned his bachelor's in communication, public relations and his master's in higher education, administration.
Dr. Dawn Medlin
Medlin, a professor in the college's Department of Computer Information Systems and Supply Chain Management, received the first Spirit of Walker Award for a faculty member.
Medlin is "a relationship-based innovator who consistently serves our students," said a nominator. "She sees unlimited potential in everyone she meets and gives of her time and resources to ensure their success."
To support and mentor first-generation female business majors, Medlin conceptualized and co-founded Women of Walker, a program that accelerates professional development, personal growth and leadership abilities for female business majors through networking, career exploration, travel and professional development workshops and seminars.
Medlin recently served as the director of the Walker College's Honors Program and helped found the Honors Association ― an organization for honors students to expand their networking opportunities with companies such as Bank of America, Amazon, Bloomberg and other financial and marketing companies.
Medlin is "transforming lives, especially the lives of our students, each day," said another nominator. "She is a lifelong learner, motivator, teacher, helper and community partner."
As a scholarship donor, Medlin also provides financial support to business students. She has also led students on travel abroad experiences to Norway, England, Scotland, Costa Rica, France, Spain and Italy.
"Dr. Medlin has inspired me to be a leader, both in the Walker College of Business and beyond," said a student nominator. "She has taught me so much about integrity, diversity and service and genuinely cares about her students and their success, as well as our community, both locally and globally."
Active in campus diversity initiatives, Medlin received a diversity award from Appalachian's Black Faculty and Staff Association in 2015 and currently serves as a member of the university's Diversity Scholars scholarship committee and interview team. She is a two-time past recipient of the Sywassink Award for Excellence, having earned the Sywassink Award for Excellence in Research in 2014 and the Sywassink Award for Excellence in Service in 2004.
Medlin earned her bachelor's and master's degrees from Appalachian and holds a doctorate of education from Virginia Polytechnic Institute and State University (Virginia Tech).
Dr. Jamie Parson
Parson, assistant professor in the Department of Finance, Banking and Insurance in the WCOB, was recognized for her sustained service contributions.
Parson is a leader on campus for inclusion initiatives and for encouraging diversity. She chairs the Walker College's Inclusive Excellence Team (IET), manages the Risk Management and Insurance program's diversity initiatives and serves on numerous boards and committees across campus, including the Center for Academic Excellence's Inclusive Excellence Team.
As part of her work with the IET, Parson developed the inaugural Collegiate Multicultural Leadership Exchange — Appalachian's first exchange with historically black colleges and universities — as well as the Courageous Conversations series, which brings diverse individuals together to promote a better understanding of diversity issues on campus.
Parson teaches undergraduate courses in business law and insurance, and her research interests primarily concentrate in the area of insurance regulation.
Prior to joining the faculty at Appalachian in 2012, Parson served as a Title VII investigator for the Nebraska Equal Opportunity Commission and a special investigative unit liaison and fire claims representative at State Farm Insurance Company.
She holds a Bachelor of Science in sociology-anthropology from Nebraska Wesleyan University and a Juris Doctor from the University of Nebraska College of Law in Lincoln, Nebraska.
Jesse Pipes
The recipient of the nontenure track faculty award, Jesse Pipes, is a lecturer in the Walker College's Department of Management.
According to a nominator, Pipes "epitomizes the dedication, hard work and commitment to quality teaching that are the hallmarks of the Walker College of Business. His students are enthusiastic about his courses, and he brings a realism and practicality to their learning that is easily transferable to the real world."
Pipes is known among his peers for his application of innovation in classroom learning, including the implementation of creative projects for students, the redesign of courses for improved efficacy and the application of alternative evaluation methodologies such as concept portfolios.
Pipes serves as co-director of the WCOB's Holland Fellows Program, is a member of the college's Sustainable Business Team and serves as a co-leader for the Association of Student Entrepreneurs.
Additionally, Pipes has been active in bringing thought leaders to campus for special events, including the Global Opportunities Conference and Business for Good, and he has led students on multiple study abroad trips, including a program to Malawi, Africa, that he was instrumental in developing.
Pipes is co-founder of Access Health Africa, an international nongovernmental organization providing health resources and services in Central Africa. Locally, he is involved with a number of organizations, including the Ascent Business Network, in which he has offered free seminars, such as the recent CrashPad workshops focused on visioning and business planning fundamentals.
He received his bachelor's degree in psychology from the University of North Carolina at Chapel Hill and an MBA from Appalachian in 2014.
About the Walker College of Business
The Walker College of Business at Appalachian State University delivers transformational educational experiences that prepare and inspire students to be ethical, innovative and engaged business leaders who positively impact our community, both locally and globally. The college places emphasis on international experiences, sustainable business practices, entrepreneurial programs and real-world applications with industry. Enrolling approximately 3,000 undergraduates in 10 majors and more than 180 graduate students in three master's programs, Walker College has the highest enrollment of full-time undergraduate students in the University of North Carolina System. Walker College is accredited by AACSB International — the premier global accrediting body for business schools. Learn more at https://business.appstate.edu.
About Appalachian State University
As the premier public undergraduate institution in the Southeast, Appalachian State University prepares students to lead purposeful lives. App State is one of 17 campuses in the University of North Carolina System, with a national reputation for innovative teaching and opening access to a high-quality, affordable education for all. The university enrolls more than 21,000 students, has a low student-to-faculty ratio and offers more than 150 undergraduate and 80 graduate majors at its Boone and Hickory campuses and through App State Online. Learn more at https://www.appstate.edu.
What do you think?
Share your feedback on this story.