Co-hosted by An Appalachian Summer Festival and the Appalachian Energy Summit
July 30, 2018
8 p.m.
Posted July 27, 2018 at 2:50 p.m.
BOONE, N.C. — Appalachian State University will host the seventh annual Appalachian Energy Summit July 30–Aug. 1. The theme of this year's summit is "Leadership for Good."
This year, as at previous summits, some of the world's most brilliant minds in energy policies and practices will come together on the Appalachian campus for a collaborative event aimed at delivering meaningful ecological, financial and social benefit.
At its core, the summit was created to support all UNC System campuses in being more sustainable, reduce the System's energy costs and jumpstart a national transformative effort across energy policies and practices in higher education.
During the event, more than 450 representatives from universities, industry and government have the opportunity to network and exchange experiences and ideas. Working groups convene on a range of topics:
Campus-based energy efficiency.
High-performance campus design.
Academic integration.
Transportation-oriented opportunities.
Finance, regulatory and energy generation.
Zero waste and waste reduction.
The event has a proven track record of impressive progress, as Appalachian's Chancellor Sheri Everts commented: "We have only to look to the incredible reduction in energy costs this summit has saved the citizens of our state. To date, more than $499 million in energy costs have been avoided and we are on track to avoid $1 billion by 2020 and $2 billion by 2025. That is powerful evidence of leadership for good."
The three-day summit will focus on the benefits of leading with integrity. Attendees will share how individual and collective efforts contribute to campus clean energy and sustainability goals.
"Whether through the continuing development of clean energy or the advancement of sustainable communities, leaders of today and tomorrow have an opportunity to lead with integrity for the good of all," said Dr. Lee F. Ball Jr., chief sustainability officer at Appalachian.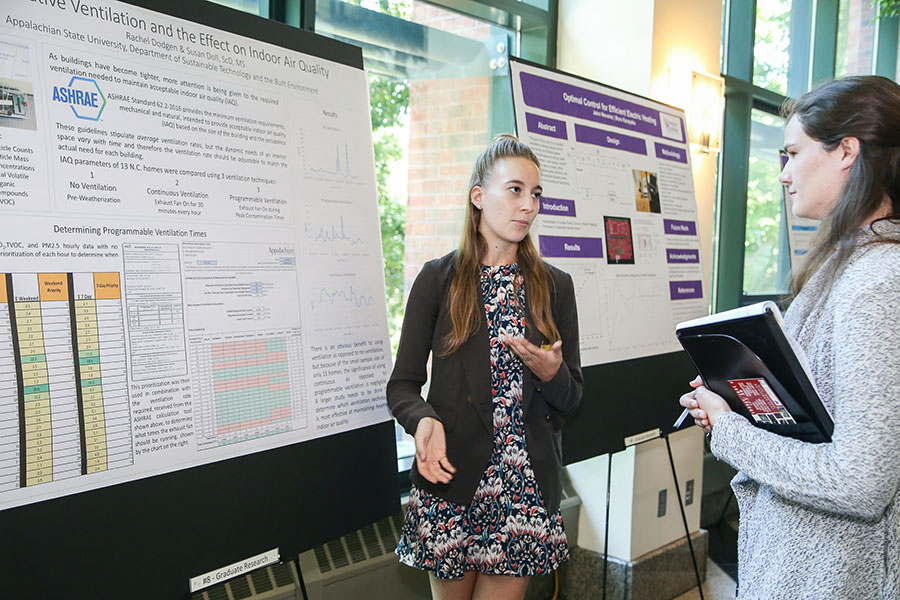 Each year the gathering includes a Student Summit, which provides a select group of student attendees the opportunity to connect with peers and industry leaders, hear from nationally recognized speakers and participate in working groups. A poster competition provides a platform for some of the students' ideas and innovations around energy conservation and best practices.
This year, the summit features more than 20 speakers, including a range of energy and sustainability leaders in academia and industry. Some of the featured speakers:
John Szoka, North Carolina General Assembly representative, senior chairman of the Energy and Public Utilities Committee and chairman of the Joint Legislative Commission on Energy Policy.
Keith Benson, energy program director for the Navy Installations Command.
Meghan Fay Zahniser, executive director of the Association for the Advancement of Sustainability in Higher Education (AASHE).
Anthony Cortese, co-founder and president of the Crane Institute of Sustainability and principal of the Intentional Endowments Network.
Glen MacDonald, Crane Institute of Sustainability board member.
Dennis Johnson, chief investment officer for TIAA Endowment & Philanthropic Services.
Nicole Hagerman Miller, managing director of Biomimicry 3.8.
Amory Lovins, chief scientist with and co-founder of Rocky Mountain Institute.
David W. Orr, the Paul Sears Distinguished Professor of Environmental Studies and Politics at Oberlin College.
The keynote event of the summit is a live radio show taping of eTown, a nonprofit, nationally syndicated radio broadcast with material designed to encourage appreciation and protection of the world's cultures and natural resources. The taping will feature musical guests Josh Ritter and Mandolin Orange and will include the presentation of the eChievement Award to an outstanding volunteer. Tickets for the event, which is open to the public, are available here.
Co-hosted by An Appalachian Summer Festival and the Appalachian Energy Summit
July 30, 2018
8 p.m.
To learn more about the 2018 Appalachian Energy Summit, visit https://sustain.appstate.edu/initiatives/energy-summit/2018.
About Sustainability at Appalachian
Appalachian State University's leadership in sustainability is known nationally. The university's holistic, three-branched approach considers sustainability economically, environmentally and equitably in relationship to the planet's co-inhabitants. The university is an active steward of the state's interconnected financial, cultural and natural resources and challenges students and others think critically and creatively about sustainability and what it means from the smallest individual action to the most broad-based applications. The university offers both undergraduate and graduate academic degree programs that focus on sustainability. In addition, 100 percent of Appalachian's academic departments offer at least one sustainability course or course that includes sustainability, and all students graduate from programs that have adopted at least one sustainability learning outcome. Learn more at https://appstate.edu/sustainability.
About Appalachian State University
As the premier public undergraduate institution in the Southeast, Appalachian State University prepares students to lead purposeful lives. App State is one of 17 campuses in the University of North Carolina System, with a national reputation for innovative teaching and opening access to a high-quality, affordable education for all. The university enrolls more than 21,000 students, has a low student-to-faculty ratio and offers more than 150 undergraduate and 80 graduate majors at its Boone and Hickory campuses and through App State Online. Learn more at https://www.appstate.edu.
What do you think?
Share your feedback on this story.