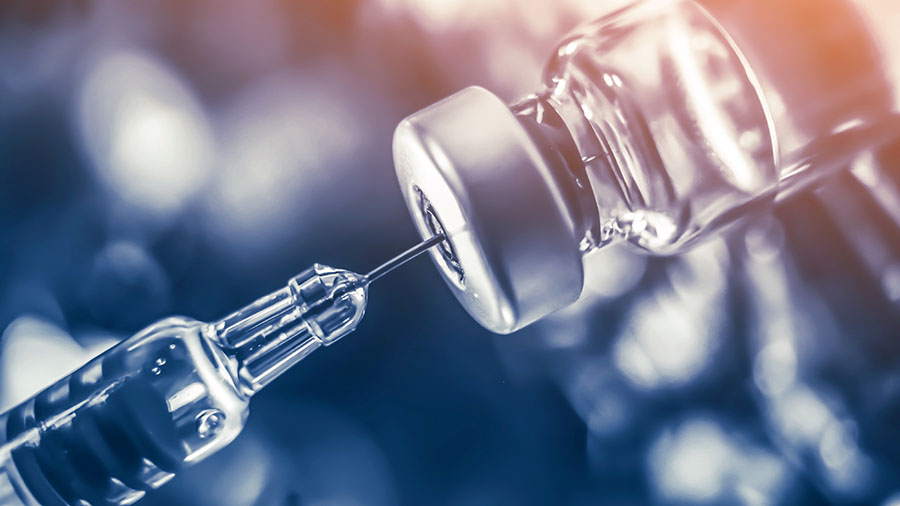 Posted Aug. 28, 2018 at 3:52 p.m.
BOONE, N.C. — Thanks to research conducted by faculty at Appalachian State University and the University of North Carolina at Chapel Hill, the delivery of life-saving vaccinations and drugs to remote regions of the world could become more cost-effective, allowing these medications to reach those in need sooner. Their study aims to provide a new strategy for the storage and transport of medications and vaccines, one that eliminates the need for refrigeration.
The project's research team consists of Dr. Brooke Christian and Dr. Gary Pielak, who received $70,865 in grant funding from the University of North Carolina System Office for their study, titled "Exploiting Tardigrade Stress Resistance to Develop Novel Therapeutic Delivery Strategies." Christian is an assistant professor in the Department of Chemistry of Appalachian's College of Arts and Sciences, and Pielak is the Kenan Distinguished Professor of Chemistry, Biochemistry and Biophysics and vice chair of facilities in chemistry in UNC Chapel Hill's Department of Chemistry.
"The soaring cost of pharmaceuticals is a problem in the United States and worldwide," Christian said. "Since many therapeutics and vaccines on the market today are protein or peptide-based, they require costly refrigeration for transport and storage."
According to Christian, proteins are inherently delicate: Small changes in temperature, pH or water content can render them inactive.
"The use of buffers and cold temperatures protects these drugs from degradation. The cost of the 'cold chain' is somewhat sustainable for developed countries but is prohibitive for drug delivery in remote areas of the world," Christian explained.
She said the aim of the team's research is to change the paradigm of drug delivery.
"We propose to implement a novel strategy to stabilize drugs for delivery and storage that would eliminate the need for refrigeration," Christian said. "In addition to vaccines, which are protein-based, a few prominent examples of peptide-based therapeutics that would benefit from this technology include insulin, Herceptin for breast cancer, Lupron for prostate cancer and Victoza for the treatment of Type 2 diabetes mellitus."
The UNC System grant will provide funding for the team to test its stabilization strategy in mice in order to monitor potential toxicity and activation of the immune response, Christian said.
Student researchers involved with the project include Harrison Esterly, a senior chemistry major at Appalachian from Belews Creek, and Sophia Yang, an Appalachian senior double majoring in chemistry and exercise science major from Beijing, China.
About the A.R. Smith Department of Chemistry and Fermentation Sciences
The A.R. Smith Department of Chemistry and Fermentation Sciences offers a Bachelor of Arts in chemistry, a Bachelor of Science in chemistry with eight different concentrations and an interdisciplinary Bachelor of Science degree in fermentation sciences. The department's programs prepare students to attend graduate and professional schools, as well as for employment in the pharmaceutical and fermentation industries and other business sectors. Learn more at https://dcfs.appstate.edu.
About the College of Arts and Sciences
The College of Arts and Sciences (CAS) at Appalachian State University is home to 17 academic departments, two centers and one residential college. These units span the humanities and the social, mathematical and natural sciences. CAS aims to develop a distinctive identity built upon our university's strengths, traditions and unique location. The college's values lie not only in service to the university and local community, but through inspiring, training, educating and sustaining the development of its students as global citizens. More than 6,400 student majors are enrolled in the college. As the college is also largely responsible for implementing App State's general education curriculum, it is heavily involved in the education of all students at the university, including those pursuing majors in other colleges. Learn more at https://cas.appstate.edu.
About the University of North Carolina System
The University of North Carolina System enrolls more than 230,000 students at 17 institutions, including all 16 of the state's public universities, as well as the nation's first public residential high school for academically gifted students, the North Carolina School of Science and Mathematics. The UNC System is among the strongest and most diverse higher education systems in the nation, with over $1.5 billion in research expenditures, a wide array of historically black colleges and universities, liberal art institutions, comprehensive universities and R1 research institutions. Its institutions support two medical schools and a teaching hospital, two law schools, a veterinary school, a school of pharmacy, 11 nursing programs, 15 schools of education, five schools of engineering and a renowned arts conservatory. The North Carolina Arboretum, the UNC Press and the UNC Center for Public Television, with its 12-station broadcast network, are also all UNC System affiliate organizations.
About Appalachian State University
As the premier public undergraduate institution in the Southeast, Appalachian State University prepares students to lead purposeful lives. App State is one of 17 campuses in the University of North Carolina System, with a national reputation for innovative teaching and opening access to a high-quality, affordable education for all. The university enrolls more than 21,000 students, has a low student-to-faculty ratio and offers more than 150 undergraduate and 80 graduate majors at its Boone and Hickory campuses and through App State Online. Learn more at https://www.appstate.edu.
What do you think?
Share your feedback on this story.