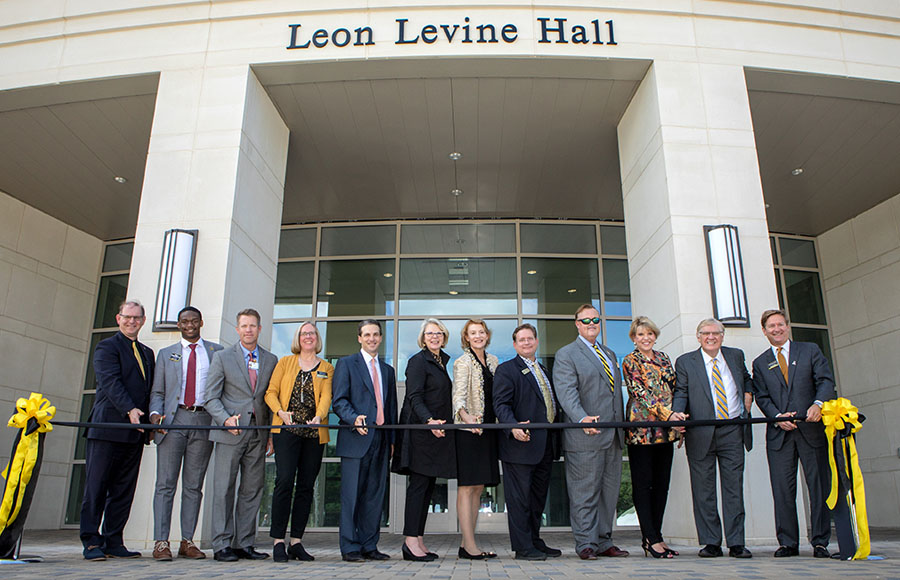 Posted Sep. 21, 2018 at 7:32 p.m.
BOONE, N.C. — Appalachian State University cut the ribbon on the Connect NC Bond's first completed project on Friday, Sept. 21. The Leon Levine Hall of Health Sciences building was completed on time and on budget. Levine Hall is Appalachian's newest and largest academic building to date, and its design facilitates innovative and collaborative learning for thousands of students.
The five-story, 203,000-square-foot Levine Hall was the first project funded by the Connect NC Bond, a bond approved by the citizens of North Carolina in 2016 by a 2-to-1 margin.
University of North Carolina President Margaret Spellings, who attended the ceremony, said, "I know Appalachian State and all of those who study in Levine Hall will continue paying back North Carolinian voters with their impact and accomplishments for years to come."
"When voters approved this project in 2016, they entrusted Appalachian with a significant responsibility," Chancellor Sheri Everts said. "We are so pleased to be able to rise to this challenge by facilitating a response to the critical health care needs in the rural areas of our state."
The facility will enable Appalachian to graduate more professionals in health sciences, one of the identified critical workforce areas for North Carolina.
The 1 p.m. ceremony included tours, speeches, music and refreshments for the more than 350 people in attendance.
In addition to Spellings and Everts, the roster of speakers included Executive Director of the Levine Foundation Tom Lawrence, University of North Carolina Board of Governors member C. Philip Byers '85, N.C. House Rep. Nelson Dollar '83 '85, Student Government Association President DeJon Milbourne, who is a senior accounting major from Fayetteville, and Appalachian Provost and Executive Vice Chancellor Darrell Kruger.
The Leon Levine Foundation made a $5 million donation for the building and furnishings. In his remarks, Lawrence said the building was "so much more than bricks and mortar… Entire communities have needs that can go unmet simply because they call the remote mountains of Appalachia home. Of these needs, we know health care is one of the most critical."
Appalachian's leadership, he continued, had the vision to "build a state-of-the-art teaching and research facility focused on first-class health care. The Levine Hall of Health Sciences will serve as space for bright, energized students to convene during their time at ASU ... as they help create a responsive, clinical and community approach to rural health care."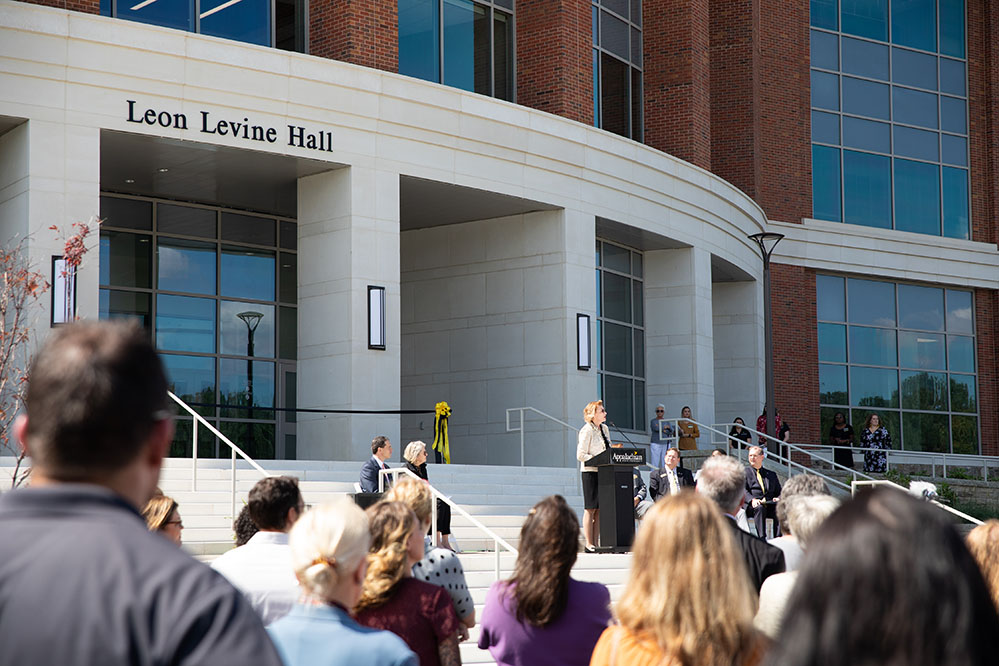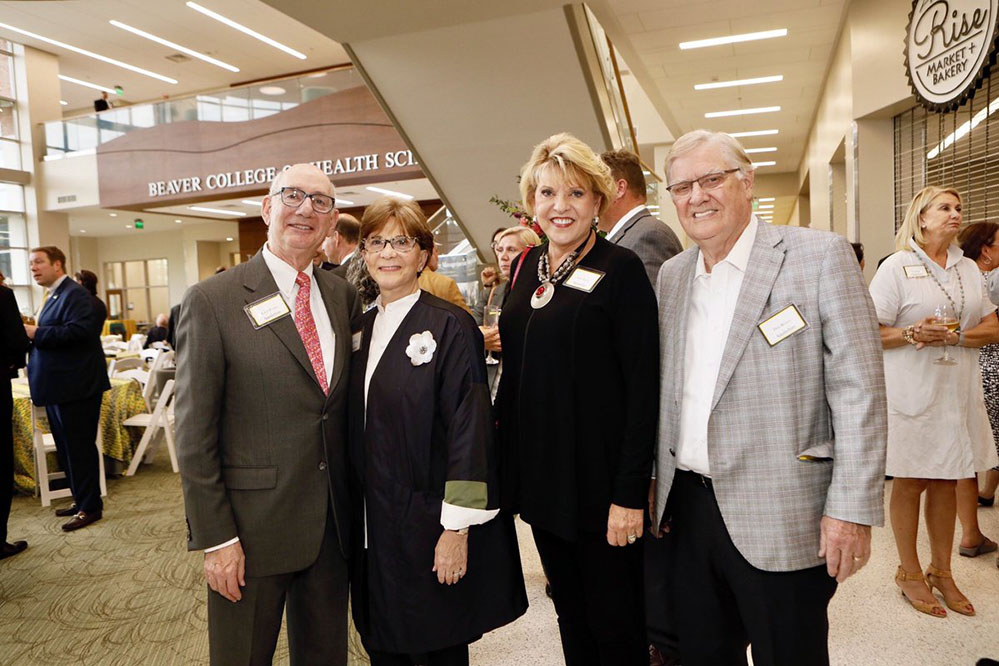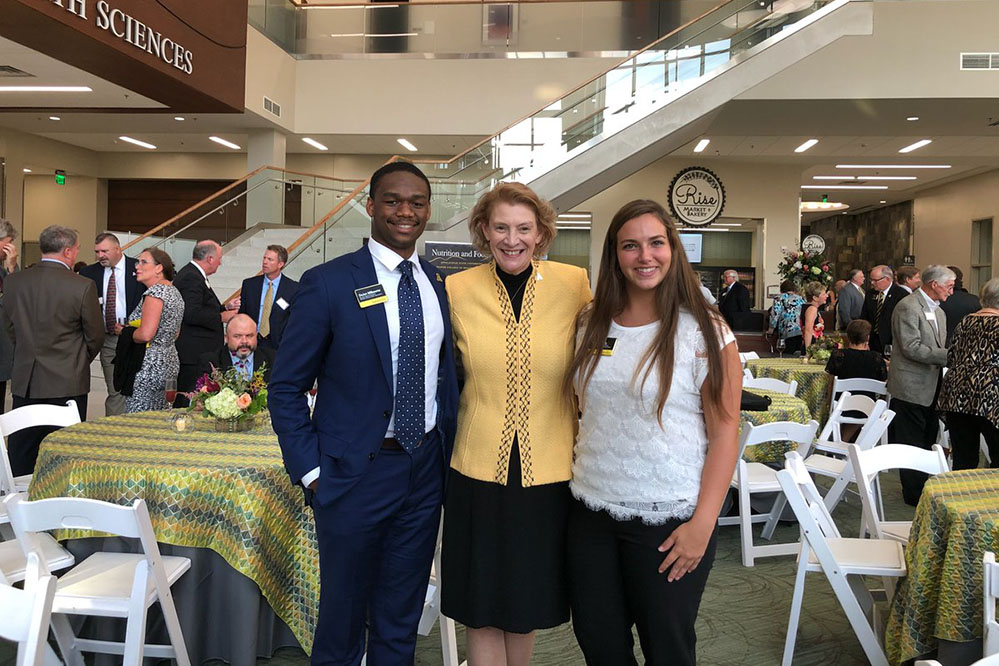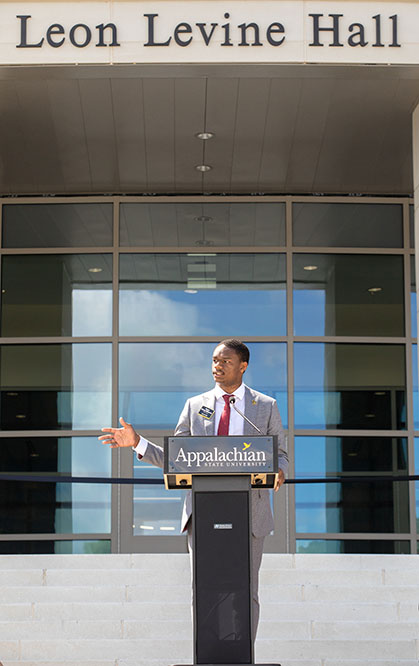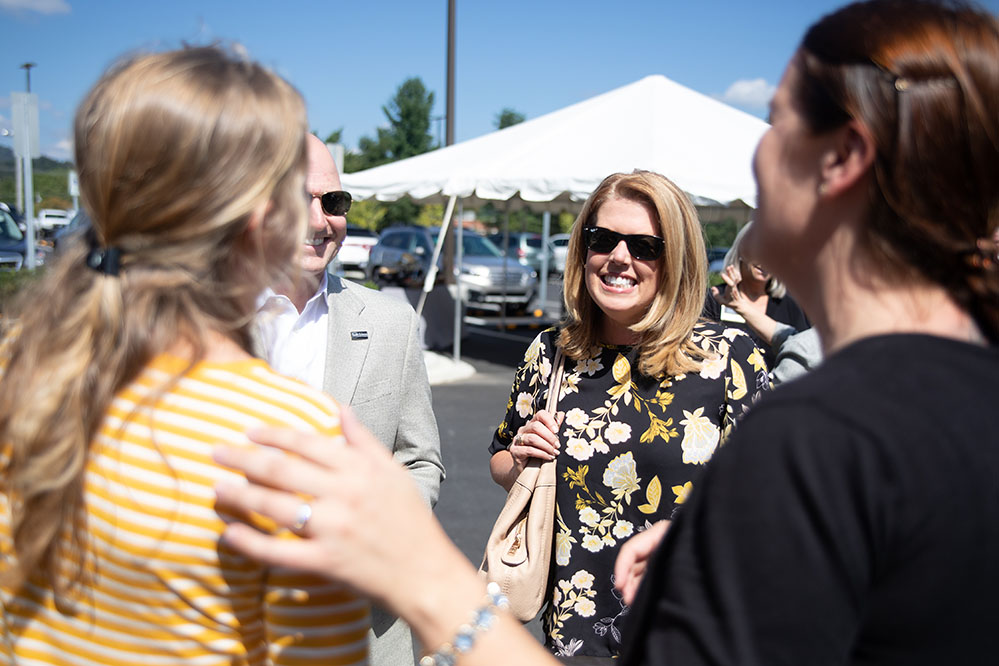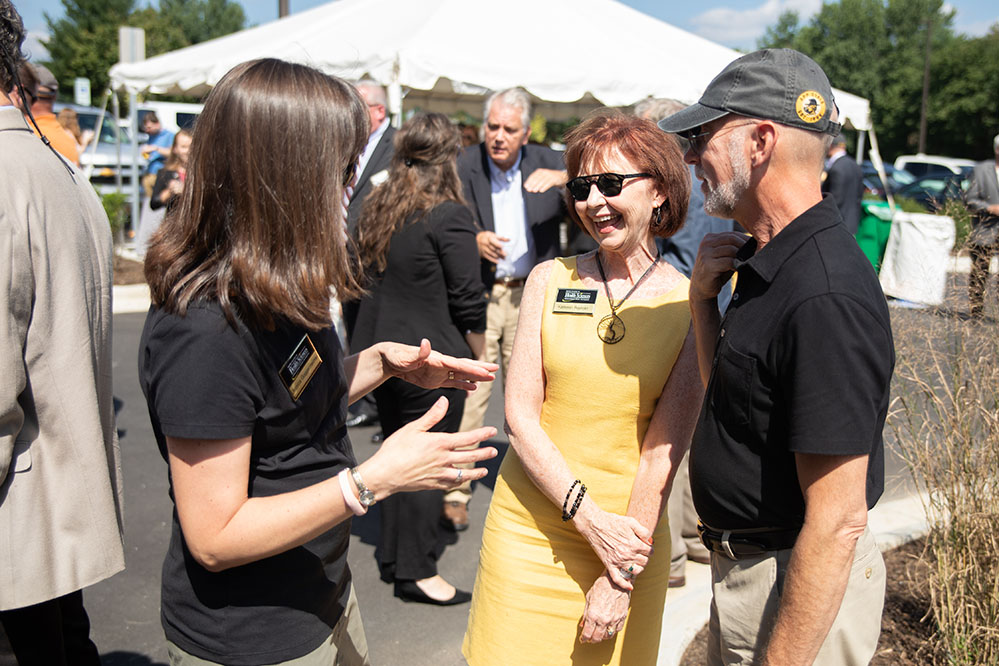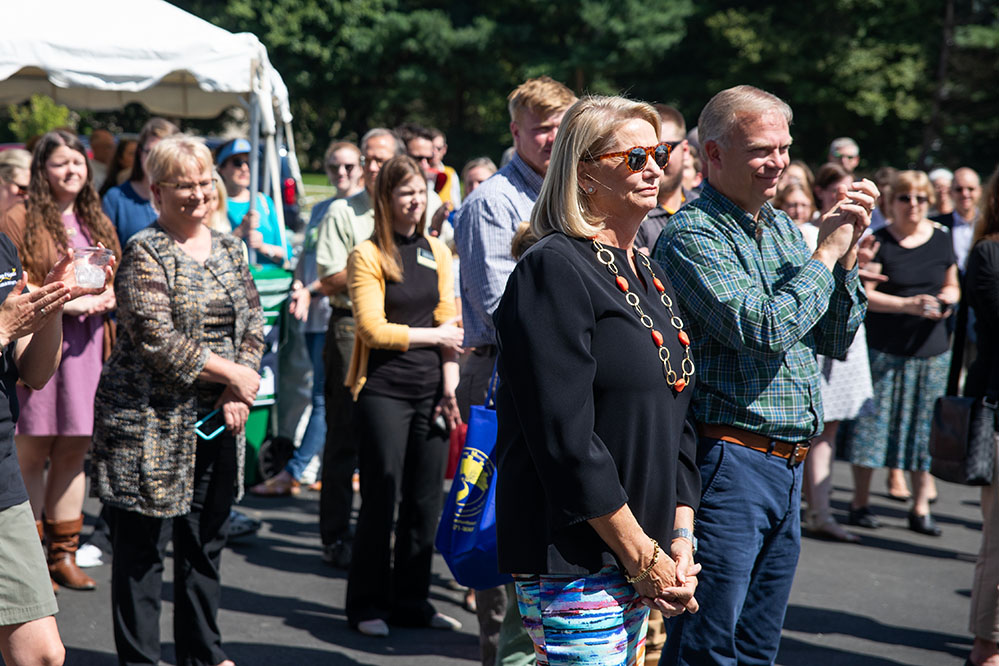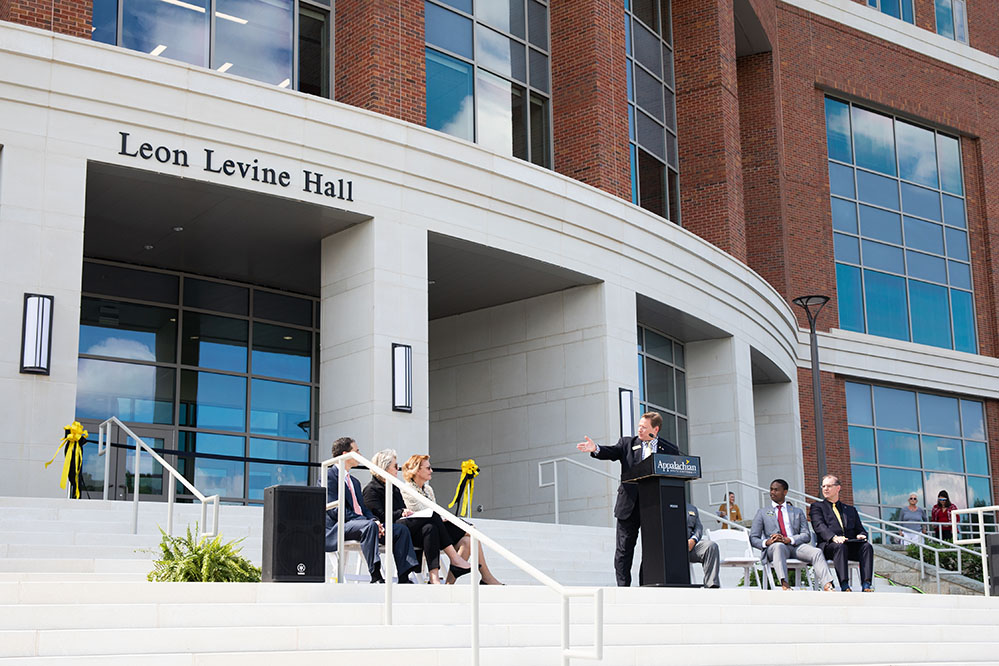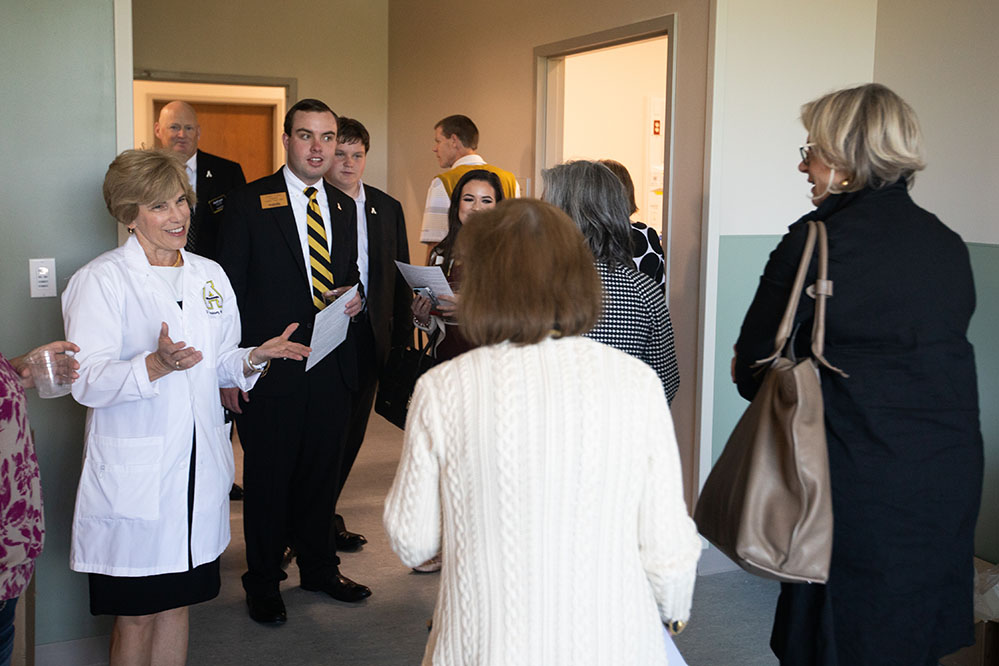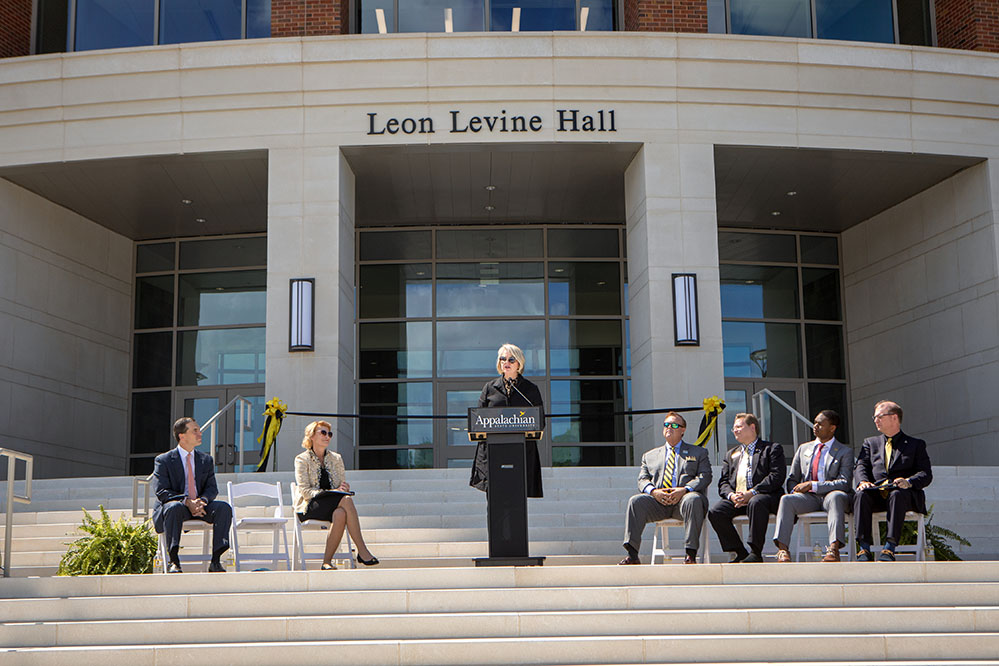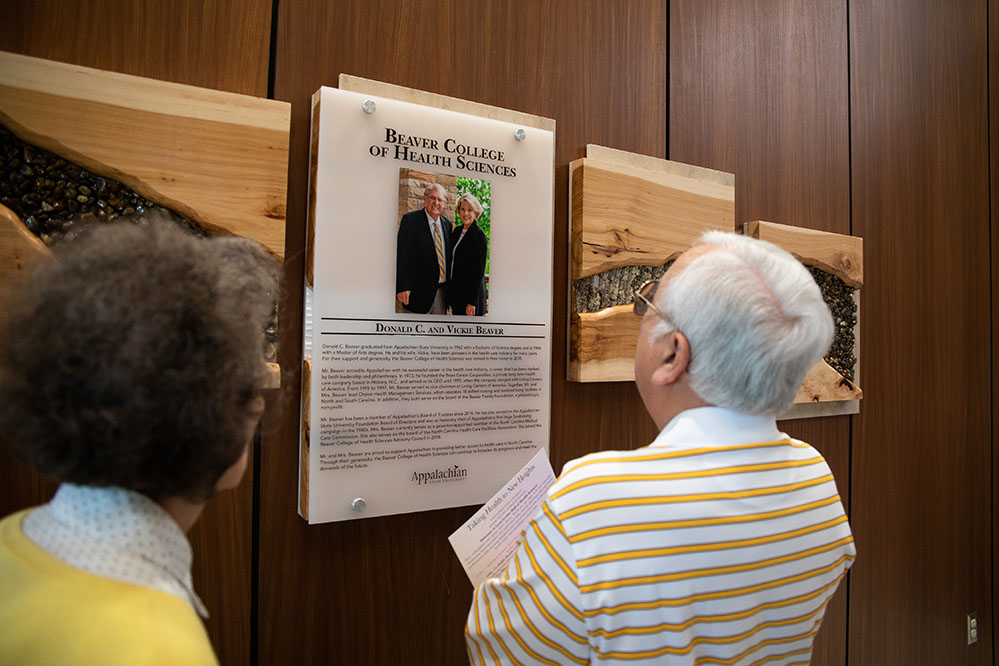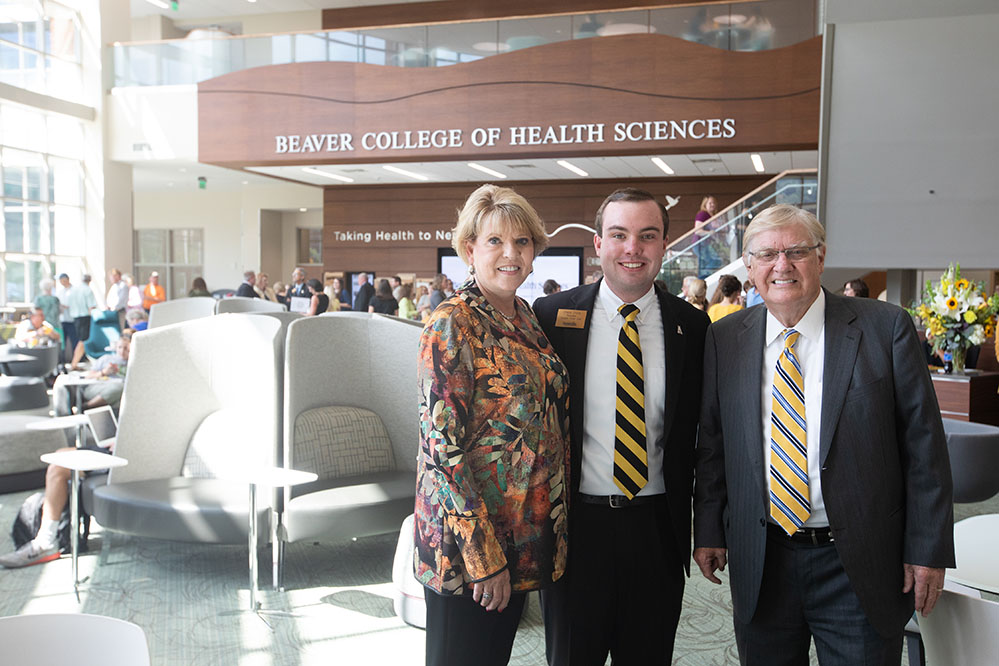 About the Levine Hall of Health Sciences
The facility will house five of the six departments in the Beaver College of Health Sciences (BCHS) as well as the Wake Forest Physician Assistant Program and the Blue Cross Blue Shield of NC Institute for Health and Human Services. The state-of-the-art facility allows for interdisciplinary and cross-disciplinary collaboration and research in a location that facilitates a continued partnership with the Appalachian Regional Healthcare System.
Nearly 3,500 students are enrolled in the college, which offers 10 undergraduate degree programs and six graduate degree programs. Courses of study are organized into six departments: Communication Sciences and Disorders; Health and Exercise Science; Nursing; Nutrition and Health Care Management; Recreation Management and Physical Education; and Social Work.
With 33 classrooms and 27 laboratories, key features of the building include:
High-tech classrooms and laboratories designed for collaboration and problem-based learning.
Information commons and gallery.
Student leadership and success center.
Classrooms are designed for flexibility, with moveable seating and touch-screen and interactive technology. Spaces allow for lectures and working groups, face-to-face collaboration with instructors and students in the classroom, or long-distance communication with health care practitioners in medical or practitioner environments nearby or across the globe.
Among the 27 laboratories are:
A Public Health Lab, which allows for the study of major health concerns, with an emphasis on rural and high-risk populations.
Autonomic and Sleep Studies Lab.
Vascular Biology Lab outfitted with equipment to study the human vasculature, beat-to-beat blood pressure control and how the brain modulates heart rate.
Thermal and Micro-circulation Lab for investigating factors affecting human temperature regulations and blood flow responses.
Environmental Chamber used to test the effects of specified environmental conditions on physiological responses, performance and clothing.
Food Systems and Quality Foods Lab.
Nursing Simulation Lab.
Athletic Training Lab.
Touching hundreds of lives
In her remarks at a reception in Levine Hall on Thursday evening, BCHS Dean Marie Huff said, "Many of our graduates will build on what they have learned here today … They will be addressing public health concerns and solving global problems. They will be promoting sustainable health as they advocate for healthy food and clean air and water for our citizens. They will touch hundreds and hundreds of lives in positive ways."
Provost and Executive Vice Chancellor Dr. Darrell Kruger quoted architect and educator Frank Lloyd Wright, who said, "The space within becomes the reality of the building." Kruger continued, saying, "This space and what is within it is vibrant with the excitement of faculty and students who want to teach and learn in innovative ways to improve the health and well-being of others." He thanked the citizens and leadership of Watauga County and the Town of Boone for their support and faculty and staff who have been part of the team effort in the project.
In his remarks, Milbourne said, "I want to talk about the impact this has on students and to express my thanks." When he first visited the building, he recounted, "I said, 'Wow. This building looks phenomenal.' On behalf of all of the 2,500 students who are already [learning] here … when you think about their experience at Appalachian and then how they are being prepared to go into the community … it is really amazing."
Byers and Dollar, who is the chair of the appropriations committee in the North Carolina House of Representatives, both acknowledged the importance of the support of the citizens of North Carolina who passed the Connect NC Bond.
Byers said, "This building symbolizes an important step in the future of this state," and praised the North Carolina General Assembly and Dollar for his leadership with the Connect NC Bond.
Dollar recognized the leadership and vision of Chancellor Everts, as well as Appalachian's former Chancellor, Dr. Kenneth E. Peacock, and spoke to the importance the college will play in providing health care professionals all across the state. He acknowledged those who are dealing with the aftermath of Hurricane Florence and the need for more medical care as made clear by the impacts of the storm.
The BCHS opened in 2010 and was named in 2015 for Donald C. Beaver '62 '64, of Conover, an alumnus and recognized pioneer in the health care industry. Beaver and his wife, Vickie, joined the chancellor and others on the dais.
About the Beaver College of Health Sciences
Appalachian State University's Beaver College of Health Sciences (BCHS), opened in 2010, is transforming the health and quality of life for the communities it serves through interprofessional collaboration and innovation in teaching, scholarship, service and clinical outreach. BCHS offers nine undergraduate degree programs and seven graduate degree programs, which are organized into six departments: Nursing, Nutrition and Health Care Management, Public Health and Exercise Science, Recreation Management and Physical Education, Rehabilitation Sciences, and Social Work. The college's academic programs are located in the Holmes Convocation Center on App State's main campus and the Leon Levine Hall of Health Sciences, a state-of-the-art, 203,000-square-foot facility that is the cornerstone of the Wellness District. In addition, the college supports the Blue Cross NC Institute for Health and Human Services and has collaborative partnerships with the Wake Forest School of Medicine's Physician Assistant Program, the Appalachian Regional Health System and numerous other health agencies. Learn more at https://healthsciences.appstate.edu.
About Appalachian State University
As the premier public undergraduate institution in the Southeast, Appalachian State University prepares students to lead purposeful lives as global citizens who understand and engage their responsibilities in creating a sustainable future for all. The Appalachian Experience promotes a spirit of inclusion that brings people together in inspiring ways to acquire and create knowledge, to grow holistically, to act with passion and determination, and to embrace diversity and difference. Located in the Blue Ridge Mountains, Appalachian is one of 17 campuses in the University of North Carolina System. Appalachian enrolls nearly 21,000 students, has a low student-to-faculty ratio and offers more than 150 undergraduate and graduate majors.
What do you think?
Share your feedback on this story.