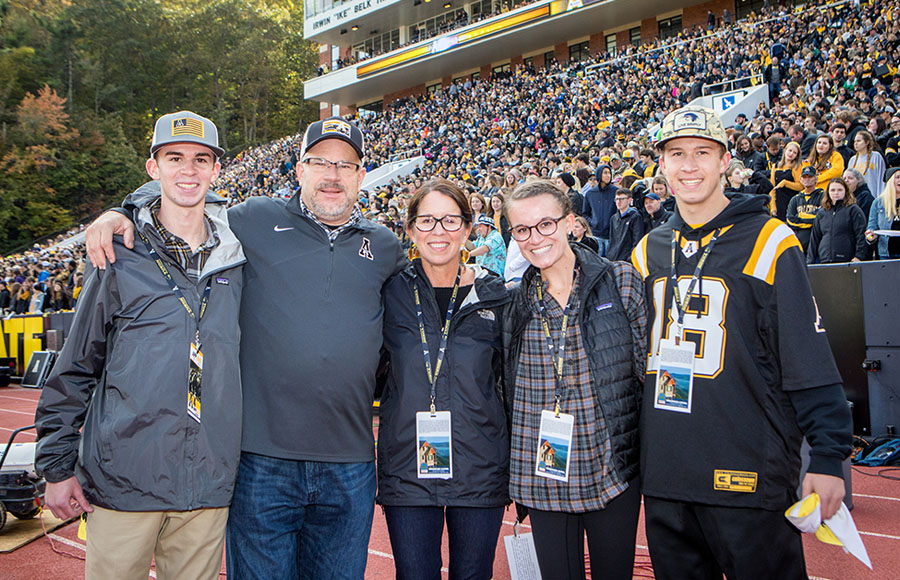 Posted Oct. 24, 2018 at 5:15 p.m.
BOONE, N.C. — Allie Link, a senior communication, public relations major, and her brother, Tanner Link, a first-year building sciences major, carry their father's passion for his alma mater. "We love Appalachian and want to share that love with others," she said.
Appalachian State University's Office of Parent and Family Services, which is part of the Division of Student Affairs, recognized the Links' love for Appalachian with the 2018 Family of the Year Award. The award was conferred during the Family Weekend Recognition Breakfast held Sunday on Appalachian's campus as part of Family Weekend.
The purpose of the Family of the Year Award is to recognize and celebrate the impact of families on the experience of Appalachian students. Students are invited to nominate a family — either their own, or another family who has had a positive impact on their journey — for the award. All submissions are evaluated by a selection committee on the family's support for the student's college success and the family's enthusiasm for Appalachian.
The Link family comprises Allie Link, her father, Appalachian alumnus Jeff Link '90, her mother, Sonja Link, and her two brothers, Tanner Link and Noah Link.
"Through my dad, my family has found such a passion for Appalachian State," Allie Link said. "His support and love is what builds our family up and his love for Appalachian is truly contagious."
Her father's support extends to other Appalachian students as well.
She said whenever her father learns that someone in their hometown of Greenville has decided to attend Appalachian, he reaches out to offer support in a variety of ways.
"He is always the first to encourage them, be there for them and tell them that if they need any help, he is always there — and he really is," she said. "Whether it's to give their parents restaurant recommendations, hotel advice or just to give them directions to Boone, he is the first to be there for others.
"I love that about my dad — that he's passionate about something (Appalachian) that is so great and wants to pass that passion on to others," she said. "I look up to him for this quality."
About the Office of Parent and Family Services
Appalachian State University's Office of Parent and Family Services is committed to keeping the families of Appalachian students informed, engaged and supported throughout their students' educational experience. From Parent Orientation to Family Weekend programming, to monthly newsletters and important updates on campus issues, Parent and Family Services serves as a liaison between the university and the parents and families of students. Learn more at https://parents.appstate.edu.
About the Division of Student Affairs
The Division of Student Affairs at Appalachian State University is committed to the development of lifelong learners and leaders by engaging and challenging students within a culture of care and inclusion. The division consists of 16 units that offer activities and services to help students develop more fully by becoming global learners, fostering healthy relationships, appreciating diversity and different perspectives, understanding community responsibility, enhancing self-awareness, developing autonomy and living ethically. These units include the Career Development Center, Campus Activities, Office of Community-Engaged Leadership, Wellness and Prevention Services, Counseling and Psychological Services, Student Health Service, Parent and Family Services, University Housing, Student Conduct, University Recreation, Intercultural Student Affairs, Student Legal Clinic and Off-Campus Student Services, Electronic Student Services, Child Development Center, and Staff Development and Strategic Initiatives. Learn more at https://studentaffairs.appstate.edu.
About Appalachian State University
As the premier public undergraduate institution in the state of North Carolina, Appalachian State University prepares students to lead purposeful lives as global citizens who understand and engage their responsibilities in creating a sustainable future for all. The Appalachian Experience promotes a spirit of inclusion that brings people together in inspiring ways to acquire and create knowledge, to grow holistically, to act with passion and determination, and to embrace diversity and difference. Located in the Blue Ridge Mountains, Appalachian is one of 17 campuses in the University of North Carolina System. Appalachian enrolls more than 20,000 students, has a low student-to-faculty ratio and offers more than 150 undergraduate and graduate majors.
What do you think?
Share your feedback on this story.