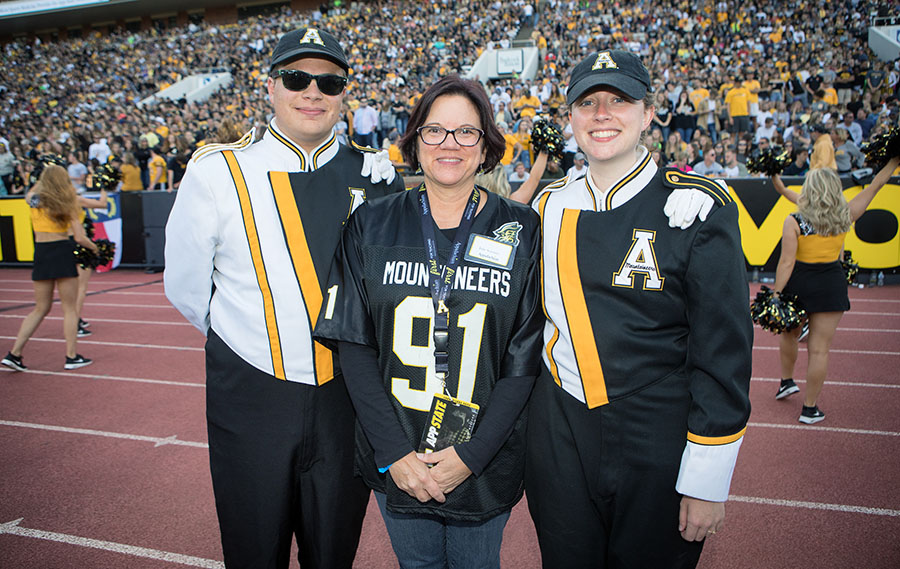 Posted Nov. 3, 2017 at 1:51 p.m.
BOONE, N.C.—Rebecca Summey likes to say she bleeds black and gold. Her parents met at Appalachian State University, where she is currently a senior and her brother, Adam Summey, is a freshman.
Summey's road to Appalachian was almost detoured — twice.
When Summey was in high school, her father died from brain cancer, and during her junior year at Appalachian, Summey underwent emergency surgery and had to take a semester off.
Her family's support, particularly that of her mother, Julie Johns Summey, B.M. '90 M.M. '91, helped keep her on track.
"My mom was the support for all of us," she said. "There was a period of time when I thought, 'What's it going to take for us to go to college still?' She wouldn't let us slack off. She was adamant that we were going to follow our dreams."
The Summey family's dedication to Appalachian, and each other, was recognized by the Office of Parent and Family Services when they received the inaugural Family of the Year Award at the Family Recognition Breakfast on Oct. 21. The new award recognizes the important role students' families play in their college success and is open to all Appalachian students.
Summey's parents met when they were in Appalachian's Marching Mountaineers. Her mother was a music education major who returned to earn her master's in music education. Her father, Charles Summey, B.S. '92, started out in the music program, but graduated with an industrial technology degree. Though they lived in Simpsonville, South Carolina, the family frequently traveled to Boone for football games and other alumni events.
"We are truly each other's support network when it comes to personal matters and academic issues," Summey said. "I know that I will always have my mom behind me, through the rest of my college career and beyond. If my father were still here today, I know for sure he would also be thrilled to watch both of his children attending their dream school and attaining their dream degrees."
"We've been through a lot as a family, but we stayed strong," Summey said.
About the Hayes School of Music
The Hayes School of Music prepares young musicians for professional lives as performers, composers, music educators, music therapists, conductors and music industry professionals, ensuring the next generation of musical leadership for the state, region and nation. Noted for quality instruction by national and internationally recognized faculty musicians, the school offers four undergraduate degree programs and three graduate-level programs. Learn more at https://music.appstate.edu.
About Appalachian State University
As the premier public undergraduate institution in the state of North Carolina, Appalachian State University prepares students to lead purposeful lives as global citizens who understand and engage their responsibilities in creating a sustainable future for all. The Appalachian Experience promotes a spirit of inclusion that brings people together in inspiring ways to acquire and create knowledge, to grow holistically, to act with passion and determination, and to embrace diversity and difference. Located in the Blue Ridge Mountains, Appalachian is one of 17 campuses in the University of North Carolina System. Appalachian enrolls more than 19,000 students, has a low student-to-faculty ratio and offers more than 150 undergraduate and graduate majors.
What do you think?
Share your feedback on this story.