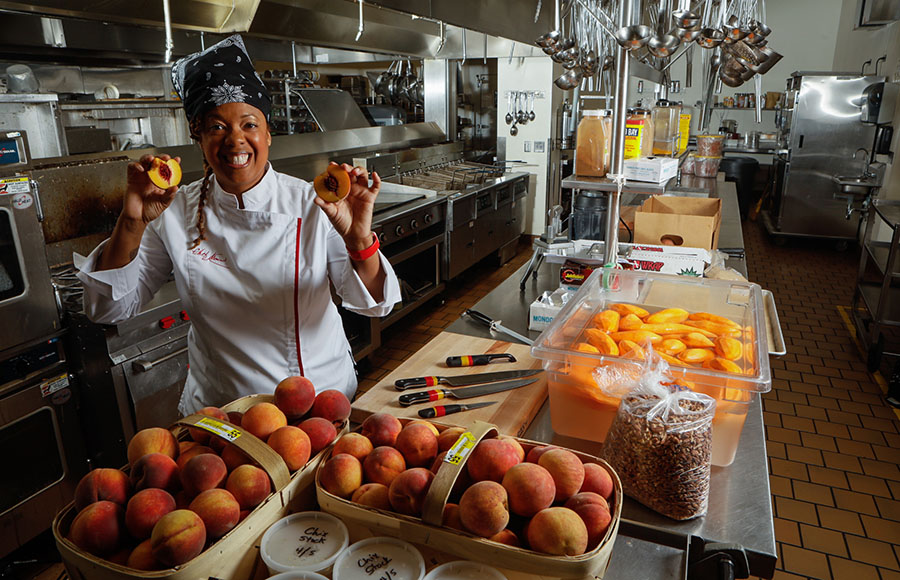 Posted Nov. 2, 2018 at 11:03 a.m.
BOONE, N.C. — For celebrity chef Monica Smith '94, a native of Gastonia and alumna of Appalachian State University, the answer to the oft-debated question, "What came first — the chicken or the egg?", is, most certainly, the egg. She said her love of cooking began at age 6, when her grandmother showed her how to make scrambled eggs.
The chicken, Smith said — at least the many fast-food options of this particular fowl that are available to consumers — might not even be the real deal.
"There's an endless supply of chicken. If I'm scared to eat anything, it's chicken," she said. "You can't tell me there's enough chickens. We're not eating chicken!" she said through laughter.
Smith, who holds a Bachelor of Science in nutrition and foods, has appeared in national cooking competitions on Food Network shows such as the first season of "Guy's Grocery Games," hosted by the Emmy Award-winning chef Guy Fieri, and the show "Cutthroat Kitchen," hosted by chef and author Alton Brown.
She's also served up her own flavorful dishes as a guest chef for several fundraising events for charity, including events for St. Jude Children's Research Hospital and an event sponsored by NFL Carolina Panthers' Cam Newton. Additionally, Smith has written numerous recipes and toured throughout three states for North Carolina-based grocery store chain Food Lion.
Smith recently brought her flavor to Appalachian's campus when she returned to her alma mater for Homecoming 2018.
During the homecoming football game, Smith was busy behind the scenes in Appalachian's Roess Dining Hall, working alongside Pam Cline, director of Food Services, Charlie Wallin, assistant director of Food Services, executive chef Tony Bates and others to prepare dishes served in Chancellor Sheri Everts' suite in the Mark E. Ricks Athletics Complex.
On the menu: peaches and cream shrimp and grits — one of her favorite meals to prepare, she said — as well as chicken sliders, which were made using chicken thighs and her own Smokey Café spice blend, and a dish she named Mountaineer sweet potato and apple salad.
"I love being a Mountaineer and a 'Boonenite.' We are special," she said. "My fondest memories are at ASU."
While at Appalachian, Smith was involved in several on-campus organizations, including the Black Student Association (BSA) and BSA Gospel Choir. She was the first president of Appalachian's African-American Alumni Association, as well as the first president of the Rho Theta Chapter of Delta Sigma Theta Sorority Inc.
She said it was while a student at Appalachian that she was able to "put some meat to her love of food."
"I just remember having so much fun in the lab, cooking," she said, "and I thought, 'Nobody else is having this much fun on campus.'"
'The flavor of chef Monica'
The kitchen is, and has always been, her playground, Smith said.
In 2010, Smith attended the Art Institute of Charlotte and graduated in 2012 with an associate degree in culinary arts. While in the program, she said she and her classmates cooked approximately 1,800 recipes from nine different countries, and that it was here she learned tools and techniques that would elevate her craft. The institute honored Smith with its Distinguished Alumni Award in spring 2018.
Although perfectionist is not the word she uses to describe herself, Smith said she sets the bar high, and once she's achieved a goal, the bar inches ever so slightly out of her reach.
She's been crafting a set of six spice blends that are eight years in the making, because, as she said, "I got tired of going to the store and trying to find a flavor that matched me."
The majority of these blends are inspired by her family members and friends, she said. One spice in particular, named Gina, after her cousin, is the "man-catching" spice in the set, she joked, while her NC Red spice blend is named in honor of her "beloved home state of North Carolina," she said.
She also shared two additional goals she's set for herself — Smith said she has her eyes on hosting her own cooking TV show, and she wants her products to be featured on grocery store shelves across America. "I want the flavor of chef Monica in every household," she said. "I have great flavors."
Also, Smith said she is currently working on her first cookbook, which is set to release in 2019.
Smith said, after all she's accomplished, at the end of the day, she knows people want one thing when they eat: "When we sit down at the table, we want an experience. We want to break bread over some good food and talk."
This experience is reflected in Smith's "Eat 2 Live Longer" campaign, which she said is designed to "bring families back to the table … and create a healthy eating lifestyle that's sustainable, which is not as hard as we think." And she would like to see more families and individuals eating farm-to-fork — "I think it makes a difference in everything that you do," she said.
"If I can't do anything else, I can cook," Smith said. "And if I can cook, I can bring anybody together in peace and harmony over food."
MOUNTAINEER SWEET POTATO AND APPLE SALAD
YOSEF'S SPICY BROWN ALE CHEESE DIP
About the Department of Nutrition and Health Care Management
The Department of Nutrition and Health Care Management in Appalachian State University's Beaver College of Health Sciences provides graduate and undergraduate programs. The undergraduate health care management program prepares students for entry-level management positions, while the online Master of Health Administration degree is designed for working professionals who desire to advance their careers. The undergraduate nutrition and foods program prepares students for careers in dietetics or food systems management in a variety of settings, including schools, hospitals, nursing homes and food banks. The highly competitive master's degree in nutrition provides a pathway for students to become registered dietitians. Learn more at https://nhm.appstate.edu.
About the Beaver College of Health Sciences
Appalachian State University's Beaver College of Health Sciences (BCHS), opened in 2010, is transforming the health and quality of life for the communities it serves through interprofessional collaboration and innovation in teaching, scholarship, service and clinical outreach. BCHS offers nine undergraduate degree programs and seven graduate degree programs, which are organized into six departments: Nursing, Nutrition and Health Care Management, Public Health and Exercise Science, Recreation Management and Physical Education, Rehabilitation Sciences, and Social Work. The college's academic programs are located in the Holmes Convocation Center on App State's main campus and the Leon Levine Hall of Health Sciences, a state-of-the-art, 203,000-square-foot facility that is the cornerstone of the Wellness District. In addition, the college supports the Blue Cross NC Institute for Health and Human Services and has collaborative partnerships with the Wake Forest School of Medicine's Physician Assistant Program, UNC Health Appalachian and numerous other health agencies. Learn more at https://healthsciences.appstate.edu.
About Appalachian State University
As the premier public undergraduate institution in the Southeast, Appalachian State University prepares students to lead purposeful lives. App State is one of 17 campuses in the University of North Carolina System, with a national reputation for innovative teaching and opening access to a high-quality, affordable education for all. The university enrolls more than 21,000 students, has a low student-to-faculty ratio and offers more than 150 undergraduate and 80 graduate majors at its Boone and Hickory campuses and through App State Online. Learn more at https://www.appstate.edu.
What do you think?
Share your feedback on this story.