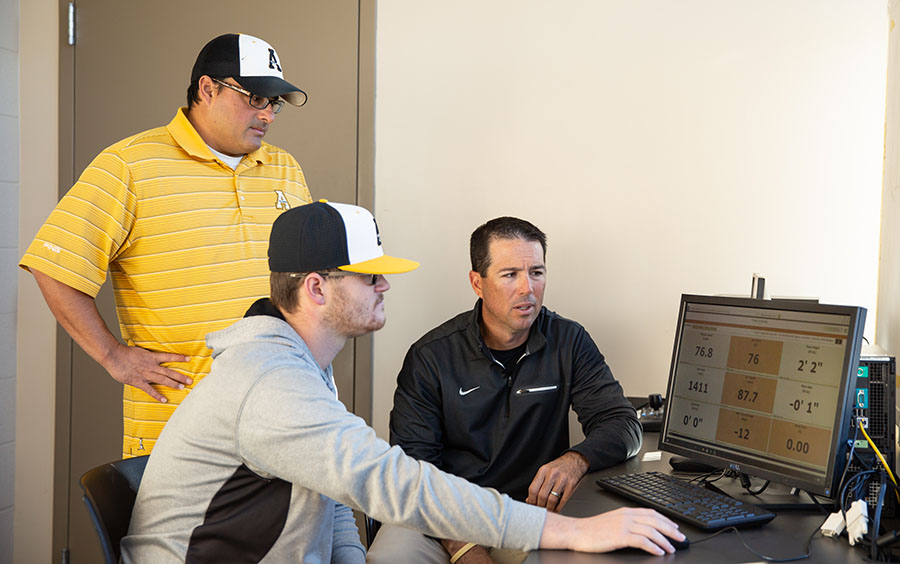 Posted Nov. 2, 2018 at 10:41 a.m.
BOONE, N.C. — Kermit Smith, head coach of Appalachian State University's varsity baseball team, is excited about the partnership between Appalachian Athletics and the Department of Mathematical Sciences in Appalachian's College of Arts and Sciences.
The College of Arts and Sciences purchased and supported the installation of TrackMan Baseball technology into Appalachian's Jim and Bettie Smith Stadium to create an unprecedented opportunity for students to gain first-hand experience with sports analytics and data sciences.
TrackMan Baseball is used for player evaluation and development by all major league and minor league teams in the U.S. as well as teams abroad, and is the leading technology in the baseball industry, driving the next generation of analytics.
"The college previously partnered with Athletics on a smaller piece of equipment to track pitching. The TrackMan technology now takes data collection to the next level," said Dr. Neva J. Specht, dean of the College of Arts and Sciences. "Our students will have a chance to collect and analyze big data, which are skills that have applications far beyond just athletics."
TrackMan collects both pitching and hitting data, including pitch velocity, spin rate, tilt, extension, effective velocity, zone velocity, release height, release side, vertical break, horizontal break, exit speed, launch angle, direction, spin rate, hang time, bearing and distance. The library of variables that TrackMan records throughout a game provide analysts with innumerable options for performance study.
"We used to look at the back of baseball cards for stats — now you can look at a player's detailed statistics online and TrackMan is going to give that to our team now," Smith said. "This type of data science can revolutionize athletics' stats."
Methods of sports analytics in baseball made famous by Billy Beane with Oakland Athletics during the early 2000s — including making the team's decisions via advanced data science and statistics — have become an all but certain process within the game. These ideas were portrayed in the films "Moneyball," based on Michael Lewis' book "Moneyball: The Art of Winning an Unfair Game," and "Trouble with the Curve."
While there are numerous benefits for both the coaches and players, students will have the chance to work with live data that is being produced at high speed, vast quantity and substantial detail. Students will have the chance to work with the TrackMan software and use the data collected within an academic setting. The departments of Mathematical Sciences and Computer Science at Appalachian are focusing courses on analytics, data science and machine learning.
"Data science has evolved from the rapid accumulation of large data, mainly from companies in the private sector looking for a competitive advantage, and the need to extract information from that data," said Dr. René Salinas, professor of mathematical sciences.
Beginning in fall 2019, the Department of Mathematical Sciences will offer an undergraduate sports analytics certificate. The 15–hour certificate will include two data science courses in the mathematical sciences, a sports analytics course that Salinas is currently teaching, an economics of sports course that is currently offered in Appalachian's Walker College of Business and an internship with an Appalachian sports team or an external athletic organization.
"Students working with this equipment at other universities are leaving with active knowledge of how to use TrackMan and (are) being hired in the MLB just because of being able to use the interface. Our students are going to be able to get that experience, while also getting course credit, which is invaluable in this industry," Smith stated.
Additionally, the TrackMan system assists players with their future careers. The technique of recording performance at both the major and minor league levels is standard, with every team in the respective leagues utilizing TrackMan equipment. Within the Sun Belt conference, only Coastal Carolina University has the TrackMan equipment available, but this technology is being used in dozens of the top NCAA Division 1 teams.
"As we're learning from other institutions, this academic–athletic partnership is pretty unique, but it's one that will provide important opportunities both on and off the diamond for our students, which is a win-win," Specht said.
About the Department of Mathematical Sciences
The Department of Mathematical Sciences offers undergraduate degrees in actuarial science and mathematics, with concentrations in business, computation, life sciences, physical sciences, secondary teaching and statistics, plus a general, self-designed concentration. The department also offers the Master of Arts in mathematics, with concentrations in college teaching and secondary teaching. Learn more at https://mathsci.appstate.edu.
About the College of Arts and Sciences
The College of Arts and Sciences is home to 16 academic departments, one stand-alone academic program, two centers and one residential college. These units span the humanities and the social, mathematical and natural sciences. The College of Arts and Sciences aims to develop a distinctive identity built upon our university's strengths, traditions and unique location. The college's values lie not only in service to the university and local community, but through inspiring, training, educating and sustaining the development of its students as global citizens. There are approximately 6,100 student majors in the college. As the college is also largely responsible for implementing Appalachian's general education curriculum, it is heavily involved in the education of all students at the university, including those pursuing majors in other colleges. Learn more at https://cas.appstate.edu.
About Mountaineer Athletics
More than 450 student-athletes compete in 20 NCAA Division I varsity sports at Appalachian State University, 10 for men and 10 for women. Appalachian was a dominant force in the Southern Conference for more than 40 years before joining the Sun Belt Conference in July 2014 — one of 10 conferences that are members of the Division I Football Bowl Subdivision (FBS). The Mountaineer football team claimed back-to-back 10-win seasons and bowl victories in 2015 and 2016, providing a catalyst for comprehensive excellence to grow across all Appalachian sports while competing at the highest levels of college athletics. Learn more at https://www.appstate.edu/athletics.
About Appalachian State University
As the premier, public undergraduate institution in the state of North Carolina, Appalachian State University prepares students to lead purposeful lives as global citizens who understand and engage their responsibilities in creating a sustainable future for all. The Appalachian Experience promotes a spirit of inclusion that brings people together in inspiring ways to acquire and create knowledge, to grow holistically, to act with passion and determination, and to embrace diversity and difference. Located in the Blue Ridge Mountains, Appalachian is one of 17 campuses in the University of North Carolina System. Appalachian enrolls more than 19,000 students, has a low student-to-faculty ratio and offers more than 150 undergraduate and graduate majors.
What do you think?
Share your feedback on this story.