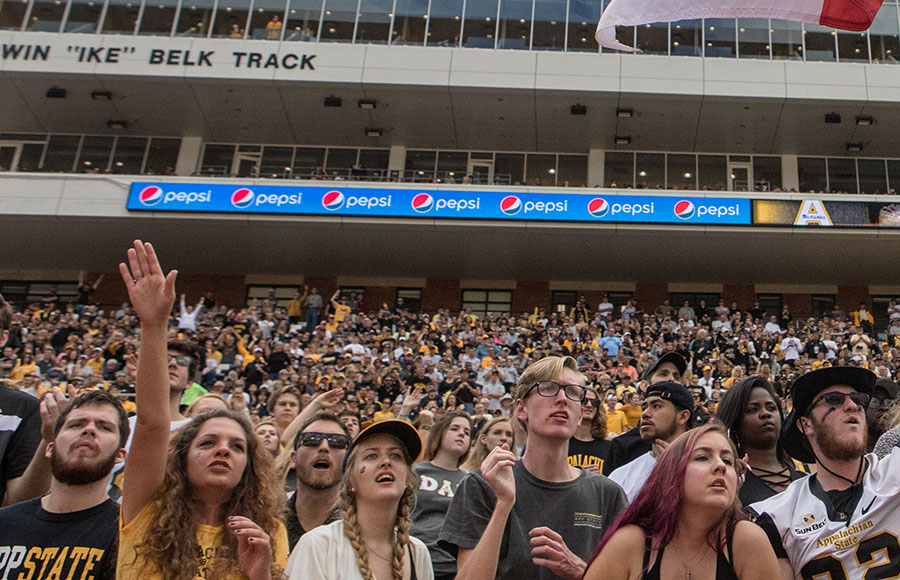 Posted Nov. 7, 2018 at 1:34 p.m.
BOONE, N.C. — While one expects tough competition during sporting events at Appalachian State University, the competition for pouring rights in the university's concessions stands, campus dining facilities and vending machines is equally tough.
It is difficult to find a Coke on campus not because of a preference for one cola over another, but because PepsiCo Inc. has won a competitive bidding process — one in which Appalachian Athletics partnered closely with the university's Auxiliary Services — for pouring rights at Appalachian.
"We are extremely thankful to be continuing our partnership with Pepsi," Appalachian Director of Athletics Doug Gillin said. "Pepsi has elevated their support of the university, Athletics department and the communities we serve. As App State's brand has continued its growth throughout the Southeast and nationally, Pepsi has been a valued partner."
Auxiliary Services Director John Eckman said the contract, which Auxiliary Services manages on behalf of the university, includes the exclusive right for PepsiCo to sell its product at Kidd Brewer Stadium, as well as in campus vending machines and dining halls. Additionally, the contract specifies the majority of product sold in campus convenience stores will be PepsiCo brands. Convenience stores are allowed to sell up to 10 percent competitor products.
Eckman said PepsiCo won for "having the most competitive proposal." The contract is for five years with the possibility of a five-year extension.
In support of the university's sustainability initiatives, the contract requires PepsiCo to provide compostable paper cups for use in campus food facilities — a big deal, considering the campus used approximately 625,000 noncompostable cups last year, according to David Venable, assistant director of auxiliary services.
Jen Maxwell, sustainability program manager at Appalachian, echoed the importance of this exchange. "One of the most important aspects of our Zero Waste commitment is the ability to be thoughtful about our purchasing to create a more sustainable resource management system," she said. "The transition to compostable cups allows us to continue to expand our composting efforts campuswide and close the loop by utilizing the compost in landscaping efforts."
Venable said it is anticipated PepsiCo will provide over $3 million in product sales this year. He said Food Services sells approximately 45,000 gallons of fountain drinks and 200,000 bottled drinks per year in the dining halls; Appalachian's vending operation sells approximately 800,000 bottled drinks per year; and campus convenience stores sell around 750,000 bottled drinks per year.
Venable said all PepsiCo product comes through the company's distribution center in Deep Gap.
About Mountaineer Athletics
More than 400 student-athletes compete in 17 NCAA Division I varsity sports at Appalachian State University. App State's nationally ranked football team has enjoyed unprecedented success at the highest level of Division I (Football Bowl Subdivision), with six bowl wins in its first six years at the FBS level and four Sun Belt Conference championships. The Mountaineers were a dominant force in the Southern Conference for more than 40 years before moving up to the Sun Belt Conference in 2014. App State student-athletes in all sports pursue daily comprehensive excellence in academics, competition and community involvement. All varsity teams compete in the Sun Belt Conference, except for field hockey (MAC) and wrestling (SoCon). Learn more at https://appstatesports.com.
About Campus Dining
Campus Dining is owned and operated by Appalachian State University and offers dining services tailored to the campus community's specific needs. With three dining facilities and daily catering events, Campus Dining provides opportunities for nourishment and also building and fostering relationships over shared meals and experiences. Campus Dining is committed to serving the Appalachian Community using sustainable practices such as local sourcing and contributing to campus composting and a constantly evolving partnership with the Office of Sustainability. Learn more at https://dining.appstate.edu.
About Appalachian State University
As the premier public undergraduate institution in the Southeast, Appalachian State University prepares students to lead purposeful lives. App State is one of 17 campuses in the University of North Carolina System, with a national reputation for innovative teaching and opening access to a high-quality, affordable education for all. The university enrolls more than 21,000 students, has a low student-to-faculty ratio and offers more than 150 undergraduate and 80 graduate majors at its Boone and Hickory campuses and through App State Online. Learn more at https://www.appstate.edu.
What do you think?
Share your feedback on this story.