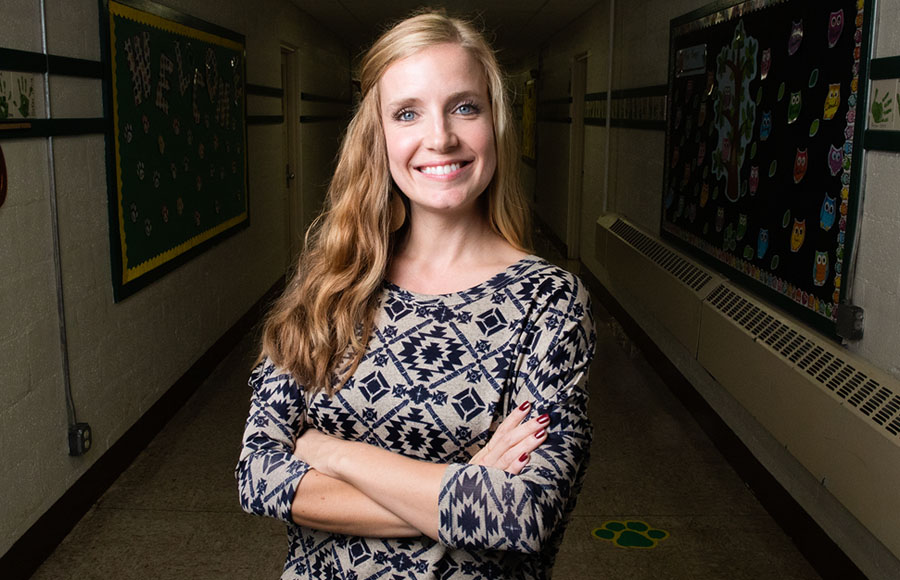 Posted Nov. 8, 2018 at 4:24 p.m.
BOONE, N.C. — Early in her studies, Ashley Carlton '12 failed a critical course at Appalachian State University. Given a second chance, she graduated with honors from Appalachian's classroom-based distance learning elementary education program and is now an award-winning science teacher.
As a first-generation student taking classes at one of Appalachian's off-campus locations, Carlton is the first to say she has succeeded in spite of herself.
Carlton teaches at Lower Creek Elementary in Lenoir, where she opens the eyes and minds of her fifth-graders through her science, technology, engineering and math-focused (STEM) classes and clubs, sustainable practices and examples of affection for her students.
Leigh Anne Frye, principal of Lower Creek Elementary, said, "Not only does (Carlton) teach science, but she lives and believes in conservation and being a good steward of our land. She is always willing to lend a hand and sponsors the largest club in our school: the STEM club."
STEM and GEMS
Carlton strives to engage her students in technology and sustainable living.
Carlton worked with Frye to write the grant for a recently installed solar panel at the school, and in her classroom, she shares the effects of global warming on animals and the environment. She has taken over the garden at the school and presents evidence to students of how making poor food choices will harm the body.
In addition to the STEM club, Carlton recently started the GEMS club, which stands for Girls Engineering Math and Science, to help "create a shift in that paradigm" of females in the science, math, engineering and technology fields, she said.
Her aim is to introduce girls to STEM in an unintimidating way in which they don't fear failure or judgment.
The road not taken
Carlton, from Lenoir, said she chose Appalachian because of its convenience.
At the time, she was a young mother who didn't have the luxury of being able to travel to and from campus to take courses. Carlton said she needed a schedule that worked for her.
She was in one of several cohorts in Appalachian's Reich College of Education to earn a degree as part of Appalachian's classroom-based elementary education program at Caldwell Community College and Technical Institute (CCC&TI) in Lenoir, which provides high-quality student services similar to those found on the Appalachian campus. The opportunity is part of the university's Distance Education initiative, now called App State Online.
"(It) was a god-send in terms of my success," Carlton said. "The flexibility and location were perfect for me."
Her success didn't come easy at Appalachian. Dealing with depression and a subsequent divorce, Carlton was dismissed from her cohort when she failed a math course that was critical for her degree.
"A major part of being accepted into the program was keeping up a certain GPA. I failed on my end of the bargain," she said. "However, being human beings, the powers-in-charge realized that sometimes life happens and people need another shot. I am very thankful for this."
Carlton said her professor for the course, Dr. Art Quickenton, professor emeritus in Appalachian's Department of Curriculum and Instruction, "saw something in me that he felt deserved a second chance and he gave me a shot at redemption by speaking for me."
"I cannot say enough about this man. Hard exterior, but his heart belongs in this profession," she added.
Quickenton spoke with Dr. Michael Jacobson, then chair of the Department of Curriculum and Instruction, who was in charge of allowing Carlton to continue with the program.
"He told me there wasn't room in the program for people who didn't take it seriously," she said. Carlton remembers him saying if she were to be given another chance, she had to prove herself worthy.
Carlton retook the math class she failed and went on to graduate magna cum laude. She was the first and only person in her family to go to college.
"For my mother to see me walk across the stage with a medal around my neck did something for her that she has never experienced," she said.
Learning the 'harsh reality' of teaching
While at Appalachian, Carlton learned the skills elementary education majors would expect to learn — how to plan lessons, how to find resources, how to interact with other professionals in the field and how to create a resume. She had professors who she said "were genuine and forthcoming with the harsh reality of what the teaching career can hold."
Carlton mentioned situations such as when a child comes in hungry from a sleepless night; when a child comes in withdrawn because he watched his father get arrested again; and when a child comes in with strange bruises, accompanied by unrealistic excuses.
"There are professors at Appalachian that will 'keep it real' with you and do their best to prepare you for these interactions," she said. "There are professors that love their adult students the same way that I have learned to love elementary students: as humans should love each other."
A 'safe and nurturing environment'
Carlton said she is grateful she gets to work with children all day, as she believes they connect with her and value her energy.
Her principal concurs. "Mrs. Carlton has a dynamic and energetic way of teaching that ignites interest and excitement among her students and peers," Frye said.
Carlton also understands the needs of her students.
"Most times the only requirement children have is to feel loved in a safe and nurturing environment," she said. "The four walls of my classroom will always meet those requirements."
She has been teaching almost six years, and in that time, she has been voted by her school as Rookie of the Year two years in a row. Additionally, Carlton was awarded Teacher of the Year in 2017.
Looking back at her journey, she said there is nothing she wishes she had done differently, especially choosing Appalachian.
"Appalachian is a school that, in my personal experience, promotes human welfare to the highest degree," Carlton said. "You feel cared for and valued by the staff, and the environment is progressive and accepting. That, for me, is reason enough to happily want to be a Mountaineer."
About App State Online
Recognized as one of the top online education destinations in the country by U.S. News & World Report, App State Online is designed to meet students wherever they are — whether they are seeking a degree, a credential or looking to sharpen their personal and/or professional skills. Through App State Online, Appalachian State University offers innovative, flexible and accredited undergraduate and graduate programs. Learn more at https://online.appstate.edu.
About the Reich College of Education
Appalachian State University offers one of the largest undergraduate teacher preparation programs in North Carolina, graduating about 500 teachers a year. The Reich College of Education enrolls more than 2,000 students in its bachelor's, master's, education specialist and doctoral degree programs. With so many teacher education graduates working in the state, there is at least one RCOE graduate teaching in every county in North Carolina. Learn more at https://rcoe.appstate.edu.
About Appalachian State University
As the premier public undergraduate institution in the Southeast, Appalachian State University prepares students to lead purposeful lives. App State is one of 17 campuses in the University of North Carolina System, with a national reputation for innovative teaching and opening access to a high-quality, affordable education for all. The university enrolls more than 21,000 students, has a low student-to-faculty ratio and offers more than 150 undergraduate and 80 graduate majors at its Boone and Hickory campuses and through App State Online. Learn more at https://www.appstate.edu.
What do you think?
Share your feedback on this story.