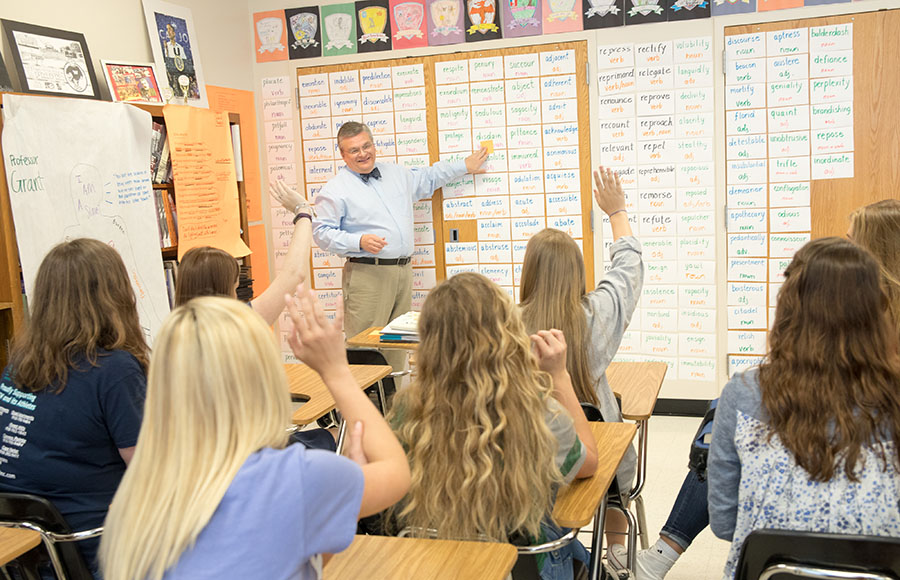 Posted Jan. 9, 2019 at 4:37 p.m.
BOONE, N.C. — For the third consecutive year, Appalachian State University has topped the National Board for Professional Teaching Standards' list of "Top 50 Alma Maters by Total Number of NBCTs," with 2,090 alumni having earned the national credential to date.
Additionally, North Carolina continues to lead the nation in the number of teachers who have become National Board Certified Teachers (NBCT) — since 1987, 21,985 educators have earned the certification. In 2018, 557 North Carolina teachers gained the endorsement.
"Teachers who gain national certification go through a process of learning themselves to hone their practice and demonstrate mastery as teachers," said Mark Johnson, North Carolina's superintendent of public instruction. "I congratulate all of North Carolina's national board certified teachers."
The national certification is based on a rigorous performance-based assessment that typically takes from one to three years to complete and measures what accomplished teachers and counselors should know and be able to do.
Nationally, 3,907 teachers earned certification in 2018, raising the total among all states to more than 122,000. In addition, 4,446 teachers nationally achieved recertification. North Carolina also leads the nation in recertified teachers for 2018, with 946.
North Carolina accounts for nearly one-fifth (18 percent) of all teachers nationally who are certified by the teaching standards organization. Nationally certified teachers also account for a larger percentage of the total teaching force in North Carolina than any other state, with 22.13 percent having earned the credential.
Nine North Carolina universities and colleges were named among the top 50 schools with the highest number of alumni with the national credential:
No. 1 — Appalachian State University (2,090 alumni).
No. 2 — East Carolina University (2,052 alumni).
No. 4 — University of North Carolina at Chapel Hill (1,410 alumni).
No. 6 — University of North Carolina at Greensboro (1,353 alumni).
No. 7 — University of North Carolina at Charlotte (1,226 alumni).
No. 16 — North Carolina State University (933 alumni).
No. 20 — Western Carolina University (877 alumni).
No. 21 — University of North Carolina at Wilmington (854 alumni).
No. 46 — Meredith College (454 alumni).
Appalachian was founded in 1899 as a teachers college and continues to have one of the largest teacher education programs in North Carolina. School systems in all 100 counties of the state employ at least one graduate of Appalachian's Reich College of Education.
Additional information about the national certification is available here.
What do you think?
Share your feedback on this story.
About the Reich College of Education
Appalachian State University offers one of the largest undergraduate teacher preparation programs in North Carolina, graduating about 500 teachers a year. The Reich College of Education enrolls more than 2,000 students in its bachelor's, master's, education specialist and doctoral degree programs. With so many teacher education graduates working in the state, there is at least one RCOE graduate teaching in every county in North Carolina. Learn more at https://rcoe.appstate.edu.
About Appalachian State University
As the premier public undergraduate institution in the Southeast, Appalachian State University prepares students to lead purposeful lives as global citizens who understand and engage their responsibilities in creating a sustainable future for all. The Appalachian Experience promotes a spirit of inclusion that brings people together in inspiring ways to acquire and create knowledge, to grow holistically, to act with passion and determination, and to embrace diversity and difference. Located in the Blue Ridge Mountains, Appalachian is one of 17 campuses in the University of North Carolina System. Appalachian enrolls nearly 21,000 students, has a low student-to-faculty ratio and offers more than 150 undergraduate and graduate majors.