Posted Jan. 11, 2019 at 2:58 p.m.
BOONE, N.C. — Interpersonal communication, access to education, and understanding of homophobia and transphobia.
Appalachian State University students are working to improve these global issues through three community-level initiatives they designed and are leading this academic year as part of Appalachian's Global Peacebuilding Project (GPP).
About Appalachian's GPP:
Modeled after the 2015–16 U.N. Diversity Contest, in which college students from around the world implemented creative proposals to address sexism, racism and other biases in their home communities.
Awarded three faculty-mentored student groups up to $2,000 through last spring's campuswide Global Peacebuilding Competition to implement ideas designed to create more peace and justice in the world.
Organized by Appalachian's Office of International Education and Development, faculty member and former U.N. globalization specialist Dr. Marty Schoenhals, and a campuswide GPP Committee comprising faculty, staff and students.
The student groups began work on their projects last fall, with two projects continuing this spring.
"I am very impressed with our students' ideas and projects of how peace building looks from their perspectives," said Dr. Jesse Lutabingwa, associate vice chancellor for international education and development.
"Often, we tend to think of peace building as something very big that can only be initiated and accomplished by large organizations such as United Nations," he said. "Little effort is devoted to thinking about peace building at a micro level on our campus or in our communities at home. The students' projects provide another perspective of how we can all be peace builders at a micro level. I am very proud of our students for the work that they are doing or have done."
The students' initiatives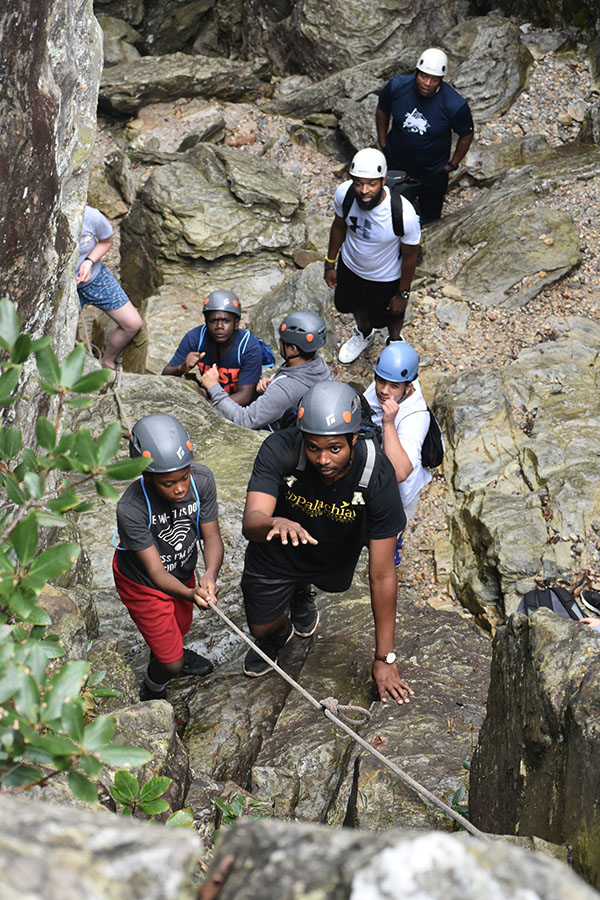 The City to Mountains Student Exchange
'Student change-makers'
Schoenhals, who joined Appalachian after working for the U.N. and has been mentoring two of the projects, called the Global Peacebuilding Project "a truly special experience" for Appalachian students.
"It provides competition-winning students the funds and faculty mentoring so they can implement their own imaginative proposals to challenge inequality and toxic conflict. Through their experiences, students learn how to solve problems and make change happen," he said.
"What this first generation of GPP students learn can be passed on to future student change-makers, giving them guidance for carrying out their own projects, and the inspiration of seeing positive change efforts succeed."
Appalachian continues United Nations program designed to challenge global prejudice
April 4, 2018
Diverse Issues in Higher Education
March 29, 2018
About the Office of International Education and Development
The OIED is responsible for spearheading the internationalization efforts at Appalachian. The internationalization mission of Appalachian is to develop awareness, knowledge, appreciation and respect of cultural differences in both domestic and international contexts in its students, faculty, staff and the surrounding communities. The university is also dedicated to creating a campus environment that builds the theoretical and practical skills needed to interact effectively in a global society. Learn more at https://international.appstate.edu.
About Appalachian State University
As the premier public undergraduate institution in the state of North Carolina, Appalachian State University prepares students to lead purposeful lives as global citizens who understand and engage their responsibilities in creating a sustainable future for all. The Appalachian Experience promotes a spirit of inclusion that brings people together in inspiring ways to acquire and create knowledge, to grow holistically, to act with passion and determination, and to embrace diversity and difference. Located in the Blue Ridge Mountains, Appalachian is one of 17 campuses in the University of North Carolina System. Appalachian enrolls more than 20,000 students, has a low student-to-faculty ratio and offers more than 150 undergraduate and graduate majors.
What do you think?
Share your feedback on this story.