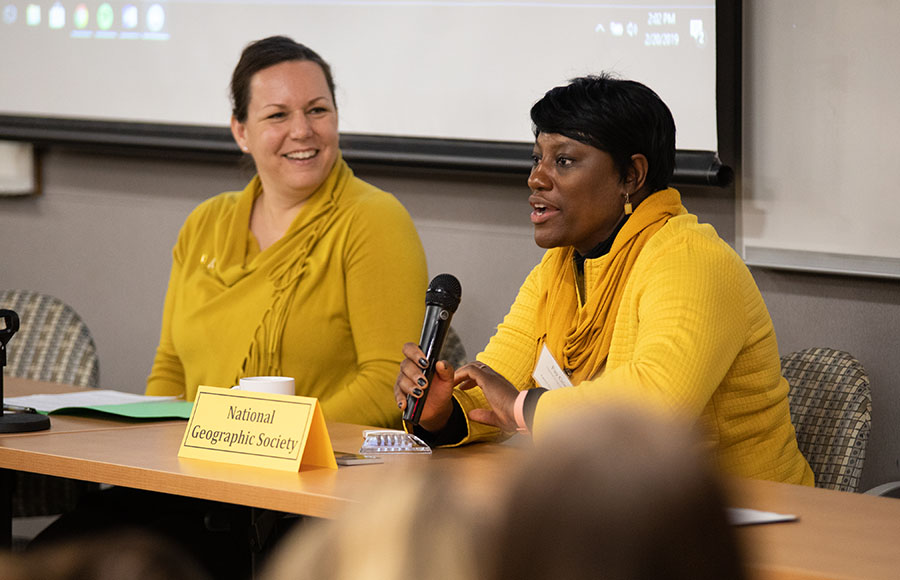 Posted Feb. 27, 2019 at 3:49 p.m.
BOONE, N.C. — The inaugural "Careers for Impact" event on Appalachian State University's campus Feb. 20 provided students the opportunity to explore career opportunities and learn more about participating in regional nonprofit organizations and Certified B Corporations — a type of business that balances purpose and profit, working for the greater good. The university's Career Development Center (CDC) presented the event.
"We collaborated with faculty and students for months to plan this event to showcase employers making a positive impact on society with a commitment to sustainability, said Dr. Susan McCracken, Appalachian's director of career development and economic engagement. "It brought together a remarkable group of committed and passionate individuals — employers, students, Appalachian staff and faculty — who want to impact the world and gave them a forum to share and learn with one another."
Interactive panel discussions, moderated by members of Appalachian's faculty and CDC staff, spanned three topic areas: Science for Change, Social Impact and Advocacy, and Sustainable Business and Social Entrepreneurship.
Some of the topics addressed by the participating business representatives:
Mission and purpose of their organizations.
Career journeys of the presenters.
Trends in and future of the businesses.
Internship and job opportunities.
Specific skills and qualifications desired in new hires.
Faculty from several departments encouraged students to attend and, despite inclement weather, more than 400 students took part in the event.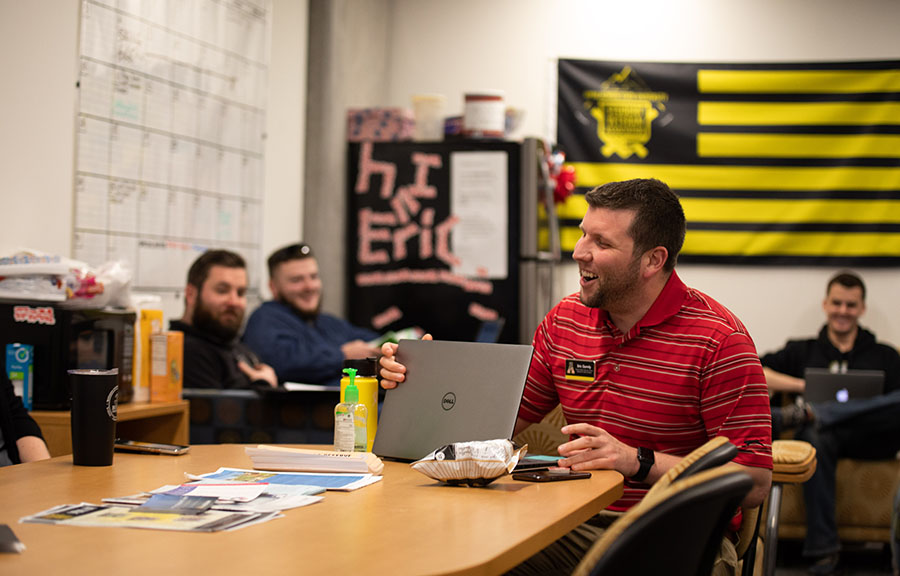 Susan Poorman, senior lecturer in Appalachian's Department of Communication, said, "I think students need to hear how people can craft a career from their passions. As one of the panelists said, 'There is a disconnect — students want to be socially active but don't see it as a career choice, yet they should.'"
Dr. Adam Hege, assistant professor of public health education in the Department of Health and Exercise Science, said, "Students get to hear from us faculty in the classroom about all of these service/impact career opportunities, and it was exciting for them to hear from actual professionals out there doing so — those who choose service and impact over money and prestige."
"Young people want careers in which they can dedicate themselves to community and service. However, nonprofits and other government agencies often lack the capacity to recruit on college campuses and to help make students aware of the incredible resources they have. The 'Careers for Impact' event showed how Appalachian is at the forefront of matching student interest and passion with employment opportunities that make a difference . . . and how the graduates of Appalachian will help ensure a more just and sustainable society."

G. Dylan Russell, executive director of Lead NC
Business representatives at the event also had an opportunity to learn more about Appalachian students through informal "meet-ups" with clubs, offices and departments, including:
The meet-ups, along with a coffee hour networking session at the end of the day, were designed for employers to have informal conversations and learn more about Appalachian's multidimensional students.
McCracken said a student she spoke with shared it was these individual conversations with employers that helped the student gain confidence and "what you do is only as important as who you are."
What do you think?
Share your feedback on this story.
2019 employers that participated in 'Careers for Impact'*
About the Career Development Center
The Career Development Center at Appalachian State University supports the mission of the university and its Division of Student Affairs in developing lifelong learners and leaders by engaging and challenging students within a culture of care and inclusion. Students who participate in the center's services are able to identify core values, beliefs and skills and use them to articulate relatable career goals; acquire transferable skills and relevant experiences for future professional endeavors; and utilize resources that are available to gain experiential learning opportunities and cultivate professional networks. Learn more at https://careers.appstate.edu.
About the Division of Student Affairs
The Division of Student Affairs at Appalachian State University is committed to the development of lifelong learners and leaders by engaging and challenging students within a culture of care and inclusion. The division consists of 16 units that offer activities and services to help students develop more fully by becoming global learners, fostering healthy relationships, appreciating diversity and different perspectives, understanding community responsibility, enhancing self-awareness, developing autonomy and living ethically. These units include the Career Development Center, Campus Activities, Office of Community-Engaged Leadership, Wellness and Prevention Services, Counseling and Psychological Services, Student Health Service, Parent and Family Services, University Housing, Student Conduct, University Recreation, Intercultural Student Affairs, Student Legal Clinic and Off-Campus Student Services, Electronic Student Services, Child Development Center, and Staff Development and Strategic Initiatives. Learn more at https://studentaffairs.appstate.edu.
About Appalachian State University
As the premier public undergraduate institution in the Southeast, Appalachian State University prepares students to lead purposeful lives. App State is one of 17 campuses in the University of North Carolina System, with a national reputation for innovative teaching and opening access to a high-quality, affordable education for all. The university enrolls more than 21,000 students, has a low student-to-faculty ratio and offers more than 150 undergraduate and 80 graduate majors at its Boone and Hickory campuses and through App State Online. Learn more at https://www.appstate.edu.