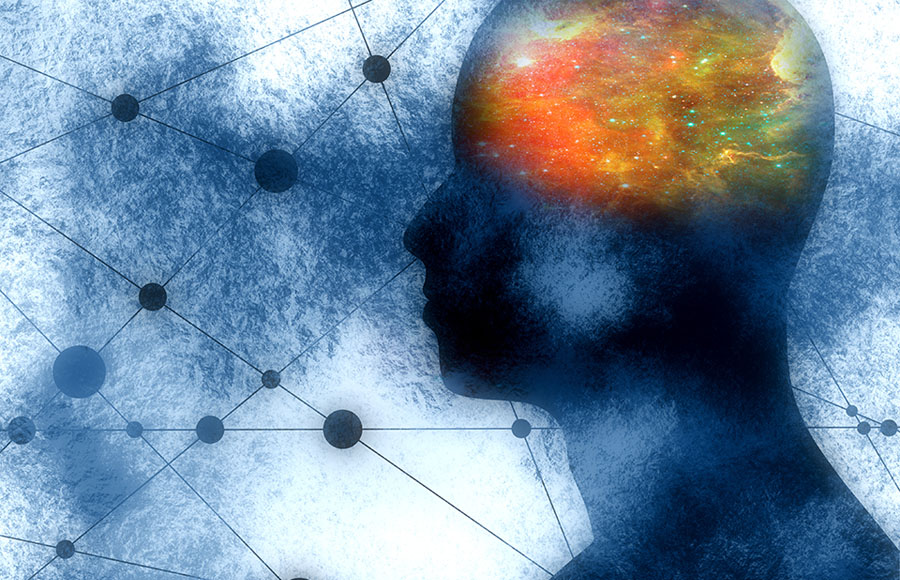 Posted Feb. 27, 2019 at 4:37 p.m.
BOONE, N.C. — One in four young adults struggle with a mental health problem, according to the National Alliance on Mental Illness (NAMI). To serve them and reduce stigmas around mental health for all students, Appalachian State University offers year-round programming that addresses mental health awareness and suicide prevention.
"Maintaining mental wellness is an everyday challenge, and we strive to provide multiple opportunities for students to make mental health a priority and make self-care a habit," said Elisabeth Cavallaro, coordinator for student mental wellness in the Department of Wellness and Prevention Services.
Among those opportunities is the annual Semicolon Week. A semicolon symbolizes the resilient choice that someone experiencing mental struggles makes to continue living their story, instead of ending their story.
This year's key Semicolon Week event is "y(OUR) Story" March 27, a collaborative production in which actors, dancers, painters, poets and other artists portray true mental health stories submitted by members of the Appalachian Community.
The performance of local, personal stories is designed "to inspire those struggling with their mental health to not give up, and to bring conversation about mental health out of the shadows and into the light," Cavallaro said.
Other Semicolon Week events this year include:
A pill collection day to drop off unused or expired medication.
Give-away by Western Youth Network of locked pillboxes to keep needed medication secure.
The 5th Annual Out of the Darkness Campus Walk.
Encouraging mental well-being
When students take care of their mental health, they tend to do better socially and academically and in other areas of their lives, too, according to Cavallaro.
Research also shows that students are much more likely to listen to and retain information that's presented by their peers, which is why Semicolon Week and other mental health programming at Appalachian involves student coordinators as partners in planning and presentation.
For example, last fall, trained undergraduate students — known as peer educators — partnered with University Housing to provide two of Appalachian's mental well-being activities in every residence hall:
Repost:Rethink, on how to assess the impact of social media posts, specifically as they relate to suicide prevention and mental health; and
Mindful Mountaineers, on stress management, sleep hygiene and self-care.
Mental health-related presentations, which are designed for classrooms and club meetings as well as residence halls, also include:
Take 10: An introduction to meditation, in which students learn what it is and why it can be beneficial, and practice a few meditation skills.
Additional mental health activities open to all students:
Koru Mindfulness classes — Evidence-based, four-week meditation classes that help students be more mindful, experience less stress, get better sleep and have less self-judgment.
Online Suicide Prevention Training — An interactive training created by the Department of Wellness and Prevention Services that covers warning signs for suicide, how to identify when someone needs help, what to say to someone who is need of help and how to refer an Appalachian Community member to professional mental health resources.
Collegiate Recovery Community — A student-led support model for those in recovery from any sort of mental health struggles; it provides sober social spaces multiple times a week where students can find community.
Peer education focused entirely on mental health — Led by Counseling and Psychological Services Center.
WE COACH — A peer-to-peer wellness coaching service led by undergraduate students who are trained in motivational interviewing skills to help their peers with common college struggles.
Suicide Remembrance Night — Features various speakers on how suicide has affected their lives.
Bridge of Hope Banquet — Features speakers who talk about suicide prevention and raises money for Counseling and Psychological Services' off-campus counseling fund.
Counseling Center "Feelin' Good Workshops" — Open to all students and led by counseling center staff.
Wellness Challenge — A semesterlong challenge where students receive weekly emails with challenges that aim to improve their physical and mental well-being.
Minimizing the risk of suicide
The campus community works collaboratively to minimize the risk of suicide. The Mental Well-being Student Wellness Improvement Team, for example, has members from University Housing, Office of Student Success, Office of Transfer Services, Appalachian Police Department, Off-Campus Student Services and other units across campus who meet regularly to work on improving mental health on campus.
As a JED Campus alumni school, Appalachian has worked to implement recommendations from the JED Foundation designed for positive, systemic change in programs and policies that build on existing student mental health, substance abuse and suicide prevention efforts.
The Wellness and Prevention Services staff is engaged frequently with activities of student organizations or centers, such as the Multicultural Center, Henderson Springs LGBT Center and Women's Center. A counselor visits each of those centers weekly; plus, a student counselor visits the Major General Edward M. Reeder Jr. Student Veteran Resource Center. The staff is also present during new student orientation.
The university maintains a Prevent Suicide website with prevention information, training and resources.
Because interpersonal violence and substance abuse are risk factors for suicide, Wellness and Prevention Services staff also address those issues through events each year, Cavallaro said.
"Mental health and suicide prevention are most definitely a priority on this campus, and we try to reach as many students as possible with the various activities we conduct," Cavallaro said.
"We know that students are drawn to different kinds of activities — from big events, to smaller, more intimate classes, to online options — and we hope that, through the different offerings, every student finds some way to be engaged in this important dimension of wellness."
What do you think?
Share your feedback on this story.
Finding balance academically, financially, personally
Aug. 24, 2018
About the Division of Student Affairs
The Division of Student Affairs at Appalachian State University is committed to the development of lifelong learners and leaders by engaging and challenging students within a culture of care and inclusion. The division consists of 16 units that offer activities and services to help students develop more fully by becoming global learners, fostering healthy relationships, appreciating diversity and different perspectives, understanding community responsibility, enhancing self-awareness, developing autonomy and living ethically. These units include the Career Development Center, Campus Activities, Office of Community-Engaged Leadership, Wellness and Prevention Services, Counseling and Psychological Services, Student Health Service, Parent and Family Services, University Housing, Student Conduct, University Recreation, Intercultural Student Affairs, Student Legal Clinic and Off-Campus Student Services, Electronic Student Services, Child Development Center, and Staff Development and Strategic Initiatives. Learn more at https://studentaffairs.appstate.edu.
About Appalachian State University
As the premier public undergraduate institution in the Southeast, Appalachian State University prepares students to lead purposeful lives as global citizens who understand and engage their responsibilities in creating a sustainable future for all. The Appalachian Experience promotes a spirit of inclusion that brings people together in inspiring ways to acquire and create knowledge, to grow holistically, to act with passion and determination, and to embrace diversity and difference. Located in the Blue Ridge Mountains, Appalachian is one of 17 campuses in the University of North Carolina System. Appalachian enrolls nearly 21,000 students, has a low student-to-faculty ratio and offers more than 150 undergraduate and graduate majors.