Posted March 6, 2019 at 4:49 p.m.
BOONE, N.C. — With assistance from Appalachian State University's Office of Student Research (OSR), 15 undergraduate students, recent graduates and faculty members from four departmental areas in Appalachian's College of Arts and Sciences — Geological and Environmental Sciences, Geography and Planning, Physics and Astronomy and Chemistry and Fermentation Sciences — participated in the 2018 American Geophysical Union (AGU) Fall Meeting in Washington, D.C. Seven undergraduate students and one alumnus presented their research to thousands of scientists from across the world.
The annual AGU meeting exposes students to the broader subject of earth science and allows them to network with potential future employers and/or graduate advisers. Over 25,000 people attend the fall meeting, and presentations span a range of earth science topics. AGU also provides faculty with the opportunity to present research and network with colleagues from other institutions, as well as stay informed about the latest developments in their fields.
"It is very exciting to see so many undergraduates not only attend but present at a large interdisciplinary conference," said Dr. Becki Battista, director of the OSR. "This speaks to not only our students but the faculty that mentor and encourage them to seek new knowledge."
"This meeting is widely regarded as the most influential geoscience meeting in the world, with thousands of participants from countries all over the world," said Dr. Robert Swarthout, assistant professor with a dual appointment in the A.R. Smith Department of Chemistry and Fermentation Sciences and Department of Geological and Environmental Sciences.
"I was especially proud of how all of our students used this as an opportunity to talk about their work, learn more about a wide variety of hot topics in their fields and to network with potential graduate school advisers and employers."
More on students' AGU Meeting presentations
Emily Fedders, senior
"Streambank salt plume intrusion, concentration and residence times along a dynamic, urban headwater stream"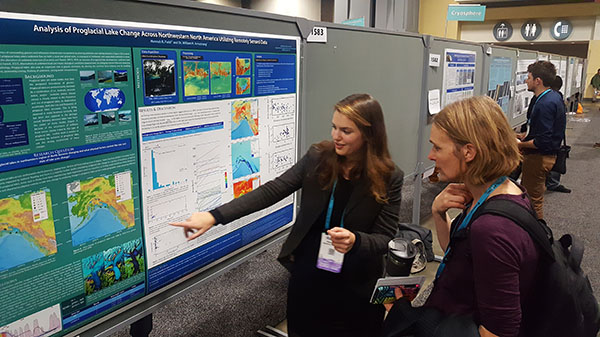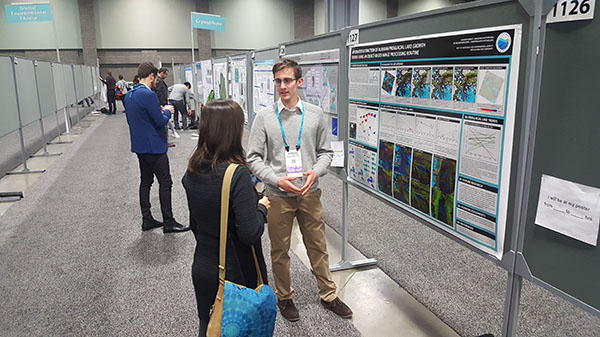 Seniors Hannah Field and Anton Hengst
"Analysis of Proglacial Lake Change Across Northwestern North America Utilizing Remotely Sensed Data" and "Automated Extraction of Alaskan Proglacial Lake Growth Trends Using an Object-based Image Processing Routine"
Olivia Paschall '18
"The role of volcanism in triggering the Hangenberg anoxia event: New (and better!) data across the Devonian-Carboniferous transition in the Pho Han Formation, Cat Ba Island, Vietnam"
Brandon Yokeley, senior
"The response of soil temperatures to vegetation cover changes in the southern Appalachians, North Carolina"
Kevin Takashita-Bynum '18
"Reconstructing the Deep Time Critical Zone of the Miocene fossil site of Loperot, Kenya: Paleosol geochemistry and stable isotopic results"
Seniors Rose Rossell and Patrick Faught
"Relationships Between Biogenic and Aromatic Volatile Organic Compounds and Phytoplankton Communities in the North Atlantic Ocean"
Appalachian's OSR was established in 2005 to expand the opportunities for undergraduate and graduate students to engage in research and mentored scholarship. OSR has a variety of resources, including financial support, to help research become a distinctive feature of the Appalachian Experience.
Appalachian participants in the 2018 AGU Fall Meeting
What do you think?
Share your feedback on this story.
About student research at Appalachian
Appalachian State University encourages faculty-mentored student research, which provides students with the opportunity to work side by side with faculty on meaningful research or creative endeavors. These projects often result in presentations, performances or exhibitions at regional, national and international conferences and events. Students who engage in research are able to apply knowledge from the classroom into real-world experiences and learn how to problem-solve, effectively communicate and analyze complex issues. Appalachian's Office of Student Research (OSR) was established in 2005 to expand the opportunities necessary for undergraduate and graduate students to engage in research and creative activities at Appalachian. Learn more at https://osr.appstate.edu.
About the A.R. Smith Department of Chemistry and Fermentation Sciences
The A.R. Smith Department of Chemistry and Fermentation Sciences offers a Bachelor of Arts in chemistry, a Bachelor of Science in chemistry with eight different concentrations and an interdisciplinary Bachelor of Science degree in fermentation sciences. The department's programs prepare students to attend graduate and professional schools, as well as for employment in the pharmaceutical and fermentation industries and other business sectors. Learn more at https://chemistry.appstate.edu.
About the Department of Geological and Environmental Sciences
Located in Western North Carolina, Appalachian State University provides the perfect setting to study geological and environmental sciences. The Department of Geological and Environmental Sciences provides students with a solid foundation on which to prepare for graduate school or build successful careers as scientists, consultants and secondary education teachers. The department offers six degree options in geology and two degree options in environmental science. Learn more at https://earth.appstate.edu.
About the Department of Physics and Astronomy
The Department of Physics and Astronomy's curriculum has an applied nature that includes a core of fundamental physics courses and laboratory experiences. The department prepares graduates for a variety of scientific, teaching or engineering professions, as well as future educational endeavors. Learn more at https://physics.appstate.edu.
About the College of Arts and Sciences
The College of Arts and Sciences (CAS) at Appalachian State University is home to 17 academic departments, two centers and one residential college. These units span the humanities and the social, mathematical and natural sciences. CAS aims to develop a distinctive identity built upon our university's strengths, traditions and unique location. The college's values lie not only in service to the university and local community, but through inspiring, training, educating and sustaining the development of its students as global citizens. More than 6,400 student majors are enrolled in the college. As the college is also largely responsible for implementing App State's general education curriculum, it is heavily involved in the education of all students at the university, including those pursuing majors in other colleges. Learn more at https://cas.appstate.edu.
About Appalachian State University
As the premier public undergraduate institution in the Southeast, Appalachian State University prepares students to lead purposeful lives as global citizens who understand and engage their responsibilities in creating a sustainable future for all. The Appalachian Experience promotes a spirit of inclusion that brings people together in inspiring ways to acquire and create knowledge, to grow holistically, to act with passion and determination, and to embrace diversity and difference. Located in the Blue Ridge Mountains, Appalachian is one of 17 campuses in the University of North Carolina System. Appalachian enrolls nearly 21,000 students, has a low student-to-faculty ratio and offers more than 150 undergraduate and graduate majors.