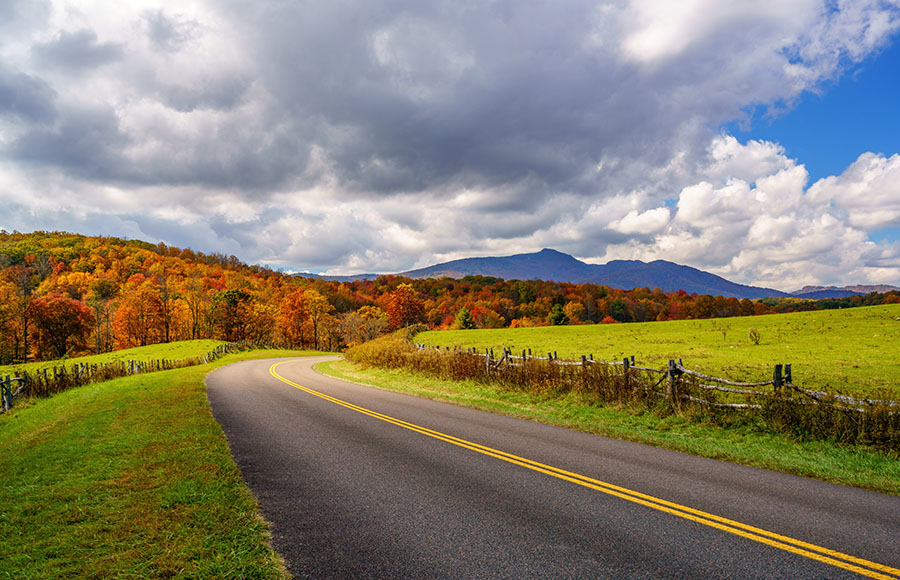 Posted March 15, 2019 at 1:45 p.m.
BOONE, N.C. — Thanks to $21,820 in funding from the National Park Service (NPS), Dr. Mark Spond, Appalachian State University's liaison to the NPS, has completed a condition assessment of agricultural parcels adjacent to the Blue Ridge Parkway — a 469-mile road that snakes along the central and southern Appalachian Mountains of Virginia and North Carolina.
NPS, which owns the parcels, leases the land through a Special Use Permit for a period of five years as part of its Agricultural Lease Program. The leases provide a modest source of revenue for NPS and promote the pastoral setting along portions of the parkway, Spond shared.
"In permitting agricultural use of NPS lands, the parkway is required to foster practices, which conserve soil, protect streams and groundwater, control exotic plant species and avoid toxic contamination of the environment," the NPS website states.
Spond said NPS will use the information collected from the assessment in fall 2018 to require correction prior to the renewal of an agricultural lease permit and/or may create best management practice statements that need to be included in the permit and carried out during the permit's term.
A second goal of the project was to establish permanent photo points in high-priority parcels for long-term monitoring, Spond said. Photo point monitoring, as defined by the USDA Forest Service, is a method of monitoring vegetation and ecosystem change over a period of time by taking photographs of an area from the same location and with the same field of view as the original photo.
"The photo points will serve as a qualitative tool to visually confirm/observe degradation or improvement in conditions," Spond explained.
What do you think?
Share your feedback on this story.
About the Appalachian State University Liaison to the National Park Service
The Appalachian State University Liaison to the National Park Service (NPS) is the central contact for initiatives that partner Appalachian with NPS units across the United States. The liaison promotes opportunities, such as service projects and task agreements, that mutually benefit NPS units and university students, faulty, staff and alumni. Past projects have partnered members of the Appalachian Community with NPS natural/cultural resource personnel, interpreters and educational initiatives. Learn more at https://npsliaison.appstate.edu.
About Appalachian State University
As the premier public undergraduate institution in the Southeast, Appalachian State University prepares students to lead purposeful lives as global citizens who understand and engage their responsibilities in creating a sustainable future for all. The Appalachian Experience promotes a spirit of inclusion that brings people together in inspiring ways to acquire and create knowledge, to grow holistically, to act with passion and determination, and to embrace diversity and difference. Located in the Blue Ridge Mountains, Appalachian is one of 17 campuses in the University of North Carolina System. Appalachian enrolls nearly 21,000 students, has a low student-to-faculty ratio and offers more than 150 undergraduate and graduate majors.