Posted March 15, 2019 at 4:28 p.m.
During summer 2018, a group of Appalachian State University students traversed Peru — from the heights of Machu Picchu down to the gateway of the Amazon rainforest — to immerse themselves in Incan history and culture while sharing and learning sustainability practices, Mountaineer-style.
While in Peru, the group visited ruins in the Inca Empire; attended workshops with students from Universidad Nacional de San Antonio Abad del Cusco (UNSAAC), a public university in Cusco; designed and built photovoltaic (PV or solar-powered) systems to implement in rural areas of the country; and assessed needs for future energy projects.
Assistant professor Dr. Jeremy Ferrell and Practitioner-in-Residence Brent Summerville, both of the university's Department of Sustainable Technology and the Built Environment (STBE), led this group of 14 students — all of whom, save one, are enrolled in the STBE department — into what Ferrell described as a paradigm-shifting experience.
"In Peru, there is archaeology, stone masonry that Western science still doesn't know how to explain, and several climates butted up against one another — a coastal environment, glaciers and snow-capped mountains, high elevation climates and the Amazon basin with incredible biodiversity," Ferrell said. "From an ecological and environmental aspect, with resources and renewable energy resources, there is a lot going on there."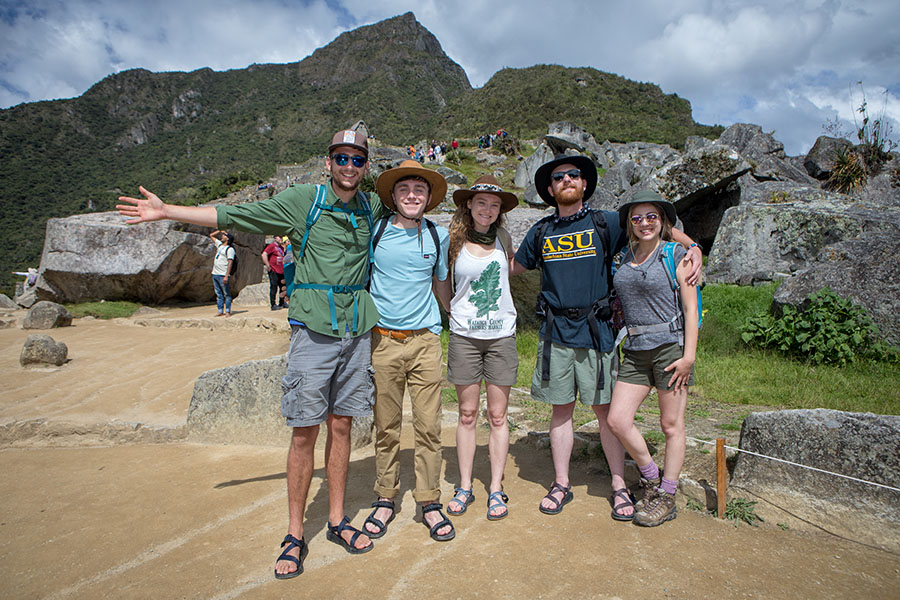 Lessons from the past
Through touring Incan architectural sites in Saqsaywamán, Ollantaytambo and Machu Picchu, Ferrell said students gained an appreciation for building methods that predate Western civilization. "When people see those massive Incan stone works put in place without any type of modern technology, it reshapes our thinking about the way the world is and the way the world works," he said.
"In thinking about sustainable technology, we tend to focus on solar panels and wind generators and things like that," Ferrell said. "But it is a discipline about finding the right technology to implement — whether for producing energy, cleaning water or creating a built environment."
Many of the structures the group visited were built by the Incas in the 1400s. "Part of sustainability is durability, being able to last," Ferrell said. "That's a valuable lesson for our students to learn."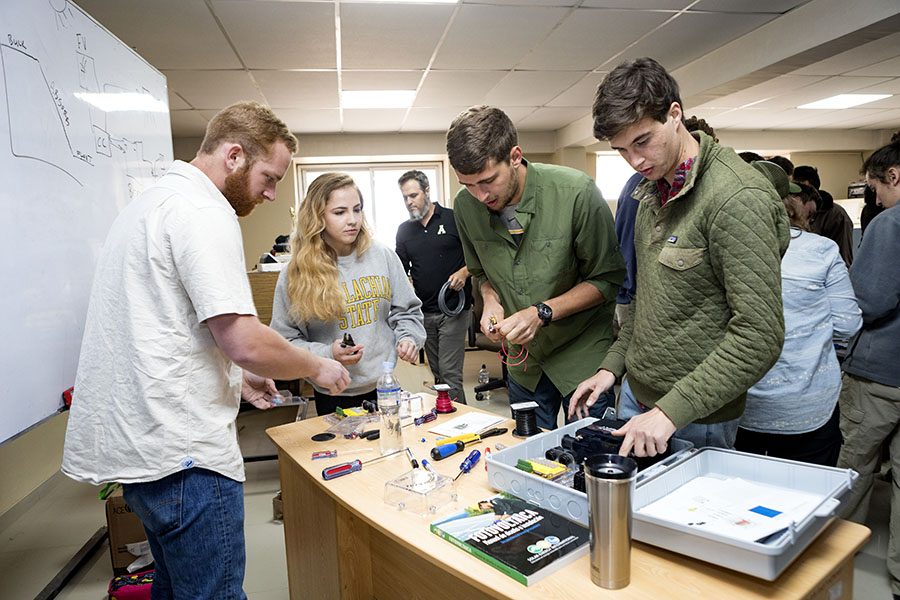 Collaborative learning, sustainable action
While in Cusco, the group from Appalachian conducted a two-day workshop on stand-alone PV systems with physics students and faculty from UNSAAC.
Ferrell said that while an estimated 12 percent of the global population lives without electricity, cell phone reception is often found in even remote areas of the world, and some people must walk miles to charge their phones. This knowledge directed the focus of the project, and the students designed and constructed two PV systems for lighting and cell phone charging. One system was installed at UNSAAC, and the second was placed in Pucarami, a remote community at the foot of the Ausangate Glacier.
Working with the students at UNSAAC was a rewarding experience for Tessa Bennett '18, who was a senior at Appalachian during the trip and has since graduated with a B.S. in sustainable development (SD). "The students there were so smart and eager to share what they knew," she said.
With the UNSAAC students, Appalachian students demonstrated an improved cook stove, which could replace the traditional wood-fire cooking used in village homes, potentially reducing air pollution, deforestation and the use of fossil fuels.
Adam Mattheis, a senior sustainable technology major from Raleigh, said the cook stove works like a kiln. "It's super insulated and once you make a fire … if you keep feeding it, it burns so hot there are no emissions. You can cook inside a house without smoke ... and that smoke is so bad for the children."
As the sole SD major on the trip, Bennett said learning about the technical side of sustainable action was a bonus. SD is based more on policy and practices, she said, not building systems to solve problems. "Generally, the two don't work together," she explained, "but I like having a taste of both sides."
Assessments and solutions
Moving on to Ollantaytambo, the group met up with Dr. Baker Perry, professor of geography at Appalachian, who was leading another study abroad course in Peru to investigate the effects of climate change on dynamic tropical glaciers.
There, Ferrell, Summerville and Baker, along with their students, collaborated on a wind energy assessment to determine the feasibility of installing a community-scale wind turbine at the Sacred Valley Brewery in nearby Pachar to help power the plant.
Ferrell said the experience collaborating with Perry and his students provided an opportunity to learn from each other while managing various projects on the other side of the globe.
Ferrell's group headed on to Pucarumi to perform a community needs assessment there. They installed the PV post — affectionately dubbed the Appalachian Streetlamp — which is synchronized to turn on at sunset and off at sunrise.
Nikki Cook, a senior sustainable technology major from Raleigh who served as project manager for the installation, said it will allow the residents of the remote area "to charge their phones for free so they can call loved ones, have light when they need it."
"That's what is so cool about renewables," Mattheis said. "You're getting it free from thin air. It's a really cool technology. It's a win-win for everybody."
A bond that 'can't be replicated'
Ferrell said trips like this one help students see how the global marketplace is interconnected, how cultural aspects are woven together. "Students may end up working in a corporate structure with people on the other side of the world. This trip was a great immersion into thinking like a global citizen," he said.
"Also, these trips result in a strong bond between the students and faculty that can't be replicated in the classroom," Ferrell said. The students more than affirmed his assessment.
Bennett said the trip was life changing. "Peru is a magical place. I saw some of my friends from the trip a while ago, and they said they feel they have changed … one friend said he even stopped smoking because of the experience."
And Mattheis said it made him dream big — dream of being the person who could convince the leaders of governments to build solar plants. "It would help boost economies, and create jobs — making panels and installing."
A Peru study abroad becomes a metaphor for the Appalachian Experience
March 15, 2019
What do you think?
Share your feedback on this story.
About the Department of Sustainable Technology and the Built Environment
One of seven departments housed in the College of Fine and Applied Arts, the Department of Sustainable Technology and the Built Environment at Appalachian State University features an integrated array of programs spanning the fields of sustainable design and technology. Its mission is to foster a strong and vibrant culture of inquiry, discovery and innovation that integrates theory with application, problem seeking with problem-solving, local issues with global perspectives and technological progress with environmental stewardship. It offers bachelor's degrees in sustainable technology and building science, and a master's degree in technology. Learn more at https://stbe.appstate.edu.
About the College of Fine and Applied Arts
Appalachian State University's College of Fine and Applied Arts is a dynamic and innovative group of seven academic departments, bringing together a variety of perspectives, experiences and real-world education to provide unique opportunities for student success. The college has more than 3,000 undergraduate and graduate majors. Its departments are Applied Design, Art, Communication, Military Science and Leadership, Sustainable Development, Sustainable Technology and the Built Environment, and Theatre and Dance. Learn more at https://faa.appstate.edu.
About Appalachian State University
As the premier public undergraduate institution in the Southeast, Appalachian State University prepares students to lead purposeful lives as global citizens who understand and engage their responsibilities in creating a sustainable future for all. The Appalachian Experience promotes a spirit of inclusion that brings people together in inspiring ways to acquire and create knowledge, to grow holistically, to act with passion and determination, and to embrace diversity and difference. Located in the Blue Ridge Mountains, Appalachian is one of 17 campuses in the University of North Carolina System. Appalachian enrolls nearly 21,000 students, has a low student-to-faculty ratio and offers more than 150 undergraduate and graduate majors.