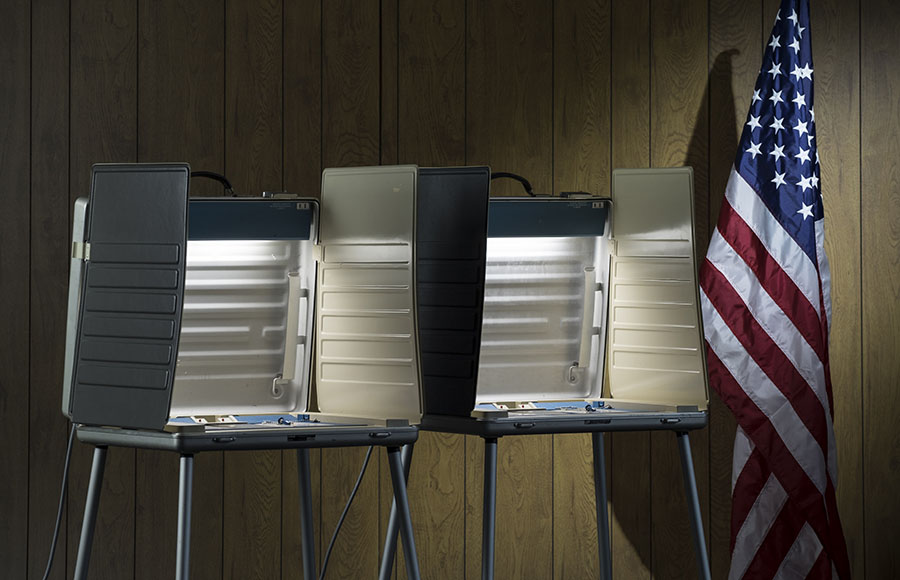 Posted March 15, 2019 at 10:21 a.m.
BOONE, N.C. — Insufficient sleep is a health concern, and its effects reach beyond physical health. While a lack of sleep is known to negatively impact some types of behaviors, relatively little is known about how it affects civic engagement and social behaviors vital for a healthy democracy.
Research recently published in the peer-reviewed journal Nature Human Behaviour and authored by Dr. David Dickinson, professor of economics in Appalachian State University's Walker College of Business, along with political scientists Drs. John Holbein and Jerome Schäfer, has found that insufficient sleep predicts lower voter turnout.
Additionally, the study, titled "Insufficient sleep reduces voting and other prosocial behaviours," shows that those whose sleep levels are manipulated into short-term episodes of increased sleepiness are less willing to vote, sign petitions and donate to charities.
"The advantage of this paper is that we not only examined real-world expressions of prosocial behaviors and civic engagement, which connects more directly with real-world decision makers, but we also used multiple methodologies to show a consistent result," Dickinson said. "Each different data set and methodology has its strengths and weaknesses, but the result is all the more compelling when all point to the same conclusion."
The authors' findings highlight that there likely exist significant negative consequences of current societal sleep habits on civic engagement and important measures of social capital that have spillover effects in society.
The research study authors
What do you think?
Share your feedback on this story.
About the Department of Economics
The Department of Economics offers diverse courses that cover standard fields such as microeconomic and macroeconomic theory, labor, public finance, regional and development economics. The department is particularly strong in the areas of environmental and experimental economics. It offers the Bachelor of Science in business administration (B.S.B.A.) and the Bachelor of Arts (B.A.). Learn more at https://economics.appstate.edu.
About the Walker College of Business
The Walker College of Business at Appalachian State University delivers transformational educational experiences that prepare and inspire students to be ethical, innovative and engaged business leaders who positively impact our community, both locally and globally. The college places emphasis on international experiences, sustainable business practices, entrepreneurial programs and real-world applications with industry. Enrolling approximately 3,000 undergraduates in 10 majors and 175 graduate students in three master's programs, the Walker College is accredited by AACSB International – the premier global accrediting body for schools of business. Learn more at https://business.appstate.edu.
About Appalachian State University
As the premier public undergraduate institution in the Southeast, Appalachian State University prepares students to lead purposeful lives as global citizens who understand and engage their responsibilities in creating a sustainable future for all. The Appalachian Experience promotes a spirit of inclusion that brings people together in inspiring ways to acquire and create knowledge, to grow holistically, to act with passion and determination, and to embrace diversity and difference. Located in the Blue Ridge Mountains, Appalachian is one of 17 campuses in the University of North Carolina System. Appalachian enrolls nearly 21,000 students, has a low student-to-faculty ratio and offers more than 150 undergraduate and graduate majors.