Posted March 21, 2019 at 2:26 p.m.
BOONE, N.C. — Six winning entries by Appalachian State University faculty and staff have been announced for the 2019 Chancellor's Innovation Scholars Program. The chosen teams were awarded close to $10,000 each from the Office of the Chancellor and Division of Academic Affairs.
The Chancellor's Innovation Scholars Program supports teams of interdisciplinary faculty and staff who are working creatively toward the following goals:
Address challenges facing higher education.
Create lasting institutional change.
Provide community and societal benefits.
Establish opportunities that increase student engagement.
Promote broad-based sustainability.
This year's initiatives range in topic from climate change awareness, to financial planning workshops, to cybersecurity.
"The winning proposals demonstrate diverse perspectives on issues that are important to our campus and community — and important to the world," Chancellor Sheri Everts said. "It is exciting to see faculty and staff work collaboratively and involve students in projects with outcomes that promise a brighter future."
The program is intended to complement other innovation initiatives at the university. Some of this year's funded projects build on existing research; others reflect new ideas.
The winning projects
The Climate and Creative Practices Across the Disciplines project is designed to grow the capacity of faculty and students to be more creative and compelling climate storytellers. Its goal is to create opportunities for interdisciplinary learning and connections while increasing awareness of the problems of climate change.
The project's collaborators — Jennie Carlisle, lecturer in the Department of Art and director of Appalachian's Smith Gallery; Laura England, senior lecturer in the Goodnight Family Department of Sustainable Development; and Dr. Derek Davidson, assistant professor in the Department of Theatre and Dance — propose developing an art exhibition, as well as gallery-based education programs and workshops.
Carlisle, England and Davidson are co-facilitators for the Climate Stories Collaborative and will use that platform to partner with the New York University-based art collective Dear Climate.
Carlisle said, "This commissioned project will bring new knowledge and new ways to think about climate change to campus and make people more confident in the ways that they're engaging with this issue — one of the biggest issues of our time.
"We're particularly excited to host Dear Climate, because its projects, which focus on cultivating a more affectionate relationship with the nonhuman world, are an outstanding example of creative research and the ways that artists are participating in meaningful social change."
The Appalachian Student Cybersecurity Operations Center initiative is headed by James Webb, Appalachian's chief information security officer in Information Technology (IT) Services, along with Larry Bridges, lecturer in the Department of Computer Science.
The team proposes to create a new "fusion space" for a select group of computer science students to collaborate with IT to enhance cyber protection of the university.
To date, cybersecurity for the university has been handled by Webb's IT team. Inclusion of the students in the process will provide them valuable experience for future employment, Webb said.
"I've been guest lecturing in some of Larry's CS (cybersecurity) classes, and after each session, we have students come up to seek advice on how they can get started in the industry," he explained. "The real challenge is most employers look for people who have had experience defending enterprises. Larry and I were thinking of ways to bridge what instructors in computer science are doing with some of the work my team does on a daily basis."
The center will be located in Peacock Hall, and students involved in the project will earn professional certifications in the field of cybersecurity.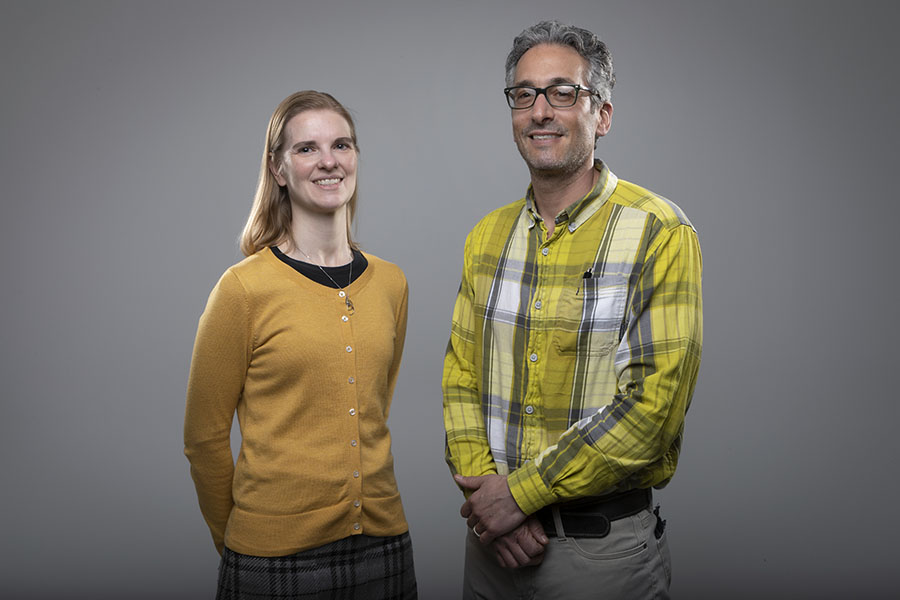 Transforming Science Laboratories, a project led by Dr. Sarah Arrington, director of general biology in the Department of Biology, and co-applicant Dr. Brett Taubman, professor in the A.R. Smith Department of Chemistry and Fermentation Sciences, is designed to improve both retention and success of students in STEM (Science, Technology, Engineering and Math) fields.
"University data, which aligns with national data, shows that introductory biology and chemistry courses carry higher than average DFW (D/fail/withdraw) rates," Arrington explained. "Although students are interested in pursuing STEM majors, college readiness tests indicate they are often deficient in the academic skills needed to be successful in these fields."
Arrington and Taubman will use the awarded funds to introduce inquiry-based labs in introductory-level courses. "Studies show that students participating in experiential-based labs have greater retention of material and are more likely to find success in science — a field where there is a great need for trained students to fill quality jobs both locally and nationally," Arrington said.
Using Apiary Management Software to Help Meet United Nations (U.N.) Sustainable Development Goals is an initiative planned by members of Appalachian's Center for Analytics Research and Education (CARE).
These members include Dr. Joseph Cazier, professor in the Department of Computer Information Systems and Supply Chain Management (CIS and SCM); Dr. James Wilkes, professor in the Department of Computer Science; Dr. Brandy Hadley, assistant professor in the Department of Finance, Banking and Insurance; Dr. Ed Hassler, assistant professor in the Department of CIS and SCM; and Frank Linton, research professor with CARE.
CARE is actively working with the U.N. on an official project on the distribution of global best practices for beekeeping.
"Helping people learn how to manage bees effectively, using technology, has the potential to help meet some of the key U.N. sustainable development goals — namely, reducing poverty and hunger and promoting economic development," Cazier said.
"The Innovation Scholars grant provides some seed money to test ideas and provide a software infrastructure tool to governments and NGOs (nongovernmental organizations) that are using honeybees as an economic development tool," Wilkes said.
A mix of students will assist the CARE team. "Everything we do in CARE is interdisciplinary by nature," Cazier explained. "We need computer scientists to build software applications, data scientists to make sense of the information and people from finance for the economic development piece."
A Pilot Program in Financial Literacy for Appalachian Student Women is designed to promote economic sustainability by developing behaviors that promote financial stability and growth. Two faculty in the Department of Finance, Banking and Insurance — Dr. Brandy Hadley, assistant professor, and Dr. Lorilee Medders, the Joseph F. Freeman Distinguished Professor of Insurance — are the project creators.
Hadley and Medders plan to develop workshops and exercises that will enhance the financial knowledge and wisdom required for students to reach a sustainable economic position. "The most innovative element to the program lies in its focus on utilizing the students' 'future self' as the motivating tool — seeing their possibilities in the future world," Hadley said.
Statistics reveal a gender gap still exists when looking at economic sustainability, Medders said, and this pilot certificate program will ensure female students at Appalachian are not comparatively disadvantaged in their knowledge and confidence regarding personal financial management.
Hadley added, "Hands-on workshops will teach students real-world skills while offering a model for consideration by other higher education institutions."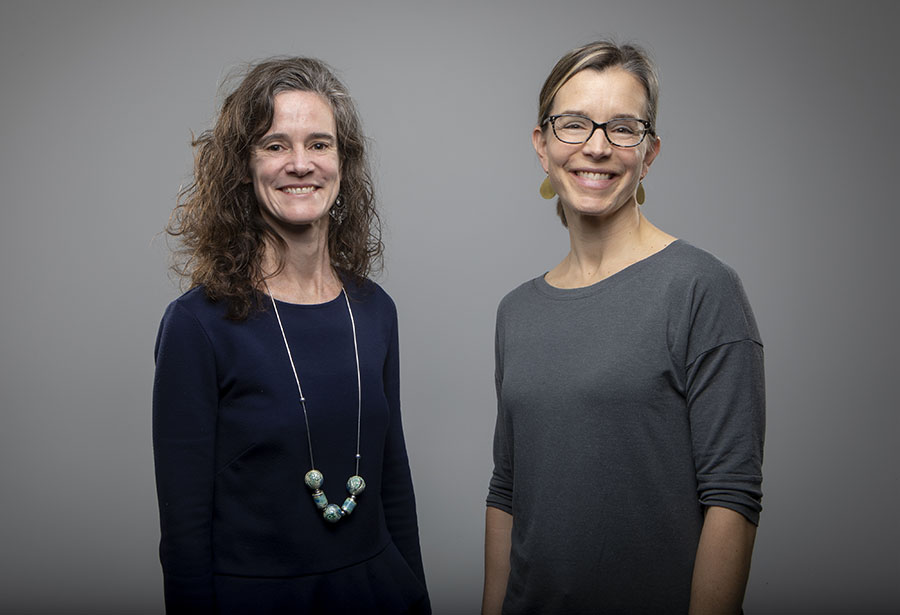 The Environmental Justice and Climate Action in North Carolina project addresses climate justice and the relationship between environmental risk and inequities linked to race, class, gender and economic vulnerability.
Designed by assistant professors Dr. Dana E. Powell, in the Department of Anthropology, and Dr. Rebecca Witter, in the Department of Sustainable Development, the program merges and innovates curriculum from their respective departments to create a field-based learning experience for Appalachian students with community-based researchers and environmental justice leaders through the North Carolina Environmental Justice Network (NCEJN).
Both Powell and Witter have roots in rural eastern North Carolina, where this project is focused. "We share family backgrounds connected to agriculture, and that deepened our interest in this venture," Powell said.
"Eastern North Carolina is where the national environmental justice movement ignited in the 1980s, and where environmental and economic injustices are now exacerbated in the face of climate change," Witter added.
This project, built upon 15 years of Powell's collaboration with the NCEJN, translates a global phenomenon — the uneven impacts of climate change — into situated learning for Appalachian students, and expands opportunities for new research collaborations among researchers, policymakers and community-based intellectuals across the state, Powell explained.
What do you think?
Share your feedback on this story.
About the Chancellor's Innovation Scholars Program
The Chancellor's Innovation Scholars Program supports innovative research and practice by Appalachian State University faculty and staff throughout all disciplines and program areas on campus. These internal grants are awarded to Appalachian thought leaders who work creatively and entrepreneurially to address challenges; create lasting institutional change; provide community and societal benefits; establish opportunities that increase student engagement with research, creativity, innovation, design thinking and entrepreneurship; and promote broad-based sustainability in the areas of economics, equity and the environment. The program is intended to complement other innovation initiatives at the university. Learn more at https://www.appstate.edu/innovation-scholars.
About Appalachian State University
As the premier public undergraduate institution in the Southeast, Appalachian State University prepares students to lead purposeful lives. App State is one of 17 campuses in the University of North Carolina System, with a national reputation for innovative teaching and opening access to a high-quality, affordable education for all. The university enrolls more than 21,000 students, has a low student-to-faculty ratio and offers more than 150 undergraduate and 80 graduate majors at its Boone and Hickory campuses and through App State Online. Learn more at https://www.appstate.edu.