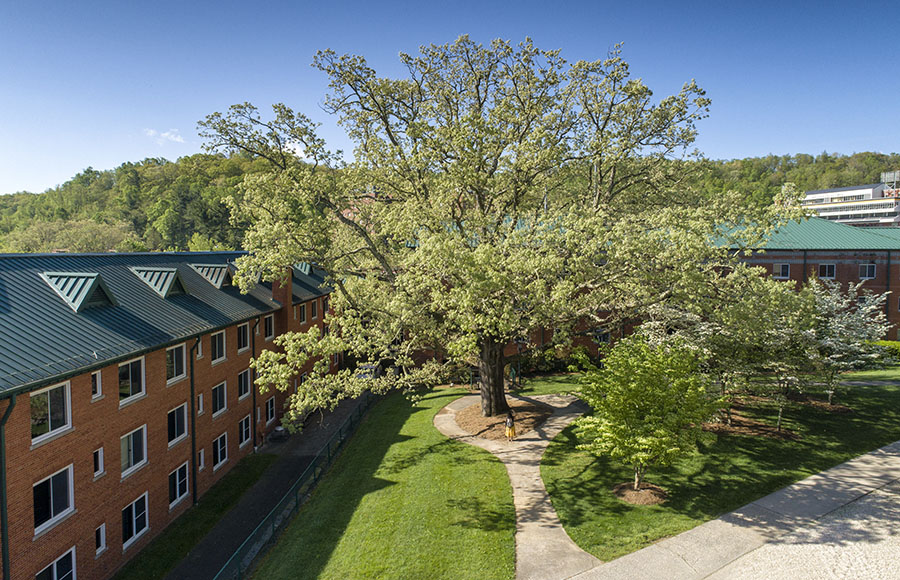 Posted May 15, 2019 at 4:35 p.m.
Last updated May 31, 2019 at 2:27 p.m.
BOONE, N.C. — As a young man, Daniel Boone may have courted his bride under the white oak still standing near Wey Hall off Rivers Street. By the time Watauga Academy — the institution that would become Appalachian State University — opened in 1899, the tree had already weathered close to 200 High Country winters.
According to Appalachian arborist Chris Erickson, the tree is healthy, despite time and a changing campus. It might not be the oldest tree on campus, but it's close — there are likely older trees in Appalachian's Nature Preserve, he said.
Erickson said the age of a white oak can be estimated by measuring its diameter and multiplying by five, although the calculations vary by species and many factors skew the results. With a circumference of approximately 16.5 feet and a diameter of 60.1 inches, and allowing for other age factors, he estimates the massive Quercus alba clocks in at between 225 and 300 years.
Until a few years ago, the sidewalks around the tree were salted regularly to keep pedestrians safe in icy weather. Because runoff from the salt is not tree-friendly, Erickson's Landscape Maintenance crew, which is part of Appalachian's Physical Plant, quit salting there, he explained.
Campus construction for a pedestrian pathway connector from the Kidd Brewer Stadium area past Wey Hall to the Schaefer Center for the Performing Arts includes removing the sidewalk surrounding the tree — a positive for the oak's well-being.
"Initially we had considered replacing the sidewalk around the tree, but we decided that section of sidewalk is not necessary and that the tree would be much better off without it. The new connector will be the only hard surface in the area," Erickson said.
"We plan on really babying this tree during and after construction," Erickson said. "That includes a trunk injection system to protect it from bugs and hand watering (the tree)."
Other precautions and accommodations in place for the tree during construction:
Funding has been provided for dead wooding, or removing dead limbs and branches, as well as pruning and tree care.
The new pedestrian path has been intentionally angled away from the tree to mitigate salt damage and root compaction.
A temporary fence will encircle the tree during construction as a visual reminder to workers and pedestrians that extra care must be taken.
All work in the root zone will be done with hand tools or light machinery.
Weep holes are being added in the new concrete path to allow water and air to reach the tree's roots more easily.
After construction is complete, Erickson said his crew will also work to alleviate soil compaction around the tree by air spading the root zone and replacing turf with wood chips or mulch. Air spading uses compressed air to break up and remove soil, works much more quickly than conventional digging and eliminates the danger of damaging tree roots or utility lines.
Although soil becomes compacted by vehicles and equipment, Erickson said, foot traffic contributes more to soil compaction.
"Construction activity is being excluded from an established tree protection zone," Erickson said. "We have two ISA certified arborists in the landscape department including myself, so we know what we can do to best help this tree during and after construction."
What do you think?
Share your feedback on this story.
About Appalachian's Facilities Operations
Facilities Operations at Appalachian State University manages operations of campus buildings, systems and utilities, as well as water treatment and steam plants that serve the campus. Services provided by Facilities Operations include housekeeping, landscaping, moving furniture and other items, and managing motor pool fleet rentals. The campus unit employees over 275 skilled technicians — including engineers, locksmiths, electricians, painters, plumbers, carpenters, roofers, welders, controls programmers, housekeepers, landscapers, mechanics and HVAC technicians. Learn more at https://facilitiesoperations.appstate.edu.
About Appalachian State University
As the premier public undergraduate institution in the Southeast, Appalachian State University prepares students to lead purposeful lives. App State is one of 17 campuses in the University of North Carolina System, with a national reputation for innovative teaching and opening access to a high-quality, affordable education for all. The university enrolls more than 21,000 students, has a low student-to-faculty ratio and offers more than 150 undergraduate and 80 graduate majors at its Boone and Hickory campuses and through App State Online. Learn more at https://www.appstate.edu.