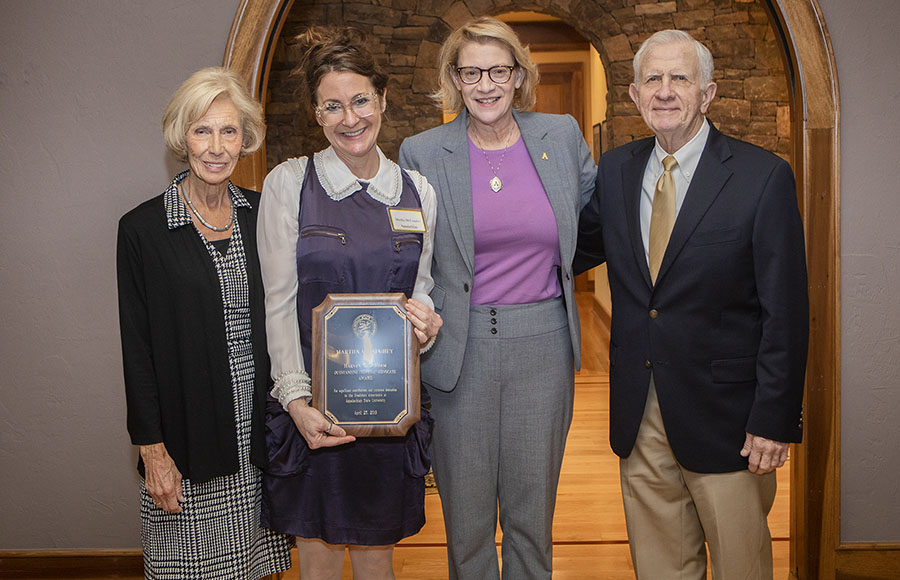 Dr. Martha McCaughey
Director of First Year Seminar and professor of sociology
University College, Department of Sociology
2019 Harvey R. Durham Freshman Advocate Award
Appalachian State University
Posted May 17, 2019 at 9:41 a.m.
"When I think of my alma mater (Appalachian State University), I think of the dedication, understanding and impact Dr. McCaughey has made on my life."

Chavis Sims '13 '18, an Appalachian alumnus and former student of Dr. Martha McCaughey's
BOONE, N.C. — For her contributions to improving the first-year experience on Appalachian State University's campus, Dr. Martha McCaughey, director of First Year Seminar in Appalachian's University College and professor of sociology, was selected as the 2019 Harvey R. Durham Freshman Advocate Award recipient.
Appalachian Chancellor Sheri Everts, along with Dr. Harvey Durham and his wife, Susan Durham, presented McCaughey with a $1,000 award, an inscribed plaque and a medallion during an award ceremony held in April at the Appalachian House. Appalachian's Food Services catered breakfast for the event.
The award, named in honor of Harvey Durham, honors persons who have demonstrated one or more of the following:
Extraordinary personal commitment to first-year students.
Outstanding individual commitment to programs that support first-year students.
Effective exemplary instruction in first-year classes.
Sustained dedication to campus programs that support first-year students.
Outstanding individual commitment to the success of first-year students.
Durham began his career at Appalachian in 1965 as an assistant professor of mathematics and served in various roles — including vice chancellor for academic affairs and executive vice chancellor — during his 39 years at the university. He retired in 2004 after serving as acting chancellor for the 2003–04 academic year.
In her letter nominating McCaughey, Lillian Nave, senior lecturer in Appalachian's First Year Seminar, said, "Martha has given us (First Year Seminar faculty) the tools to help our students and ourselves. Her support and hard work mean that we as faculty are supported, and therefore, we can support our students.
"In modeling this kind of caring about people and sharing of resources, she shows how faculty can and should treat our freshmen so that they, too, feel that sense of connection and camaraderie at Appalachian so necessary to students' thriving at Appalachian."
"When I think of my alma mater, I think of the dedication, understanding and impact Dr. McCaughey has made on my life," said Chavis Sims '13 '18, a former student of McCaughey's and a graduate of Appalachian's B.S. in sociology and Master of School Administration programs.
"Dr. McCaughey is by far the most influential professor I have ever met and has meant so much to my growth as both a student and as a man," he added.
Kirsten Braxton, who had McCaughey for First Year Seminar, said, "This class, or more importantly, this professor helped me decide that Appalachian was somewhere I wanted to stay — that this school and these people could really be my home away from home."
About Dr. Martha McCaughey
McCaughey began her career at Appalachian in 2003 as an associate professor in the Department of Interdisciplinary Studies, which is now known as the Department of Cultural, Gender and Global Studies.
She directed the women's studies program from 2003–10 and began directing First Year Seminar in 2014 while also serving as a professor of sociology in Appalachian's Department of Sociology.
McCaughey works with faculty from across campus who teach First Year Seminar courses and with the many other colleagues and programs dedicated to Appalachian's first-year students.
In 2014, she received the College of Arts and Sciences' Donald W. Sink Outstanding Scholar Award, and in 2009, she received the Appalachian AAUP Recognition Award for Academic Freedom and Faculty Governance.
All instructional faculty, student development personnel, administrators and staff who have worked at Appalachian for at least three years are eligible for the Durham Freshman Advocate Award.
What do you think?
Share your feedback on this story.
About University College
Formed in 2007, University College consists of the university's general education program, faculty and student support, and co-curricular programming and support – all designed to support the work of students both inside and outside the classroom. All students at Appalachian begin their education in University College and benefit from its programs until they graduate. Learn more at https://universitycollege.appstate.edu.
About the Department of Sociology
The Department of Sociology offers a Bachelor of Arts and seven Bachelor of Science concentrations (applied research methods; criminology; families and intimate relationships; health and aging; power and social change; social inequalities; and individually designed, which requires departmental approval). The department also offers minors in sociology and health and aging, plus two online graduate certificates: aging, health and society, and sociology. Learn more at https://soc.appstate.edu.
About the College of Arts and Sciences
The College of Arts and Sciences (CAS) at Appalachian State University is home to 17 academic departments, two centers and one residential college. These units span the humanities and the social, mathematical and natural sciences. CAS aims to develop a distinctive identity built upon our university's strengths, traditions and unique location. The college's values lie not only in service to the university and local community, but through inspiring, training, educating and sustaining the development of its students as global citizens. More than 6,400 student majors are enrolled in the college. As the college is also largely responsible for implementing App State's general education curriculum, it is heavily involved in the education of all students at the university, including those pursuing majors in other colleges. Learn more at https://cas.appstate.edu.
About Appalachian State University
As the premier public undergraduate institution in the state of North Carolina, Appalachian State University prepares students to lead purposeful lives as global citizens who understand and engage their responsibilities in creating a sustainable future for all. The Appalachian Experience promotes a spirit of inclusion that brings people together in inspiring ways to acquire and create knowledge, to grow holistically, to act with passion and determination, and to embrace diversity and difference. Located in the Blue Ridge Mountains, Appalachian is one of 17 campuses in the University of North Carolina System. Appalachian enrolls more than 20,000 students, has a low student-to-faculty ratio and offers more than 150 undergraduate and graduate majors.