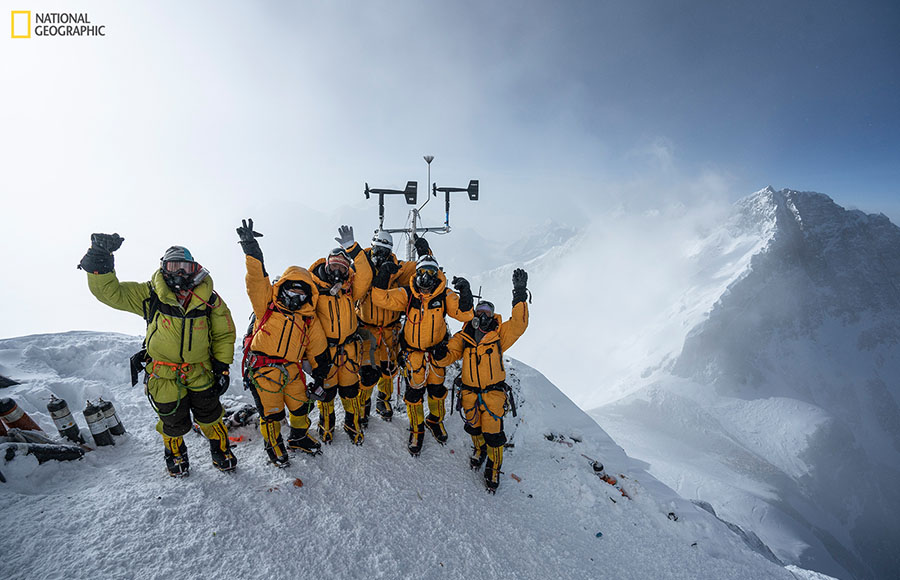 Posted June 14, 2019 at 10:51 a.m.
BOONE, N.C. — From April to June, as part of a robust effort to improve understanding of and resilience to the impacts of climate change on mountain systems, National Geographic and Tribhuvan University led what is likely the most comprehensive single scientific expedition to Mount Everest. It included two faculty researchers from Appalachian State University: Dr. Baker Perry and Dr. Anton Seimon.
The expedition team conducted groundbreaking research in five areas of science that are critical to understanding environmental changes and their impacts: biology, glaciology, geology, mapping and meteorology.
Perry, a professor in Appalachian's Department of Geography and Planning, served on the expedition's meteorology team, installing the world's two highest operating weather stations that will provide researchers, climbers and the public with near real-time information about mountain conditions and help continuously monitor the upper reaches of the atmosphere.
Seimon, a research assistant professor in the Department of Geography and Planning, served on the expedition's biology team, examining soil samples and glacial lakes to better understand the range of life surviving on Earth's highest peaks. The team also installed four biodiversity monitoring systems that make up one of the highest Global Observation Research Initiative in Alpine Environments (GLORIA) stations in the Himalaya.
Filling critical knowledge gaps
As part of the expedition, the multidisciplinary team achieved the following:
Installed the two highest weather stations in the world (at 8,430 meters and 7,945 meters).
Collected the highest-ever ice core sample (at 8,020 meters).
Conducted comprehensive biodiversity surveys at multiple elevations.
Completed the highest-elevation helicopter-based lidar scan.
Expanded the elevation records for high-dwelling species.
Documented the history of the mountain's glaciers.
In a June 13 panel discussion as part of National Geographic's Explorers Festival, Perry said of his team's weather station installation at more than 27,000 feet, "At the balcony, perched on the southeast ridge of Everest, we found a tiny outcrop of rock and were able to successfully — in a very small area — install the highest weather station in the world. Our Sherpa team was incredible in this effort. They had trained and we had practiced this — and I think their brains worked better at that elevation than ours do — and they were absolutely phenomenal in that team effort."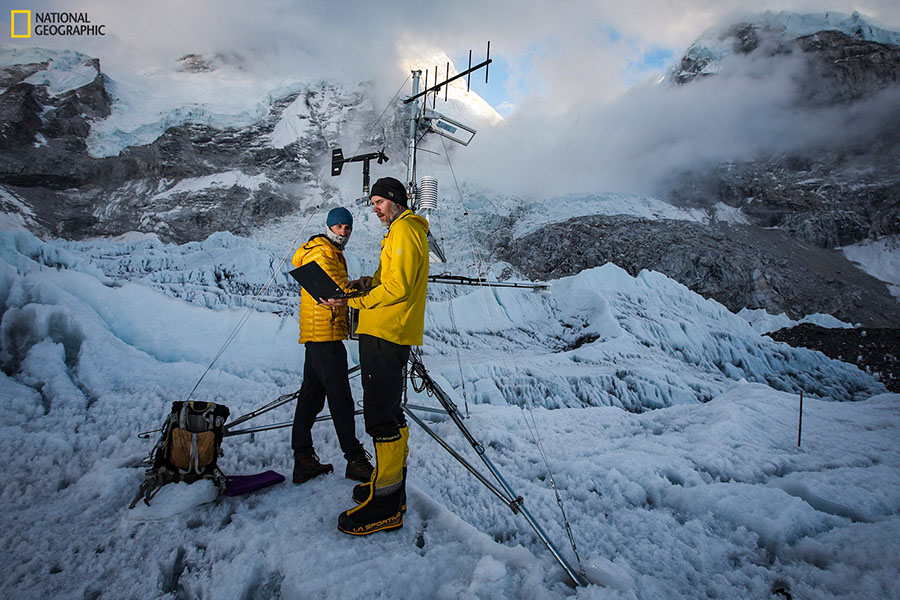 About Perry's meteorology work
About Seimon's biology work
Baker said he was impressed with the resiliency of the entire team. "We faced a lot of challenges — 90% of us faced sickness at some point, (and) there were other challenges brought on by the weather that compressed the number of summit days — and to achieve the successes we did was a remarkable testament to the strength of our Sherpa team, our science team, our media team and our Nepali support staff and our partners at Tribhuvan University."
According to National Geographic, studies have shown that the glaciers of the Hindu Kush Himalaya, where Mount Everest is located, are rapidly disappearing due to increasing global temperatures. The extreme conditions of high-elevation mountain ranges have made studying the true impacts of climate and environmental changes nearly impossible. As a result, there are critical knowledge gaps about the history of these glaciers and about future impacts that their disappearance would have on the lives and livelihoods of the more than 1 billion people in the region who depend on the reliable flow of water these glaciers provide.
"Climate change is one of the biggest challenges facing humanity and there is still much to learn about how it's already altered the world, from the deepest parts of the ocean to its tallest mountains," said Jonathan Baillie, executive vice president and chief scientist at the National Geographic Society. "By harnessing our 131-year history of exploration and venturing into some of the most extreme environments on the planet, we will fill critical data gaps on the world's life support systems and drive solutions to assure that they can continue to fuel our future."
Documenting change through storytelling
The Everest expedition is part of National Geographic's new Life at the Extremes program and is the first in a series of Perpetual Planet Extreme Expeditions. The expeditions aim to explore and better understand some of the most extreme environments on planet Earth.
Data collected from the Perpetual Planet Extreme Expeditions in these environments will support new decision-making tools, called Perpetual Planet Extreme Indices, which will provide real-time and historical data on the factors that contribute to the health of these ecosystems. The scientific research conducted by the expedition team will be complemented by coverage on NationalGeographic.com and in National Geographic magazine.
A National Geographic story published June 13 touched on the human side of the expedition, including how Perry's team overcame a serious obstacle while assembling the weather station at 27,650 feet: After discovering two important parts were missing from their gear, they improvised with duct tape and a shovel handle to complete assembly of the 7-foot-tall station.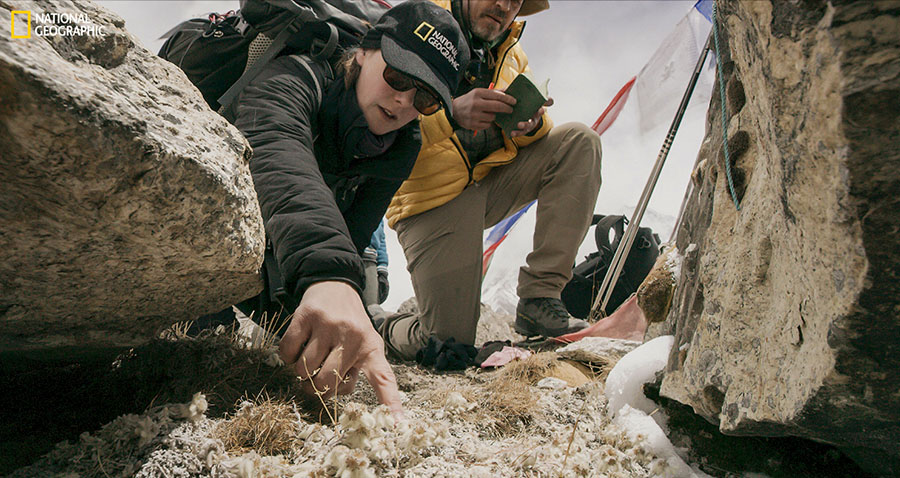 Follow updates from the expedition
Follow updates from the Perpetual Planet Extreme Expedition: Everest and explore historical and new data about the role of Mount Everest as a water tower for the region at www.natgeo.com/everest.
About Baker Perry
Dr. Baker Perry researches precipitation, snow and ice, tropical glacier–climate interactions and climate change in the tropical Andes and Appalachian Mountains. His work helps affected populations plan for the future. He is recognized as one of the top experts in his field, one of a handful of researchers who have placed weather stations at high elevations worldwide to study the changes in climate and their impacts on populations. Perry's work has been published in dozens of scientific journals and conference proceedings, and has yielded grants totaling almost $2.5 million from the National Science Foundation, National Aeronautics and Space Administration (NASA) and various other organizations.
About Anton Seimon
A native of South Africa, Dr. Anton Seimon is a geographer with research experience on a broad variety of themes in atmospheric and environmental science, including monitoring climate change impacts on high alpine watersheds in the Peruvian Andes; present-day and past tropical Andean and African climates; high-intensity tornadoes; and conservation planning for climate change using high-resolution Earth System Models. He is a National Geographic Explorer and leads research programs on a diverse range of themes in the earth, atmospheric and environmental sciences. He currently works with conservationists to plan for climate change in tropical Africa using Earth System Model supercomputer simulations.
NEWS MEDIA RESOURCES
For information about the expedition:
Fae Jencks
National Geographic Society
fjencks@ngs.org
For interviews with Dr. Baker Perry:
Megan Hayes or Linda Coutant
Appalachian State University
828-262-6156
news@appstate.edu
What do you think?
Share your feedback on this story.
About Perry's meteorology work
About Seimon's biology work
About the Department of Geography and Planning
The Department of Geography and Planning promotes the understanding of the spatial dimensions of human behavior within the physical and cultural systems of the earth, and the role of planning in achieving improvement in those systems. The department offers degrees in geography and in community and regional planning. Learn more at https://geo.appstate.edu.
About the College of Arts and Sciences
The College of Arts and Sciences (CAS) at Appalachian State University is home to 17 academic departments, two centers and one residential college. These units span the humanities and the social, mathematical and natural sciences. CAS aims to develop a distinctive identity built upon our university's strengths, traditions and unique location. The college's values lie not only in service to the university and local community, but through inspiring, training, educating and sustaining the development of its students as global citizens. More than 6,400 student majors are enrolled in the college. As the college is also largely responsible for implementing App State's general education curriculum, it is heavily involved in the education of all students at the university, including those pursuing majors in other colleges. Learn more at https://cas.appstate.edu.
About Appalachian State University
As the premier public undergraduate institution in the Southeast, Appalachian State University prepares students to lead purposeful lives. App State is one of 17 campuses in the University of North Carolina System, with a national reputation for innovative teaching and opening access to a high-quality, affordable education for all. The university enrolls more than 21,000 students, has a low student-to-faculty ratio and offers more than 150 undergraduate and 80 graduate majors at its Boone and Hickory campuses and through App State Online. Learn more at https://www.appstate.edu.