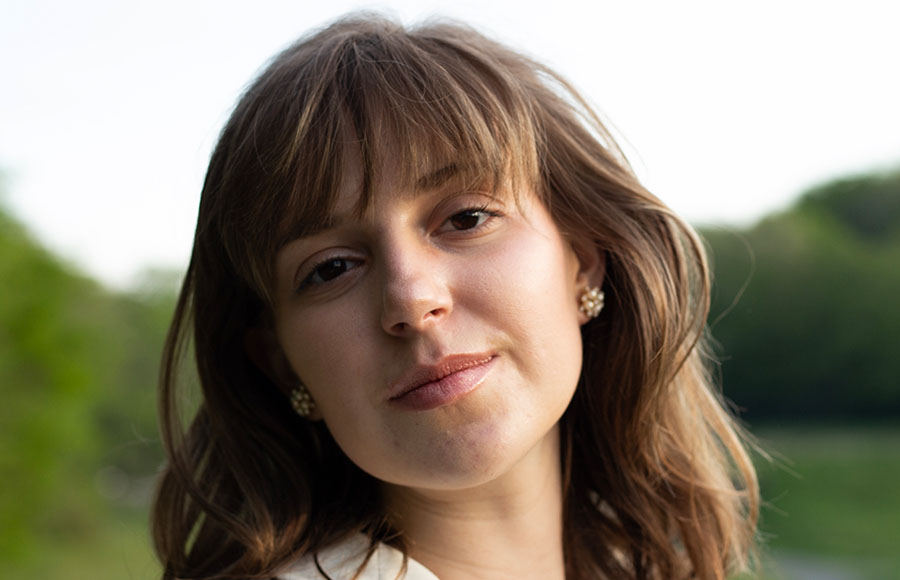 Posted July 2, 2019 at 3:55 p.m.
BOONE, N.C. — Grace King, who is on track to graduate from Appalachian State University in August with a B.S. in communication, electronic/media broadcasting, has been selected to participate in the Television Academy Foundation's 2019 Internship Program. King, of Dunn, is one of 50 students chosen nationally for the program.
She will be interning this summer in the comedy scriptwriting department at ABC Entertainment in Burbank, California.
The Television Academy Foundation's annual internship program provides 50 paid internships, at top Hollywood studios and production companies, to college students nationwide. The program provides undergraduate and graduate students with in-depth and hands-on professional experience in a variety of television careers during the eight-week internship.
"I grew up watching 'Seinfeld' with my dad," King said. "Watching TV and laughing with my dad made me want to pursue comedy writing. When I found out the Television Academy Foundation offered a comedy scriptwriting internship, I applied because I knew it would be an incredible opportunity. I am excited to have an internship specific to the career I am pursuing."
She continued, "Breaking into scriptwriting is challenging, and you usually have to take several avenues to get to the one thing you want to do for the rest of your life. Thanks to the Television Academy Foundation, I will create relationships with comedy writing professionals and work in the area of television I am most passionate about."
About the Television Academy Foundation
Established in 1959 as the charitable arm of the Television Academy, the Television Academy Foundation is dedicated to preserving the legacy of television while educating and inspiring those who will shape its future. Through renowned educational and outreach programs, the Foundation seeks to widen the circle of voices the TV industry represents and create more opportunity for television to reflect all of society. For more information on the foundation, visit TelevisionAcademy.com/Foundation.
What do you think?
Share your feedback on this story.
About the Department of Communication
One of seven departments housed in the College of Fine and Applied Arts, the Department of Communication at Appalachian State University focuses on preparing students to succeed in the varied fields within the communication industry. The department offers five majors – advertising, communication studies, electronic media/broadcasting, journalism and public relations – and a minor in communication studies. Graduates work in a wide range of positions in media, corporate, agency, government and nonprofit organizations. Learn more at https://communication.appstate.edu.
About the College of Fine and Applied Arts
Appalachian State University's College of Fine and Applied Arts is a dynamic and innovative group of seven academic departments, bringing together a variety of perspectives, experiences and real-world education to provide unique opportunities for student success. The college has more than 3,000 undergraduate and graduate majors. Its departments are Applied Design, Art, Communication, Military Science and Leadership, Sustainable Development, Sustainable Technology and the Built Environment, and Theatre and Dance. Learn more at https://faa.appstate.edu.
About Appalachian State University
As the premier public undergraduate institution in the Southeast, Appalachian State University prepares students to lead purposeful lives. App State is one of 17 campuses in the University of North Carolina System, with a national reputation for innovative teaching and opening access to a high-quality, affordable education for all. The university enrolls more than 21,000 students, has a low student-to-faculty ratio and offers more than 150 undergraduate and 80 graduate majors at its Boone and Hickory campuses and through App State Online. Learn more at https://www.appstate.edu.