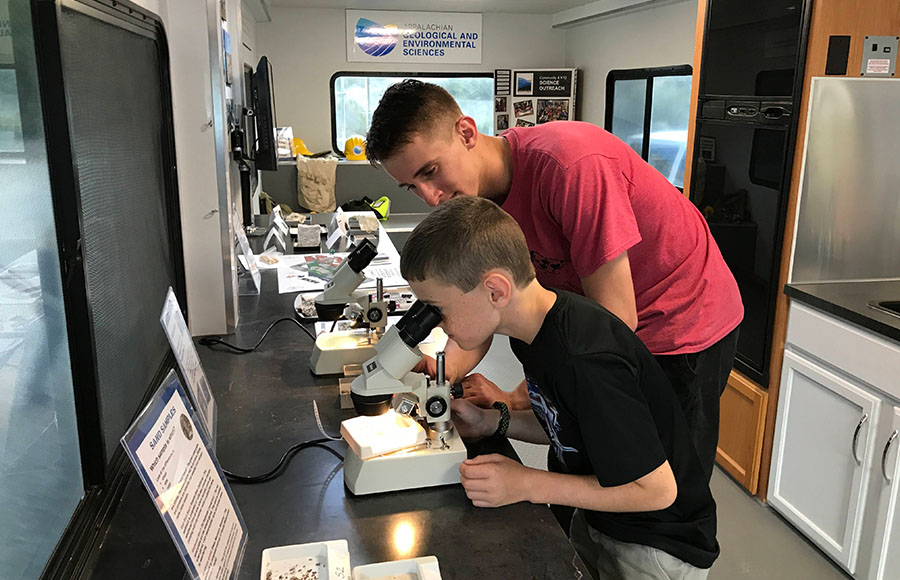 Posted July 30, 2019 at 1:50 p.m.
BOONE, N.C. — In the 2018–19 academic year, the Department of Geological and Environmental Sciences (GES) at Appalachian State University — with assistance from over 50 undergraduate students — reached over 5,000 schoolchildren at more than 34 High Country schools and organizations through outreach events.
The department has been awarded five outreach-specific grants ranging from $1,500–$62,000, with a predicted total of $100,000 for the 2019–20 academic year.
Marta Toran, outreach coordinator for the GES department, said the department's faculty and students hope to strengthen K–12 science education by fostering partnerships with schools, training teachers, involving students, highlighting GES faculty research and advertising the department's program offerings.
Partnering with local construction aggregates producer Vulcan Materials Co. has boosted the department's opportunities for outreach. "Our partnership with Vulcan Materials Co., along with the support their foundation has provided us, has been invaluable in expanding our outreach programs to support science education in the region and beyond," Toran said.
Vulcan was a founding sponsor of the Fred Webb Jr. Outdoor Geology Laboratory, an interactive rock garden located on Appalachian's campus. Of the first 30 specimens in the garden, 11 came from Vulcan facilities in three different states.
The Boone quarry has been instrumental in helping the department with expansion and rearranging the rock garden, according to Dr. Andrew Heckert, a professor in the department. "Their hoist truck literally does all the heavy lifting," he said.
Some other programs that have benefitted from the partnership include the "Geology, Economics, Mining and Society" exhibit located in the Rankin Science Building, which houses the GES department; the department's Geobago — a mobile earth and environmental science teaching lab; and the "Rockin' N.C." professional development workshop for K–12 teachers.
Tools of community outreach
The department's Geobago is a mobile teaching lab with the capabilities to teach water testing (field-testing only, such as pH and conductivity), mineral identification and fossil identification.
After Appalachian's College of Arts and Sciences provided seed funding to have the Geobago wrapped with a graphic design and restored for use, Vulcan contributed funding to outfit the vehicle with microscopes, computers and a minilaboratory space, along with modular storage for a variety of hands-on activities tied to N.C. standards.
During the 2018–19 school year, the Geobago mobile lab, which is staffed by Toran and students from the department, traveled to Durham, Gastonia, Hiddenite and other locations, and was featured at a variety of local events, including the North Carolina Science Festival.
"Because we have the Geobago, we are able to leverage it for more support, such as the EPA (Environmental Protection Agency) Environmental Education Grant Marta received for the 'Water on the Move' K–12 hydrology education program and the American Geophysical Union Centennial Grant for the Picture Yourself as an Earth Scientist outreach project,'" Heckert said.
Rockin' N.C. educational learning modules are intended to provide educators with ideas for teaching about the rock cycle and important minerals from North Carolina in an engaging, interactive way.
A Rockin' N.C. classroom kit includes the following resources:
an educational board game;
rock samples;
everyday minerals;
mineral test kits;
Legos to demonstrate how minerals form in igneous and sedimentary rocks;
samples of state geological resources for varied classroom activities;
modeling dough; and
a booklet with lesson plans for the unit.
The first Rockin' N.C. workshop for fourth grade teachers took place in August 2018. Twenty participants representing 10 different counties in North Carolina attended the one-day professional development opportunity at Appalachian.
This year, Vulcan funded two more Rockin' N.C. teacher workshops with the goal of expanding the geographic reach of the teacher training. GES faculty and students from Appalachian will lead the workshops, which will be hosted at Kaleideum North in Winston-Salem and Discovery Place in Charlotte. The funds will also assist the department in continuing to provide Geobago visits to regional schools at no cost.
For more information on community outreach, teacher education or campus visits, contact Toran at toranml@appstate.edu or visit https://earth.appstate.edu/outreach.
What do you think?
Share your feedback on this story.
About the Department of Geological and Environmental Sciences
Located in Western North Carolina, Appalachian State University provides the perfect setting to study geological and environmental sciences. The Department of Geological and Environmental Sciences provides students with a solid foundation on which to prepare for graduate school or build successful careers as scientists, consultants and secondary education teachers. The department offers six degree options in geology and two degree options in environmental science. Learn more at https://earth.appstate.edu.
About the College of Arts and Sciences
The College of Arts and Sciences (CAS) at Appalachian State University is home to 17 academic departments, two centers and one residential college. These units span the humanities and the social, mathematical and natural sciences. CAS aims to develop a distinctive identity built upon our university's strengths, traditions and unique location. The college's values lie not only in service to the university and local community, but through inspiring, training, educating and sustaining the development of its students as global citizens. More than 6,400 student majors are enrolled in the college. As the college is also largely responsible for implementing App State's general education curriculum, it is heavily involved in the education of all students at the university, including those pursuing majors in other colleges. Learn more at https://cas.appstate.edu.
About Appalachian State University
As the premier public undergraduate institution in the Southeast, Appalachian State University prepares students to lead purposeful lives. App State is one of 17 campuses in the University of North Carolina System, with a national reputation for innovative teaching and opening access to a high-quality, affordable education for all. The university enrolls more than 21,000 students, has a low student-to-faculty ratio and offers more than 150 undergraduate and 80 graduate majors at its Boone and Hickory campuses and through App State Online. Learn more at https://www.appstate.edu.