Posted Aug. 14, 2019 at 11:21 a.m.
BOONE, N.C. — In July, 25 fellows in Appalachian State University's 2019 Mandela Washington Fellowship Institute volunteered their time, energy and knowledge at three regional nonprofits — Watauga County Habitat for Humanity (WCHH), Hunger and Health Coalition (HHC), and Crossnore School & Children's Home (CSCH).
"Engaging in volunteer service is an integral part of what it means to be a civic leader. Our Mandela Washington Fellows wanted to learn as much about American life as they could during their time here, so connecting with agencies serving various parts of the High Country deepened that understanding," said Dr. Brian MacHarg, director of academic civic engagement and co-director of the university's Mandela Washington Fellowship Institute.
"For many Boone residents, the only trip to Sudan or Comoros or Cameroon they'll ever be able to make is via their interaction with fellows from those locations," he added.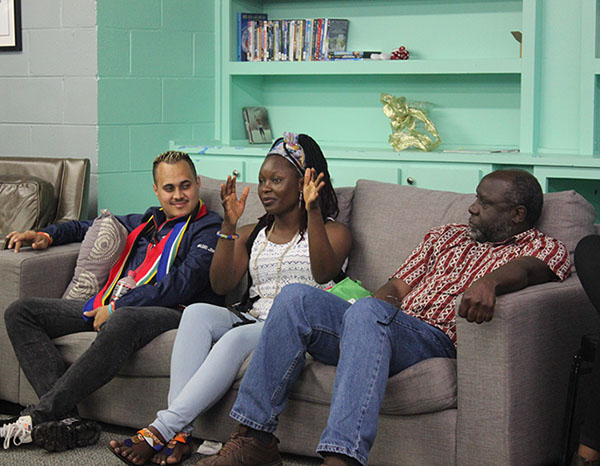 Servant leaders in the High Country
The fellows' community service in the High Country was part of Mandela Day — an annual international day to honor late South African president Nelson Mandela through volunteering and community service.
Service activities for the day included helping dig footers for a deck that will be attached to a WCHH house currently under construction. Dr. Darrell Kruger, Appalachian's provost and executive vice chancellor, also volunteered at WCHH and worked alongside the fellows.
The fellows also prepared food plates for the clients of HHC — a Boone-based organization that provides food and pharmacy assistance for families in the High Country. Additionally, they helped clean HHC's food storage area, as well as prescription bottles donated for future use in HHC's pharmacy.
At CSCH, the Mandela Fellows learned how the organization works to serve regional children in foster care and led various activities with the school's third through eighth graders — including playing games and dancing. They also shared information about their respective home countries and had one-on-one interactions with the students over lunch.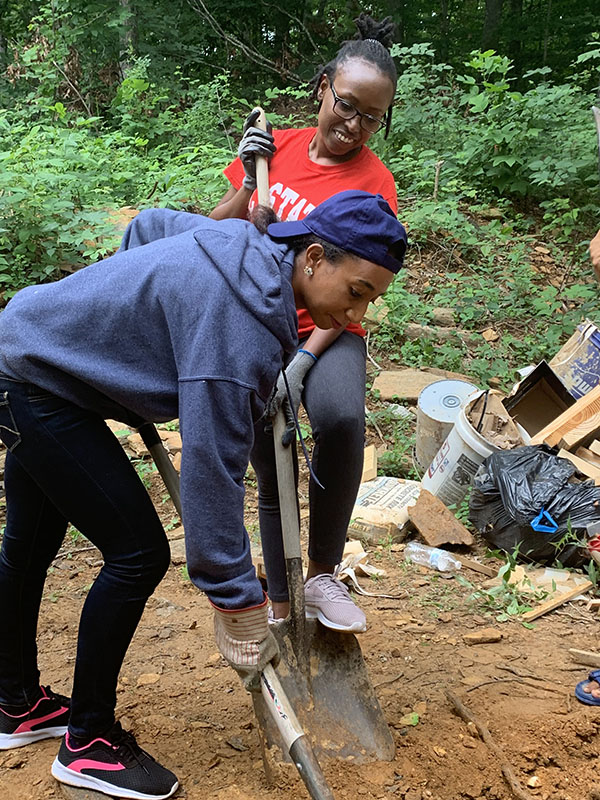 Mandela Day reflections
"Mandela Day reminds us that no gesture is too small and no act of service too modest," said 2019 Mandela Fellow Lungile Zakwe, executive director at IkamvaYouth, an award-winning organization focused on advancing the development and education of young people in South Africa. "Whether you volunteer at a home or donate personal items, every action counts and helps make the world a better place for all."
Zakwe is also the founder and facilitator of AFRO-Freedom Book Club, which focuses on raising awareness about African writers.
Naomi Ndunge Muindi, a 2019 Mandela Fellow from Kenya, said, "Mandela Day, for me, reminded me of all the work Mandela did to change not only South Africa but the whole world. The day was a reminder for me to build servant leadership, to stand for what I believe in and to be the light in other people's lives."
Muindi is an education program officer at Hifadhi Africa Organization, a nonprofit focusing on transforming the lives of slum-dwellers, pastoralists, refugees and refugee-hosting communities.
Becoming honorary Boone citizens
On Friday, July 19, Boone Mayor Rennie Brantz and Town Manager John Ward facilitated a workshop session on "Citizens and Democratic Process." During this session, fellows had the opportunity to learn more about how Boone citizens participate in the governance process of their town. At the end of the session, Brantz presented each fellow with a certificate of honorary Boone citizenship.
Appalachian was among 27 universities across the country selected to host the Mandela Washington Fellowship for Young African Leaders in 2019. The six-week Leadership Institute, sponsored by the U.S. Department of State's Bureau of Educational and Cultural Affairs, concluded July 28, after which the fellows traveled to Washington, D.C., to attend the Mandela Washington Fellowship Summit, held July 29–31.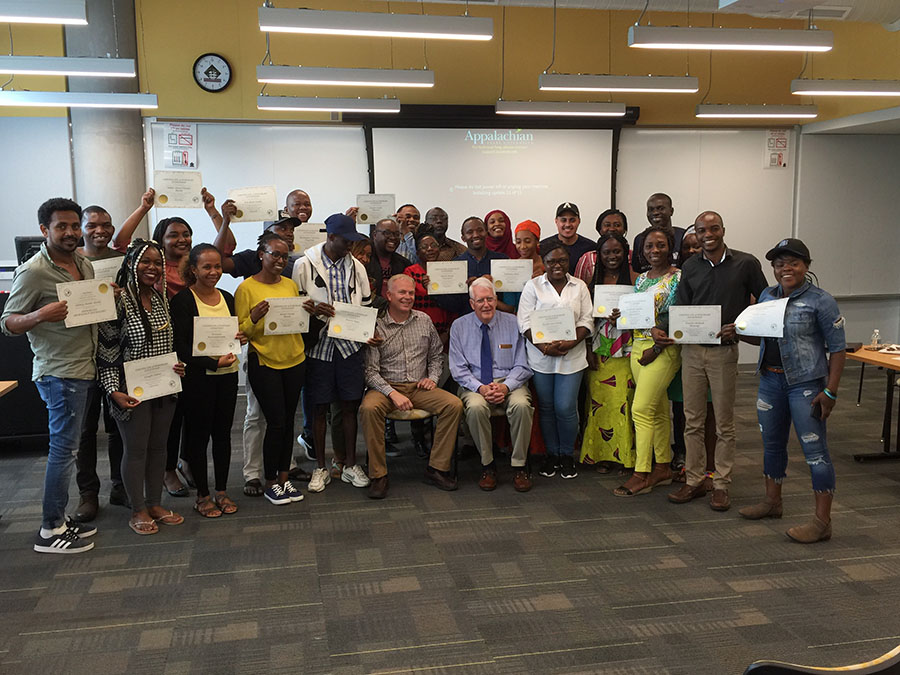 At the summit, the fellows attended collaborative sessions based on their work and/or regions in addition to meeting members of congress, as well as leaders in public, private and nonprofit sectors.
The Mandela Washington Institute at Appalachian is supported through a partnership between the university's Office of International Education and Development (OIED), Appalachian and the Community Together (ACT) and Leadership Development — a component of the Department of Student Engagement and Leadership in Appalachian's Division of Student Affairs.
For additional information about the 2019 Mandela Washington Fellowship Institute at Appalachian, click here, and/or contact co-directors Dr. Jesse Lutabingwa, associate vice chancellor of international education and development, director of international research and development, and professor of public administration, at lutabingwajl@appstate.edu and MacHarg, director of academic civic engagement, at machargbd@appstate.edu.
What do you think?
Share your feedback on this story.
Office of International Education and Development
About the Office of International Education and Development
The OIED is responsible for spearheading the internationalization efforts at Appalachian. The internationalization mission of Appalachian is to develop awareness, knowledge, appreciation and respect of cultural differences in both domestic and international contexts in its students, faculty, staff and the surrounding communities. The university is also dedicated to creating a campus environment that builds the theoretical and practical skills needed to interact effectively in a global society. Learn more at https://international.appstate.edu.
About Appalachian State University
As the premier public undergraduate institution in the Southeast, Appalachian State University prepares students to lead purposeful lives. App State is one of 17 campuses in the University of North Carolina System, with a national reputation for innovative teaching and opening access to a high-quality, affordable education for all. The university enrolls more than 21,000 students, has a low student-to-faculty ratio and offers more than 150 undergraduate and 80 graduate majors at its Boone and Hickory campuses and through App State Online. Learn more at https://www.appstate.edu.