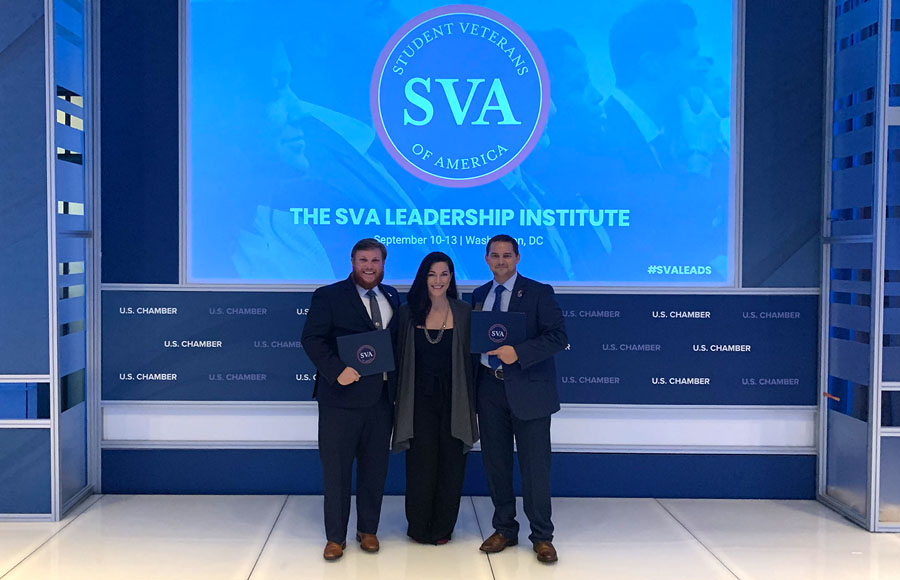 Grayson Farmer
Senior marketing major, Department of Marketing
Purlear, North Carolina
2019 Student Veterans of America Leadership Institute
Student Veterans of America
Posted Sep. 24, 2019 at 2:50 p.m.
BOONE, N.C. — Grayson Farmer, a student veteran at Appalachian State University and president of the university's Student Veterans Association (SVA), was one of 124 student veterans selected nationally to participate in the eighth annual Student Veterans of America (SVA) Leadership Institute in Washington, D.C., Sept. 10–13.
The three-day, all-expenses-paid institute is "an immersive leadership program that prepares students to affect change stretching beyond their SVA chapter and campus," according to the SVA website. Attendees receive focused training on developing leadership self-awareness, building a professional network and serving their local communities.
Through his role as SVA president, Farmer, a senior marketing major with a concentration in digital marketing, has been an active advocate for other student veterans on Appalachian's campus since enrolling at the university in fall 2017. He was released from active duty as a paralegal in the U.S. Army's Fifth Special Forces Group in July 2017.
"Grayson has been an integral part of changes on Appalachian's campus that demonstrate our dedication to serving student veterans," said Dr. Lynn Gregory, associate professor in Appalachian's Department of Communication and chair of the university's Military Affairs Committee. "As part of the leadership of Appalachian's SVA and as a regular volunteer at events, he's shown that he is willing to put in his time, talents and determination to ensure Appalachian student veteran success."
Eric Gormly, former program director of student veteran services and staff adviser for Appalachian's SVA chapter, said, "Since Grayson entered Appalachian, he has always had an interest and passion for working alongside other student veterans. Although he lives in Wilkes County, has a full-time job, has ownership in two companies and only has class two days a week on campus, he makes it a point to be at Appalachian as much as possible for other students to be able to be in contact with him."
During the 2019 SVA Leadership Institute, SVA alumni mentored Farmer and his peers, coaching them on the importance of leadership behavior, personal branding, how to deliver results and fostering relationships. Business leaders and veterans' advocates also served as mentors to the institute participants.
"The concept behind the SVA Leadership Institute is that long-term leadership success comes from an intimate knowledge of one's core values and how they can be used to empower others," the SVA website states.
Of his SVA Leadership Institute experience, Farmer said, "I am so proud to be a part of something that is much bigger than myself. The institute was filled with early mornings, long nights and, I would venture to say, challenged every single one of us more than we expected."
He added, "I have watched individuals open up and grow — as better people, advocates and leaders — over the past few days. I've made new friends and mentors that I know I can count on anytime that I may need to reach out."
To learn more about Appalachian's services and programming for student veterans, visit https://militarystudents.appstate.edu.
What do you think?
Share your feedback on this story.
Open one year, Student Veteran Resource Center provides key services and important connections
Nov. 9, 2017
A Military Friendly® School since 2010
Since 2010, VIQTORY (formerly known as Victory Media), the premier media entity for military personnel transitioning into civilian life, has awarded Appalachian the designation of Military Friendly® School. The designation places Appalachian in the top 15 percent of colleges, universities and trade schools in the country that are doing the most to embrace military students, and to dedicate resources to ensure their success in the classroom and after graduation. In addition to a number of existing services, the university opened the Major General Edward M. Reeder Jr. Student Veteran Resource Center in November 2016.
About the Department of Marketing and Supply Chain Management
At Appalachian State University, students in the Walker College of Business' Department of Marketing and Supply Chain Management learn to drive industry initiatives that develop customer satisfaction and retention, contribute to company profits and build connections with suppliers, distributors and the community. Students majoring in marketing may select a concentration in general marketing, digital marketing or sales. Students majoring in supply chain management (SCM) learn about logistics, operations, strategic sourcing, process improvement strategies and supply chain technologies, enabling them to compete in the global marketplace and help future employers reduce costs, improve profits and expand their markets. Learn more at https://marketing.appstate.edu.
About the Walker College of Business
The Walker College of Business at Appalachian State University delivers transformational educational experiences that prepare and inspire students to be ethical, innovative and engaged business leaders who positively impact our community, both locally and globally. The college places emphasis on international experiences, sustainable business practices, entrepreneurial programs and real-world applications with industry. Enrolling approximately 3,000 undergraduates in 10 majors and 175 graduate students in three master's programs, the Walker College is accredited by AACSB International – the premier global accrediting body for schools of business. Learn more at https://business.appstate.edu.
About Appalachian State University
As the premier public undergraduate institution in the Southeast, Appalachian State University prepares students to lead purposeful lives as global citizens who understand and engage their responsibilities in creating a sustainable future for all. The Appalachian Experience promotes a spirit of inclusion that brings people together in inspiring ways to acquire and create knowledge, to grow holistically, to act with passion and determination, and to embrace diversity and difference. Located in the Blue Ridge Mountains, Appalachian is one of 17 campuses in the University of North Carolina System. Appalachian enrolls nearly 21,000 students, has a low student-to-faculty ratio and offers more than 150 undergraduate and graduate majors.