Posted Oct. 7, 2019 at 1:48 p.m.
BOONE, N.C. — Appalachian State University junior Chau "Jenny" Ly found her passion for programming and science during her first hackathon — a collaborative coding event for computer programmers. Her coding skills also earned her a Most Creative Award for Dinder, the mobile app she developed with her team.
When asked what interested her to pursue the field of computer science, Ly, a computer science major originally from Ho Chi Minh, Vietnam, who currently lives in Sherrills Ford, said, "I have always loved math, sciences and computers over anything else. I thought I would give this major a try and I fell in love with it."
After graduating from Appalachian, Ly aims to work as either a front-end developer — a programmer who codes a website's features that users interact with — or a full stack developer for a couple of years before pursuing a master's degree. A full-stack developer, Ly explained, is someone who works on both the front and back ends — such as databases and servers — of an application.
What's it like to be a student in Appalachian's computer science program?
"I get to learn from some of the smartest people I know — both professors and peers alike. Classes are interesting and you get to know the professors personally," Ly answered.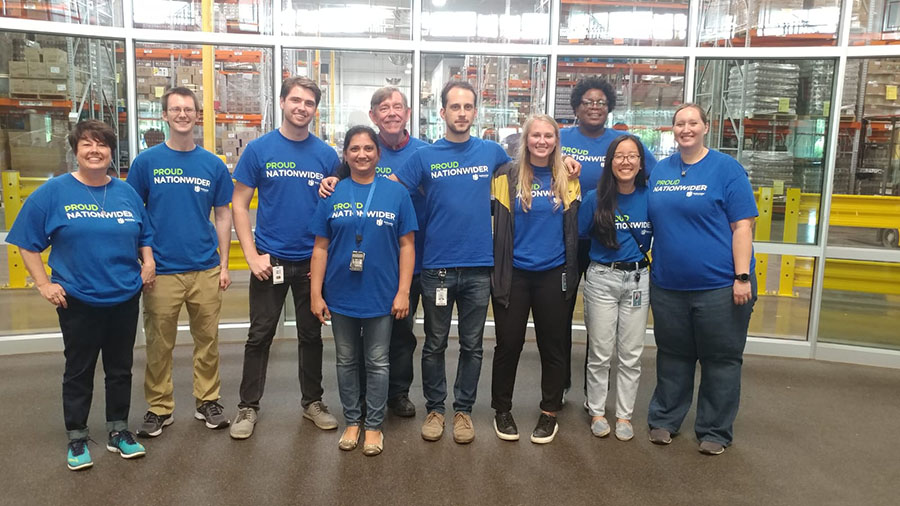 Coding in a team environment
During her internship this summer at Nationwide Mutual Insurance Co. in Columbus, Ohio, Ly had the opportunity to learn technical and business skills by building a California Privacy Project Search Application using web development tools. The application allows internal Nationwide employees to search for and select consumer data for processing.
She and her internship team were also able to give back to the Columbus community by volunteering at the Mid-Ohio Foodbank in Grove City, Ohio, just outside Columbus. There, they sorted donated food into boxes for distribution and cleaned and inspected donated food packages.
"With my Appalachian degree, I want to be able to do some good for this world. I want to work for a company that has a goal towards creating a positive impact using the technology that they develop," she said.
During the internship, Ly was trained in the Agile framework — an overarching philosophy for software development that emphasizes the value of iterating quickly and often to satisfy customers.
Women succeeding in computer science
Ly is treasurer of Appalachian's Women in Computer Science (WICS) club — her second home on campus, she said. She is also a member of the university's Asian Student Association (ASA).
In spring 2019, Ly was awarded a $500 Women in Computer Science scholarship from Boone-based ECR Software Corporation (ECRS), which develops point-of-sale software systems for retail outlets. ECRS was founded in 1989 by former Appalachian student Pete Catoe.
"The scholarship motivates me to further my education while fighting to help other women in computer science succeed," Ly said.
She attended two conferences last fall that she credits with helping her develop strong leadership and networking skills — the 2018 Grace Hopper Celebration, the world's largest tech conference and career fair for women, and the North Carolina Chamber's Women > A Force in Business conference, the state's premier conference for professional women and their advocates.
Ly worked closely with Dr. Rahman Tashakkori, the Lowe's Distinguished Professor of Computer Science in and chair of Appalachian's Department of Computer Science, in preparation for taking the WICS club to the 2019 Grace Hopper Celebration, which was held in Orlando, Florida, Oct. 1–4.
Ly also works for computer science professor Dr. James Wilkes as a web developer for the Bee Informed Partnership, helping to debug and add features to the website. Wilkes is founder and CEO of Hive Tracks, a hive management software system for beekeepers.
Appalachian professors — 'amazing, caring, wise'
Ly cited several computer science faculty members at Appalachian who she said are "amazing, caring and wise."
Tashakkori "takes time out of his busy schedule to make sure that we students are getting the most out of our college days," she shared. "I remember not being able to set aside time to fill out an application for a scholarship and Dr. T was there along the way to give me the encouragement to finish the application."
She said she admires Joel Swanson, senior lecturer in the Department of Computer Science, for his dedication to his classes. "The beginning of the class is always filled with laughter and jokes; it creates a comfortable atmosphere for everyone," she said.
She said Wilkes, who is also her adviser, is someone she respects and can go to when she needs advice. "He talked me through how to network with employers and how to ask them questions. I ended up using his own advice and landed the job working for him," she said.
"Each professor in the department is uniquely impacting me and other students," Ly continued. "They each teach with passion and they inspire me to go the extra mile."
What do you think?
Share your feedback on this story.
Appalachian student and faculty researchers seek to recover declining honeybee population
July 13, 2017
About the Department of Computer Science
Appalachian's Department of Computer Science provides a rigorous, high-quality education that prepares students for the computing industry or graduate education. It offers a Bachelor of Science degree in computer science, which is accredited by the Computing Accreditation Commission of ABET, and a Master of Science degree in computer science. Learn more at https://compsci.appstate.edu.
About the College of Arts and Sciences
The College of Arts and Sciences (CAS) at Appalachian State University is home to 17 academic departments, two centers and one residential college. These units span the humanities and the social, mathematical and natural sciences. CAS aims to develop a distinctive identity built upon our university's strengths, traditions and unique location. The college's values lie not only in service to the university and local community, but through inspiring, training, educating and sustaining the development of its students as global citizens. More than 6,400 student majors are enrolled in the college. As the college is also largely responsible for implementing App State's general education curriculum, it is heavily involved in the education of all students at the university, including those pursuing majors in other colleges. Learn more at https://cas.appstate.edu.
About Appalachian State University
As the premier public undergraduate institution in the Southeast, Appalachian State University prepares students to lead purposeful lives. App State is one of 17 campuses in the University of North Carolina System, with a national reputation for innovative teaching and opening access to a high-quality, affordable education for all. The university enrolls more than 21,000 students, has a low student-to-faculty ratio and offers more than 150 undergraduate and 80 graduate majors at its Boone and Hickory campuses and through App State Online. Learn more at https://www.appstate.edu.