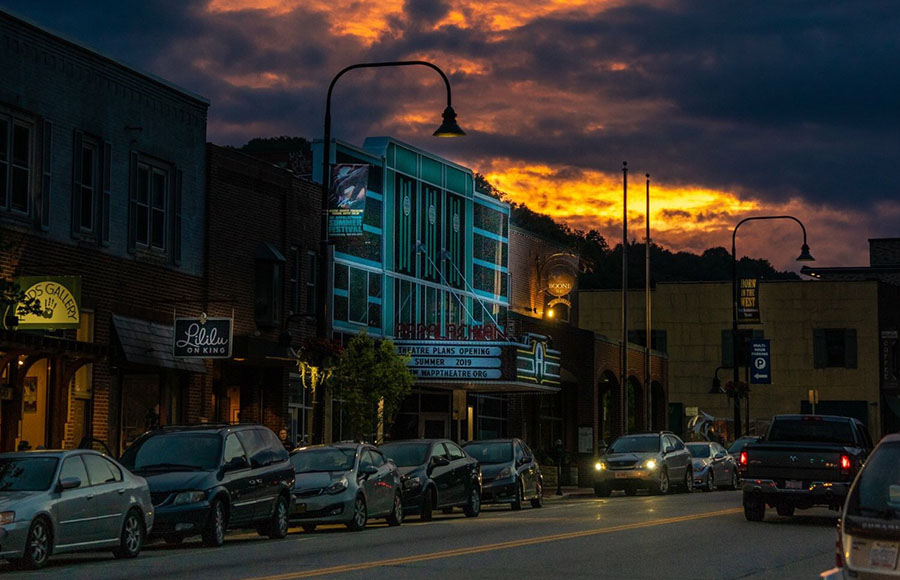 App State's Appalachian Theatre Contributions
Posted Oct. 9, 2019 at 4:10 p.m.
BOONE, N.C. — After eight years of planning and construction, the restored and renovated Appalachian Theatre in downtown Boone will open Oct. 14 — and Appalachian State University faculty, staff and students have been part of the team to bring this historical treasure back to life. The project has provided community service opportunities and a rich learning environment for students.
The original Appalachian Theatre, built in a distinctive art deco style in 1938 in downtown Boone, operated for 69 years. It evolved from its early days as a vaudeville theater, music hall and movie house to its last days as a "dollar theater" showing second-run titles. The theater was part of the community and Appalachian student life until its closing in 2007.
Plans to restore the theater began in 2011, after a failed attempt by a developer to convert the property to a bar and music venue left the property gutted and in disrepair. A committee of town leaders and interested parties formed the nonprofit organization Appalachian Theatre of the High Country (ATHC) to raise funds, renovate and operate the theater.
The new Appalachian Theatre will host theater performances, live music, dance and cinema. It will also be used as a venue for Appalachian's Hayes School of Music Opera Workshop — with its first performance, "Die Fledermaus," scheduled for two dates in November.
"We've had a number of current Appalachian staff and faculty — active and retired — serve on our board, and they have been an important part of guiding us to the type of theater we need to be," said John Cooper, chair of the ATCH Board of Trustees. "We've also had hundreds of volunteers, many associated with the university."
Cooper, who is the founder and chairman of Mast General Store Inc., has been a longtime supporter and sponsor of the university's An Appalachian Summer Festival and other arts programs in the community. He also has served on Appalachian's Board of Trustees.
"This is the perhaps the greatest 'town-gown' collaboration I've seen," said Robert Snead '55 '57, who served as Appalachian's vice chancellor for development and public affairs in the 1980s, when An Appalachian Summer Festival was launched as a summer arts outreach program. Snead joined the ATHC as a board member in its early stages.
"Through time, there have been projects where the university and the town of Boone have worked together, but the theater, by far, involved the most people, time and resources," Snead said.
Dr. Michael McKee, professor emeritus in Appalachian's Department of Economics, conducted an economic impact and tax revenue study for the theater through Appalachian's Center for Economic Research and Policy Analysis (CERPA).
"The study authored by Mike McKee showed the theater will result in a total economic activity increase of approximately $4.5 million per year for the regional economy," Cooper said. "That information was extremely helpful in seeking grants."
Dr. Frank Mohler, professor emeritus in Appalachian's Department of Theatre and Dance, serves as a vice chair on the ATHC Board of Trustees and brought four decades of experience as a theatrical set and lighting designer to help plan the layout of the Appalachian Theatre. Mohler was the concept designer for Appalachian's Valborg Theatre, which opened in 1994.
Keith Martin, Appalachian's John M. Blackburn Distinguished Professor of Theatre, also serves as a vice chair on the ATHC Board of Trustees. Prior to joining Appalachian's faculty in 2011, Martin had a 35-year career in the nonprofit sector. His work in production, artistic direction and management in professional theater, opera, dance, film and television provided expertise in many areas during Appalachian Theatre's planning and design.
Appalachian Theatre in the classroom
Martin, who has been involved in the restoration of several historic theaters across the Southeast, included classroom instruction in his work for the Appalachian Theatre.
"Here at the university, I teach the 'business side' of show biz — the theory and practice of business management, promotion and publicity, fundraising and box office management as they apply to the performing arts," he explained.
Working alongside Martin, students in his classes gained practical experience — while building their own portfolios — by working on projects related to the theater. "My classes drafted the articles of incorporation for ATHC and wrote the first draft of the bylaws. They wrote job descriptions, policies and media releases, all as class projects," Martin said.
Martin said Appalachian students often volunteered at the theater as well, participating in workdays coordinated through the Appalachian and Community Together (ACT) office and serving at fundraising functions over the years.
A team of students worked with the Rev. Dr. Christina May, formerly an adjunct professor in Appalachian's Department of Communication and now the internship coordinator for the Department of Government and Justice Studies, to develop and execute a fundraising campaign for ATHC as part of their Principles of Fundraising class in fall 2016. The students provided a summary of best practices, along with recommendations, to ATHC after the project was completed.
Dr. Craig Fischer, professor in Appalachian's Department of English, included his Introduction to Film class in researching films that showed at the original Appalachian Theatre. His students wrote blogs for the ATHC website as part of the public outreach efforts.
Fischer and his students worked alongside Mohler, historian Dr. Eric Plaag of the Digital Watauga Project and Appalachian's Dr. Gary Boye, a librarian in Appalachian's Nicholas Erneston Music Library, to compile the history of the Appalachian Theatre and an interactive database on the ATHC website through which patrons can search for details about historical films and performances.
"I wanted to show the students the value of local history research and involvement in the community," Boye said. "Working with the Appalachian Theatre, I feel like we are helping directly in the community and reaching out to people from all walks of life — not just academics."
App State's Appalachian Theatre Contributions
What do you think?
Share your feedback on this story.
Appalachian and the Community Together inspires civic engagement
Appalachian Magazine
Feb. 1, 2018
College of Fine and Applied Arts
April 19, 2019
About the College of Fine and Applied Arts
Appalachian State University's College of Fine and Applied Arts is a dynamic and innovative group of seven academic departments, bringing together a variety of perspectives, experiences and real-world education to provide unique opportunities for student success. The college has more than 3,000 undergraduate and graduate majors. Its departments are Applied Design, Art, Communication, Military Science and Leadership, Sustainable Development, Sustainable Technology and the Built Environment, and Theatre and Dance. Learn more at https://faa.appstate.edu.
About the Walker College of Business
The Walker College of Business at Appalachian State University delivers transformational educational experiences that prepare and inspire students to be ethical, innovative and engaged business leaders who positively impact our community, both locally and globally. The college places emphasis on international experiences, sustainable business practices, entrepreneurial programs and real-world applications with industry. Enrolling approximately 3,000 undergraduates in 10 majors and 175 graduate students in three master's programs, the Walker College is accredited by AACSB International – the premier global accrediting body for schools of business. Learn more at https://business.appstate.edu.
About the College of Arts and Sciences
The College of Arts and Sciences (CAS) at Appalachian State University is home to 17 academic departments, two centers and one residential college. These units span the humanities and the social, mathematical and natural sciences. CAS aims to develop a distinctive identity built upon our university's strengths, traditions and unique location. The college's values lie not only in service to the university and local community, but through inspiring, training, educating and sustaining the development of its students as global citizens. More than 6,400 student majors are enrolled in the college. As the college is also largely responsible for implementing App State's general education curriculum, it is heavily involved in the education of all students at the university, including those pursuing majors in other colleges. Learn more at https://cas.appstate.edu.
About the Hayes School of Music
The Hayes School of Music prepares young musicians for professional lives as performers, composers, music educators, music therapists, conductors and music industry professionals, ensuring the next generation of musical leadership for the state, region and nation. Noted for quality instruction by national and internationally recognized faculty musicians, the school offers four undergraduate degree programs and three graduate-level programs. Learn more at https://music.appstate.edu.
About Appalachian State University
As the premier public undergraduate institution in the state of North Carolina, Appalachian State University prepares students to lead purposeful lives as global citizens who understand and engage their responsibilities in creating a sustainable future for all. The Appalachian Experience promotes a spirit of inclusion that brings people together in inspiring ways to acquire and create knowledge, to grow holistically, to act with passion and determination, and to embrace diversity and difference. Located in the Blue Ridge Mountains, Appalachian is one of 17 campuses in the University of North Carolina System. Appalachian enrolls more than 20,000 students, has a low student-to-faculty ratio and offers more than 150 undergraduate and graduate majors.