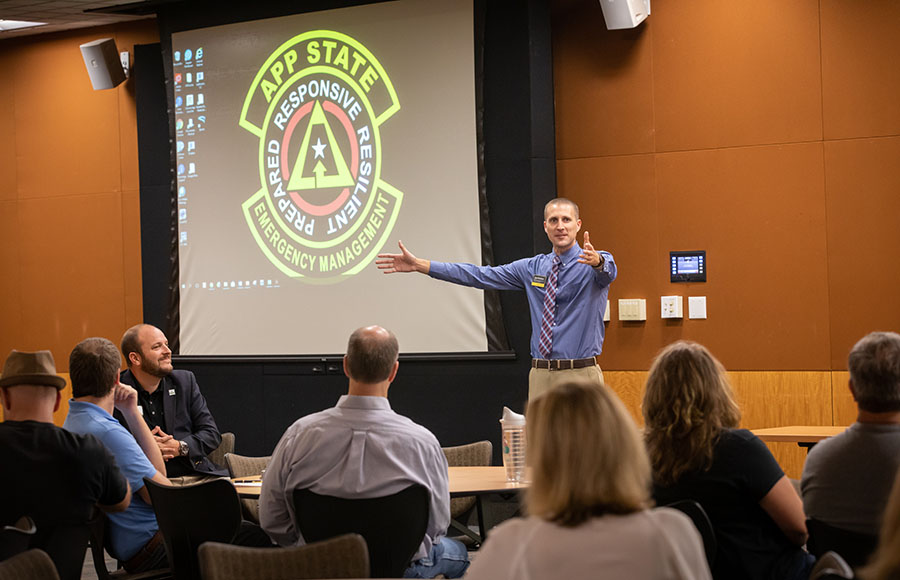 Posted Oct. 15, 2019 at 2:23 p.m.
BOONE, N.C. — Safety is always foremost at Appalachian State University and preparedness is key, according to Appalachian's Department of Environmental Health, Safety and Emergency Management (EHS&EM).
During National Preparedness Month in September, the theme of which was "Prepared, Not Scared," Appalachian's EHS&EM department stressed the importance of preparedness and shared best practices from the University of North Carolina System with the Appalachian Community by participating in on-campus events. National Preparedness Month is recognized by the Federal Emergency Management Agency (FEMA) to promote family and community emergency planning.
"At Appalachian, standard preparedness procedures include proactive, advance planning, regular updates with safety and management teams, ongoing education of the public, crisis response practice and review and collaboration with local partners," explained Jason Marshburn, director of EHS&EM at Appalachian.
"Appalachian's building emergency teams are trained to help respond to and evacuate buildings on campus in an emergency," he continued. "They are also trained to support occupants during an incident."
Each September, Appalachian hosts Safety Week, a campus event designed to build awareness about resources and policies within the Appalachian Community. The week includes a safety festival on Sanford Mall, where students, faculty and staff connect directly with Appalachian's safety and wellness professionals.
During National Preparedness Month, the EHS&EM department also hosted workshops for Appalachian faculty and staff, covering basic preparedness measures to highlight how Appalachian manages emergencies. These workshops provided space to examine some of the major incidents that affected Appalachian's campus in 2018, such as Hurricane Florence and Winter Storm Diego, as a basis to help plan for future events.
UNC System institutions from across the state participated with local emergency management personnel from the town of Boone and Watauga County in the Building Emergency Team workshop, organized by the EHS&EM department. Members and partners heard about incidents in the UNC System and how the responses to these incidents were coordinated, Marshburn said. The workshop participants also learned about the roles responders played.
Chris Gonyar, director of emergency management at UNC-Charlotte, shared his first-hand experiences at the workshop, reinforcing the importance of advance training and planning for emergencies.
Goynar said full-scale planning and training exercises on his campus around launching a parent and family assistance center were extremely helpful. "Had we not done that exercise (before an on-campus event occurred), it would have been very difficult for us to put together the staffing and organization for a family assistance center when the situation demanded one," he said.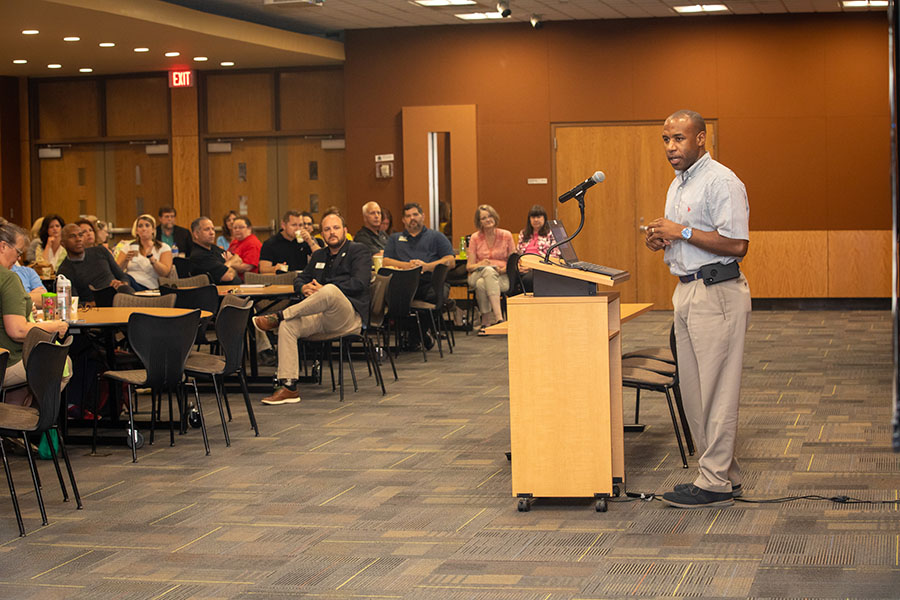 Darrell Jeter, the director of emergency management and planning at UNC-Chapel Hill, also presented at the workshop, sharing how his team responded to a water loss incident on Chapel Hill's campus. Additionally, Marshburn detailed his deployment to the North Carolina coast to help with Hurricane Florence response efforts last year.
Although National Preparedness Month activities for 2019 have come to an end, Marshburn stressed the importance of individual preparedness for the emergencies most likely to impact the Boone area, such as the upcoming winter weather.
Building a kit with essentials like battery-operated radios, shovels and ice scrapers, and establishing a communication plan with family and friends that includes registering for AppState-Alerts, which convey emergency information quickly, are some of the measures Marshburn recommends Mountaineers take to get "winter ready" at Appalachian.
Learn more about Appalachian's Department of EHS&EM and how Appalachian stays prepared by visiting emergency.appstate.edu.
What do you think?
Share your feedback on this story.
About EHS&EM at Appalachian
The Department of Environmental Health, Safety, and Emergency Management (EHS&EM) at Appalachian State University works in coordination with other departments across campus to build a safe and prepared campus in support of the university's commitment to campus safety. The department's primary responsibility is environmental health, safety and emergency management functions across campus. Learn more at https://ehsem.appstate.edu.
About Appalachian State University
As the premier public undergraduate institution in the state of North Carolina, Appalachian State University prepares students to lead purposeful lives as global citizens who understand and engage their responsibilities in creating a sustainable future for all. The Appalachian Experience promotes a spirit of inclusion that brings people together in inspiring ways to acquire and create knowledge, to grow holistically, to act with passion and determination, and to embrace diversity and difference. Located in the Blue Ridge Mountains, Appalachian is one of 17 campuses in the University of North Carolina System. Appalachian enrolls more than 20,000 students, has a low student-to-faculty ratio and offers more than 150 undergraduate and graduate majors.