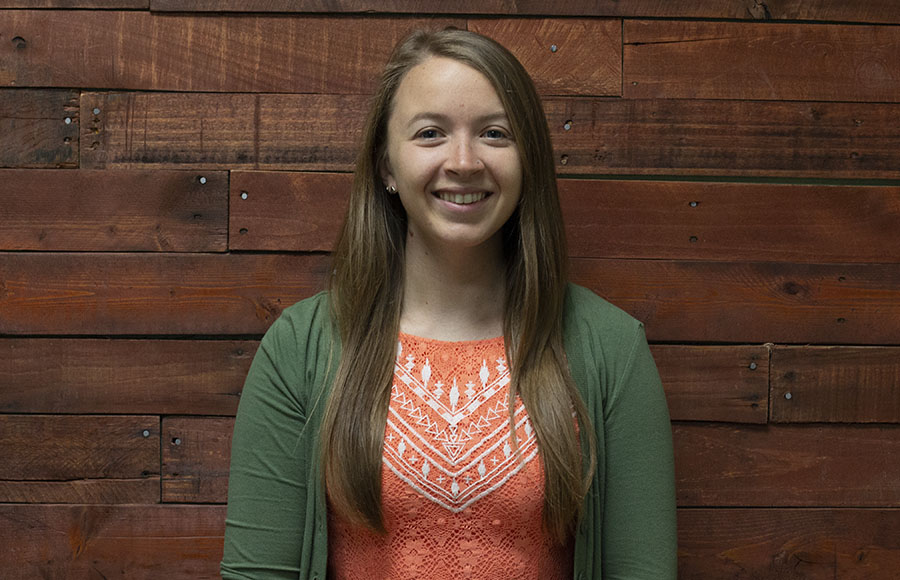 Posted Oct. 21, 2019 at 9:17 a.m.
BOONE, N.C. — Appalachian State University alumna and self-professed "grammar nerd" Lindsay Bookout '16, of Wilmington, would never call herself a hero, and yet, she is in the business of saving.
As a self-employed freelance proofreader operating under the name Pendulum Proofreading — a job she can take "literally anywhere in the world," she said — Bookout saves court transcripts from spelling, grammar and punctuation errors and is currently working with Reportex, a full-service court reporting and transcription firm in Canada.
In addition to her freelance work, Bookout is preparing for law school by studying for the Law School Admission Test (LSAT) this fall. If she passes, she plans to attend law school in fall 2021, with a goal of specializing in animal and environmental law.
"I absolutely adored my law classes at Appalachian," Bookout said. "Writing, editing, good research skills and formulating a solid argument are all skills that I honed through both my English and political science degrees — skills that will be assets to me in law school."
Bookout is one of many Appalachian graduates whose English degree has prepared them for and presented them with multiple career paths.
"If you are interested in technical writing, professional writing, editing or proofreading, there isn't a better school than Appalachian, in my opinion," Bookout said. "The (English–professional writing) program opened so many doors for me by giving me the tools I need to succeed."
She continued, "My professional writing concentration gave me lots of good training for proofreading, specifically focusing on looking for readability and good attention to detail. In my senior capstone, we learned how to write resumes, write cover letters and market ourselves. That has been invaluable to me in my post-college experience."
After graduating from Appalachian, Bookout completed an online course called Proofread Anywhere through which she learned how to proofread transcripts, as well as about the opportunity with Reportex.
"Court reporters use steno to type out transcripts verbatim in a courtroom, then they send it to a scopist who listens to the audio and cleans up any messy areas," Bookout explained. "Finally, they send it to me. I am the final check for punctuation, missing words and things of that nature."
She is currently undergoing training for a quality control position with Reportex. "This is the step after proofreading that ensures that the final piece has no glaring errors and has correct formatting," she said.
In addition to her English-professional writing degree, Bookout earned a B.A. in political science and a B.A. in languages, literatures and cultures-French and Francophone studies from Appalachian.
Honors student, editor and grant writer
While a student, Bookout served as associate editor and then editor-in-chief of History Matters, an online undergraduate journal of historical research published annually by Appalachian's Department of History.
She received a John Philip Couch Scholarship to study abroad in France and she also participated in a second study abroad in London led by Dr. David Orvis, professor in the Department of English.
As a student in Appalachian's Honors College, Bookout completed her honors thesis on the disparity between the education that students receive in schools in higher income areas versus lower income areas and the effect this has on students' lives.
To fulfill the internship requirement of her English degree concertation, she served as a grant writer for nonprofit Feeding Children Everywhere (FCE), which provides healthy meals to millions of children around the world.
As part of the organization's communications team, she helped market the nonprofit to the public by managing its Facebook and Instagram posts, as well as translating her experiences working with the public during FCE events into language appropriate for grant applications.
Additionally, Bookout shared, "Marketing will always be important, whether it's marketing yourself or whomever you work for, and my (English) capstone prepared me for that."
What do you think?
Share your feedback on this story.
About the Department of English
The Department of English at Appalachian State University is committed to outstanding work in the classroom, the support and mentorship of students, and a dynamic engagement with culture, history, language, theory and literature. The department offers master's degrees in English and rhetoric and composition, as well as undergraduate degrees in literary studies, film studies, creative writing, professional writing and English education. Learn more at https://english.appstate.edu.
About the Department of Languages, Literatures and Cultures
The Department of Languages, Literatures and Cultures offers courses that enhance students' understanding of other cultures and languages as well as their own, making them prepared for lifelong learning in a multicultural world. Learn more at https://dllc.appstate.edu.
About the Department of Government and Justice Studies
Appalachian State University's Department of Government and Justice Studies offers undergraduate programs in political science and criminal justice, and graduate programs in political science and public administration. Housed in the College of Arts and Sciences, the department has over 600 undergraduate majors and more than 70 graduate students. Learn more at https://gjs.appstate.edu.
About the College of Arts and Sciences
The College of Arts and Sciences (CAS) at Appalachian State University is home to 17 academic departments, two centers and one residential college. These units span the humanities and the social, mathematical and natural sciences. CAS aims to develop a distinctive identity built upon our university's strengths, traditions and unique location. The college's values lie not only in service to the university and local community, but through inspiring, training, educating and sustaining the development of its students as global citizens. More than 6,400 student majors are enrolled in the college. As the college is also largely responsible for implementing App State's general education curriculum, it is heavily involved in the education of all students at the university, including those pursuing majors in other colleges. Learn more at https://cas.appstate.edu.
About Appalachian State University
As the premier public undergraduate institution in the Southeast, Appalachian State University prepares students to lead purposeful lives. App State is one of 17 campuses in the University of North Carolina System, with a national reputation for innovative teaching and opening access to a high-quality, affordable education for all. The university enrolls more than 21,000 students, has a low student-to-faculty ratio and offers more than 150 undergraduate and 80 graduate majors at its Boone and Hickory campuses and through App State Online. Learn more at https://www.appstate.edu.