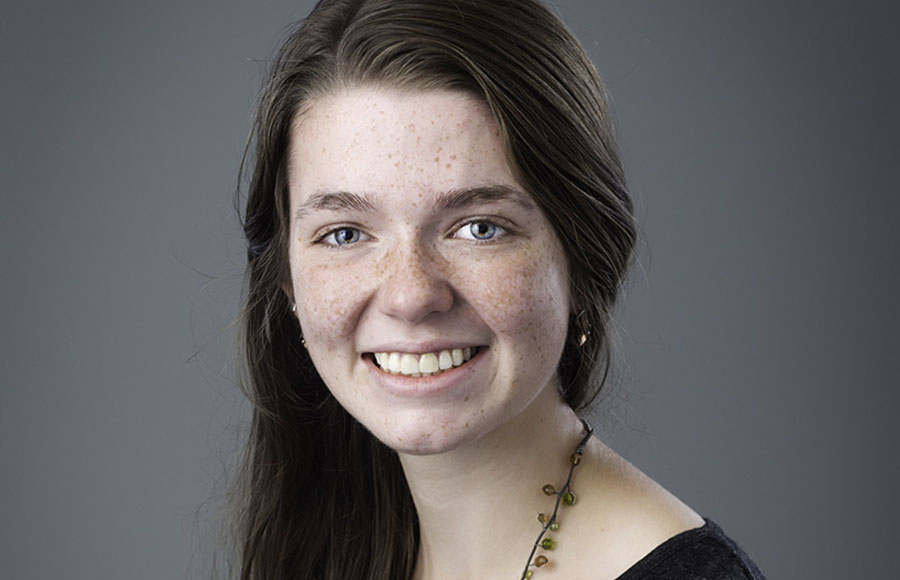 Posted Oct. 21, 2019 at 2:58 p.m.
BOONE, N.C. — Hannah Krueger, a 2017 graduate of Appalachian State University's Geology (BS) - Quantitative Geoscience degree program, hopes to become a research professor at a university. She's currently enrolled at Brown University, working on her Ph.D. in seismology — a type of geophysics that studies seismic waves created by earthquakes.
A Chancellor's Scholar in the Honors College while at Appalachian, Krueger was offered fully funded Ph.D. positions at Yale and UC Berkeley, as well as Brown, she said.
Krueger's interest in seismology has its roots in a mentorship program she participated in at the North Carolina School of Science and Mathematics in Durham. At Appalachian, she conducted geophysical research, acquiring skills such as computer coding that are "vital for success" in the study of geophysics in graduate school.
One of the benefits of her degree program at Appalachian was that the Department of Geological and Environmental Sciences serves only undergraduates. As a result, "I was able to start doing this research as a freshman," Krueger said. "At a bigger university, that's virtually impossible."
Specifically, Krueger researched seasonal ground movements recorded by continuous GPS in southern California. She also helped enhance the quality of southern California GPS data for the improvement of earthquake hazard models. As part of a summer internship at the University of Washington, Krueger studied the Juan de Fuca tectonic plate, which is sinking under the North American tectonic plate at a boundary called the Cascadia subduction zone.
As an Honors College student, she completed an honors thesis directed by professor Dr. Scott Marshall in the GES department. Her thesis was titled "Analysis of Secular Velocity Contamination Using Seasonal GPS Signals."
While in graduate school at Brown, Krueger has received funding through the National Science Foundation's Graduate Research Fellowship Program. She also volunteers, developing science curriculum for local elementary schools in Providence, Rhode Island.
Krueger is originally from New Bern.
What do you think?
Share your feedback on this story.
Appalachian tracks where its graduates go, notes high success rate
About the Department of Geological and Environmental Sciences
Located in Western North Carolina, Appalachian State University provides the perfect setting to study geological and environmental sciences. The Department of Geological and Environmental Sciences provides students with a solid foundation on which to prepare for graduate school or build successful careers as scientists, consultants and secondary education teachers. The department offers six degree options in geology and two degree options in environmental science. Learn more at https://earth.appstate.edu.
About the College of Arts and Sciences
The College of Arts and Sciences (CAS) at Appalachian State University is home to 17 academic departments, two centers and one residential college. These units span the humanities and the social, mathematical and natural sciences. CAS aims to develop a distinctive identity built upon our university's strengths, traditions and unique location. The college's values lie not only in service to the university and local community, but through inspiring, training, educating and sustaining the development of its students as global citizens. More than 6,400 student majors are enrolled in the college. As the college is also largely responsible for implementing App State's general education curriculum, it is heavily involved in the education of all students at the university, including those pursuing majors in other colleges. Learn more at https://cas.appstate.edu.
About Appalachian State University
As the premier public undergraduate institution in the Southeast, Appalachian State University prepares students to lead purposeful lives as global citizens who understand and engage their responsibilities in creating a sustainable future for all. The Appalachian Experience promotes a spirit of inclusion that brings people together in inspiring ways to acquire and create knowledge, to grow holistically, to act with passion and determination, and to embrace diversity and difference. Located in the Blue Ridge Mountains, Appalachian is one of 17 campuses in the University of North Carolina System. Appalachian enrolls nearly 21,000 students, has a low student-to-faculty ratio and offers more than 150 undergraduate and graduate majors.