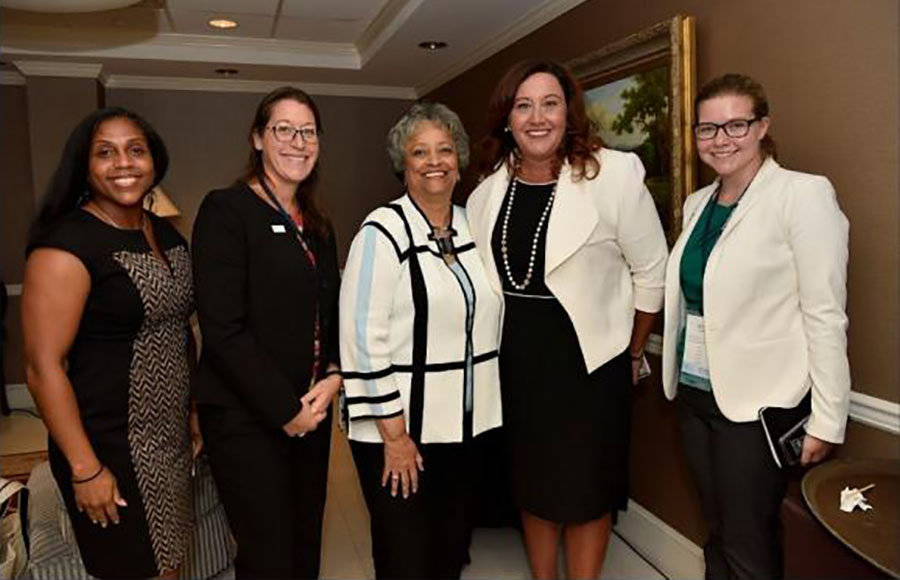 Posted Oct. 29, 2019 at 9:31 a.m.
BOONE, N.C. — Through a highly competitive process, Appalachian State University student Sarah Caudill was selected to intern in summer 2019 at the U.S. Department of State's Bureau of Educational and Cultural Affairs in the Office of Academic Exchanges.
She primarily worked on the Mandela Washington Fellowship, part of the office's Studies of the U.S. Branch. The Mandela Washington Fellowship serves 700 young leaders from sub-Saharan Africa who have made a serious and positive impact in their communities.
Caudill helped to write speeches, drafted memos for Secretary of State Mike Pompeo and provided information for Secretary of Housing and Urban Development Ben Carson to use in one of his speeches.
Caudill, from Franklinville, is earning a Bachelor of Science in sociology with a concentration in social inequalities. She is an ACCESS Scholar, a recipient of an Alumni Memorial Scholarship awarded to children of Appalachian graduates and a student in Appalachian's Honors College.
She said she wanted an internship that would allow her to test her sociological skills, gain more insight into national issues and expand social networks.
How she applied
Caudill applied for the internship through the USAJobs.gov website. "Upon seeing that I studied abroad in South Africa and attend Appalachian, which is one of the partner institutes for the fellowship, I was contacted about an interview and immediately accepted an interview for the next day. A week later I was beginning my clearance process paperwork for Diplomatic Security," she said.
Caudill believes sociology was very helpful in navigating her experiences during the internship.
"Sociology was very useful in helping me see the bigger picture of the programs of the State Department," she said. "Not only did I get to experience what participants could accomplish through the various programs offered by the State, but I also was able to see how amazing it was that individuals from other countries work with such a massive institution such as the U.S. government. I honestly had no idea what I was going to be doing when I got there, but I loved every minute of it."
Why others should consider an internship
Caudill said she believes every student should have an internship before graduating. She suggested that students take time to plan their internships and understand their roles as an intern.
"Be proactive; don't be afraid to ask for more work or if you can go to an event that is happening that will help you grow as a person, student or employee. Be professional, available and focus on how you can learn and assist with any task set in front of you," she said.
Living in the nation's capital presented its own opportunities, she said.
"There were a lot of opportunities I had just living in the city for the summer. For example, I went to an Association of Professional Schools of International Affairs (APSIA) forum for grad schools and met with representatives from Texas A&M, Columbia and even LinkedIn."
What do you think?
Share your feedback on this story.
About the ACCESS Scholarship Program
Appalachian State University is committed to making higher education affordable for every North Carolina student and developed the Appalachian Commitment to a College Education for Student Success (ACCESS) Scholarship Program as a method to ensure that first-year students from low-income families in North Carolina can attend Appalachian debt free. Along with financial assistance, the ACCESS program offers recipients a comprehensive program of academic and personal support that includes orientation and academic advising, mentorship and professional development opportunities. The scholarship supplements federal financial aid grants, state grants, scholarships and other forms of financial assistance. Learn more at https://universitycollege.appstate.edu/access.
About the Honors College
More than 500 students are enrolled in Appalachian State University's Honors College, which serves a diverse group of high-achieving, high-potential, highly motivated students from all majors. The Honors College helps students develop independent and creative thinking and high-level research skills; promotes interdisciplinary inquiry; and nurtures cultured and caring exchanges of ideas. The college's enhanced academic experience prepares students for success in graduate or professional school and for leadership roles in their lives, communities and careers. Learn more at https://honors.appstate.edu.
About the Department of Sociology
The Department of Sociology offers a Bachelor of Arts and seven Bachelor of Science concentrations (applied research methods; criminology; families and intimate relationships; health and aging; power and social change; social inequalities; and individually designed, which requires departmental approval). The department also offers minors in sociology and health and aging, plus two online graduate certificates: aging, health and society, and sociology. Learn more at https://soc.appstate.edu.
About the College of Arts and Sciences
The College of Arts and Sciences (CAS) at Appalachian State University is home to 17 academic departments, two centers and one residential college. These units span the humanities and the social, mathematical and natural sciences. CAS aims to develop a distinctive identity built upon our university's strengths, traditions and unique location. The college's values lie not only in service to the university and local community, but through inspiring, training, educating and sustaining the development of its students as global citizens. More than 6,400 student majors are enrolled in the college. As the college is also largely responsible for implementing App State's general education curriculum, it is heavily involved in the education of all students at the university, including those pursuing majors in other colleges. Learn more at https://cas.appstate.edu.
About Appalachian State University
As the premier public undergraduate institution in the Southeast, Appalachian State University prepares students to lead purposeful lives as global citizens who understand and engage their responsibilities in creating a sustainable future for all. The Appalachian Experience promotes a spirit of inclusion that brings people together in inspiring ways to acquire and create knowledge, to grow holistically, to act with passion and determination, and to embrace diversity and difference. Located in the Blue Ridge Mountains, Appalachian is one of 17 campuses in the University of North Carolina System. Appalachian enrolls nearly 21,000 students, has a low student-to-faculty ratio and offers more than 150 undergraduate and graduate majors.