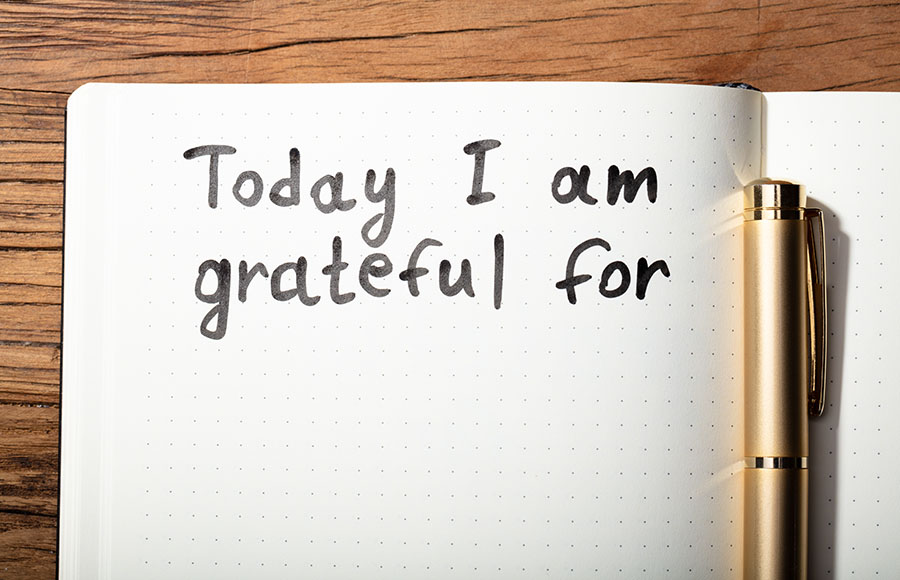 Posted Dec. 4, 2019 at 3:30 p.m.
BOONE, N.C. — Gratitude — the ability to be thankful for what you have or experience — carries significant weight toward our general well-being, according to recent research. Sarah Martin, MSN, RN, of Appalachian State University's Beaver College of Health Sciences explains how.
"It's not so much the actual events in our lives that are stressful but our responses to the stress that affect our physical, psychological and spiritual well-being," said Martin, a clinical faculty member in the Department of Nursing.
She pointed to recent gratitude studies published in the Journal of Positive Psychology, Journal of Personality and Social Psychology, NeuroImage and other journals that show growing evidence of gratitude's benefits — including structural and functional brain changes, improved physical health and improved well-being and resilience after trauma or burnout.
Citing the Greater Good Science Center at UC Berkely, Martin said gratitude supports four main aspects of life:
It allows celebration of the present.
It blocks toxic emotions.
It enhances stress resilience.
It strengthens social ties and self-worth.
As a nursing educator, she applies gratitude research to improve the resilience of health care providers, but she said gratitude can help anyone.
How to cultivate gratitude
How can we cultivate more gratitude in our lives? Martin recommends these practices:
Take time for awareness and quiet reflection. Through mindfulness or meditation, all senses may open to what has been given to you, she said.
Keep a gratitude journal. Jotting down a few things that you are grateful for each day can allow you to acknowledge the goodness in your life, potentially blocking negative emotions.

Practice the 'Three Good Things' exercise. Each night, reflect on three things you are grateful for from your day, and do this for two weeks. This positive psychology tool developed by Dr. Martin Seligman shows that reflecting on what's positive encourages people to see more of what's positive in their lives, rather than the negative.

The practice continues to be studied at the Duke Center for Healthcare Safety and Quality, Martin said, where it has been found to lower burnout and depression, improve work–life balance and quality of sleep, reduce conflict at work and boost levels of happiness.

"Research shows this habit can impact happiness as much as some medications and lasts six months," Martin said.

Write a letter to someone you have never fully thanked. The recipient could be someone you're grateful to for contributing to your well-being. In the letter, describe the benefits you have received from the person and how their actions made you feel. You might, then, read the letter aloud to the person and talk about it together afterward.
What do you think?
Share your feedback on this story.
About the Department of Nursing
The Department of Nursing in Appalachian State University's Beaver College of Health Sciences provides an evidence-based nursing education in an intellectually stimulating and challenging environment that is designed to prepare the beginning nursing professional with the knowledge and skills to practice in diverse settings in a highly complex health care system. The department offers two accredited Bachelor of Science programs: the nursing pre-licensure program and the online RN to BSN program, designed for current registered nurses seeking the bachelor's degree. The department also offers a Master of Science in nursing program that prepares registered nurses for leadership roles as educators. Learn more at https://nursing.appstate.edu.
About the Beaver College of Health Sciences
Appalachian State University's Beaver College of Health Sciences (BCHS), opened in 2010, is transforming the health and quality of life for the communities it serves through interprofessional collaboration and innovation in teaching, scholarship, service and clinical outreach. BCHS offers nine undergraduate degree programs and seven graduate degree programs, which are organized into six departments: Nursing, Nutrition and Health Care Management, Public Health and Exercise Science, Recreation Management and Physical Education, Rehabilitation Sciences, and Social Work. The college's academic programs are located in the Holmes Convocation Center on App State's main campus and the Leon Levine Hall of Health Sciences, a state-of-the-art, 203,000-square-foot facility that is the cornerstone of the Wellness District. In addition, the college supports the Blue Cross NC Institute for Health and Human Services and has collaborative partnerships with the Wake Forest School of Medicine's Physician Assistant Program, the Appalachian Regional Health System and numerous other health agencies. Learn more at https://healthsciences.appstate.edu.
About Appalachian State University
As the premier public undergraduate institution in the Southeast, Appalachian State University prepares students to lead purposeful lives as global citizens who understand and engage their responsibilities in creating a sustainable future for all. The Appalachian Experience promotes a spirit of inclusion that brings people together in inspiring ways to acquire and create knowledge, to grow holistically, to act with passion and determination, and to embrace diversity and difference. Located in the Blue Ridge Mountains, Appalachian is one of 17 campuses in the University of North Carolina System. Appalachian enrolls nearly 21,000 students, has a low student-to-faculty ratio and offers more than 150 undergraduate and graduate majors.