Posted Dec. 18, 2019 at 9 a.m.
BOONE, N.C. — The Holmes Convocation Center at Appalachian State University came alive to the sounds of "Pomp and Circumstance" as more than 1,300 students crossed the stage during the university's Fall Commencement exercises, held Dec. 13.
Student speakers shared stirring comments and advice for fellow graduates. The student editor of The Appalachian newspaper encouraged fellow graduates to believe in the power of public interest, and a father and husband — with three matriculated Mountaineer family members — urged fellow alumni to fuel their lives and dreams with love.
At both ceremonies, Appalachian Chancellor Sheri Everts welcomed the audience and congratulated the graduates. "What a wonderful day of celebration this is for our campus," Everts said. "Today our students leave Appalachian prepared to make real and powerful differences in their communities and beyond."
Commencement exercises for the College of Arts and Sciences (CAS), Hayes School of Music (HSOM) and Walker College of Business (WCOB) were held at 10 a.m., and a ceremony for the Beaver College of Health Sciences (BCHS), College of Fine and Applied Arts (FAA) and Reich College of Education (RCOE) was held at 2 p.m.
In all, more than 160 graduate students and over 1,200 undergraduate students crossed the stage and turned their tassels.
After conferring degrees upon the graduates, Everts said, "You will always be a part of Appalachian, as you are our most enduring legacy. I congratulate each of you on your achievements and celebrate the hope for our community, state, nation and world you take forward into a future made all the brighter because of you."
Walker College of Business speaker
Luis Eduardo Abreu Messina, the WCOB's student speaker, is from Santo Domingo, Dominican Republic, and has been a North Carolina resident for the last 10 years, working in the telecommunications industry. He graduated from Appalachian with a Master of Business Administration.
While attending Appalachian, Messina became a lifetime member of Beta Gamma Sigma Honor Society. After graduating, Messina will continue working at Corning Optical Communications in product line management in Charlotte.
At the morning ceremony, Messina welcomed the audience and invited the crowd to join in the singing of the national anthem. He then invited Everts to the podium for her opening remarks.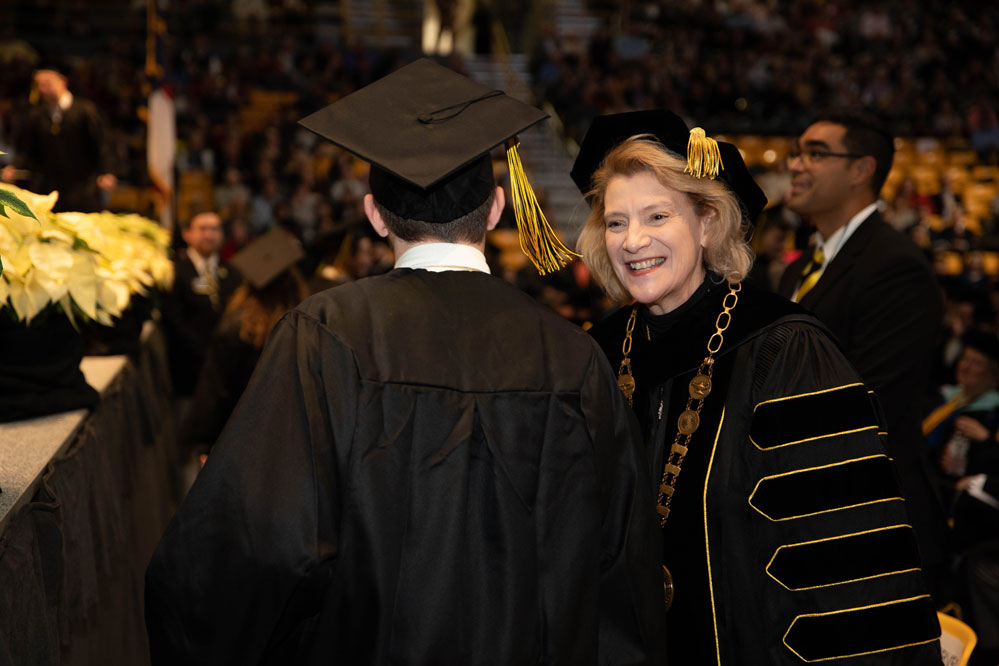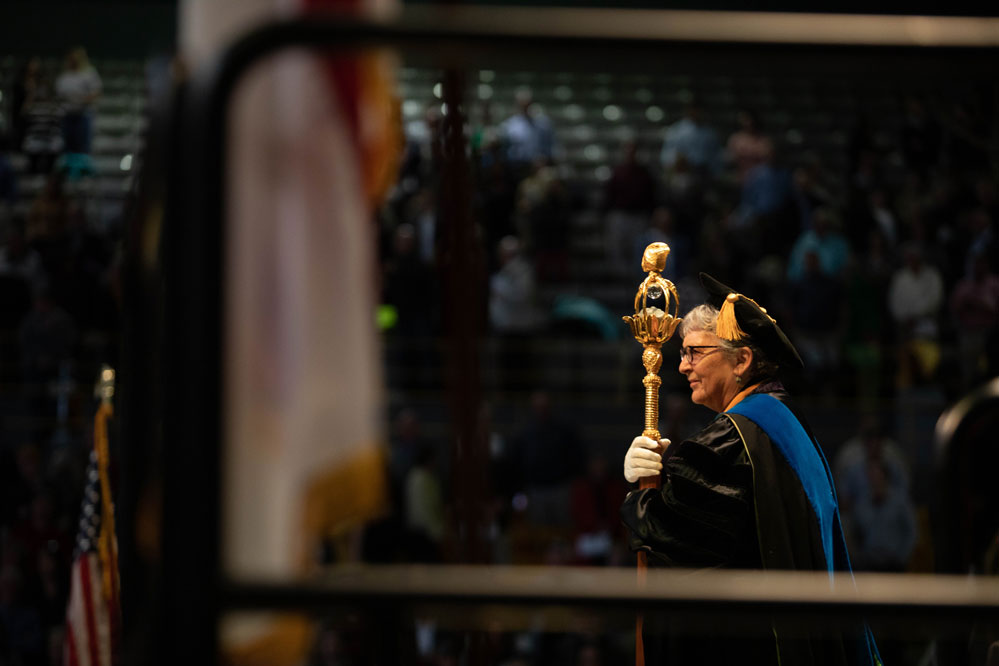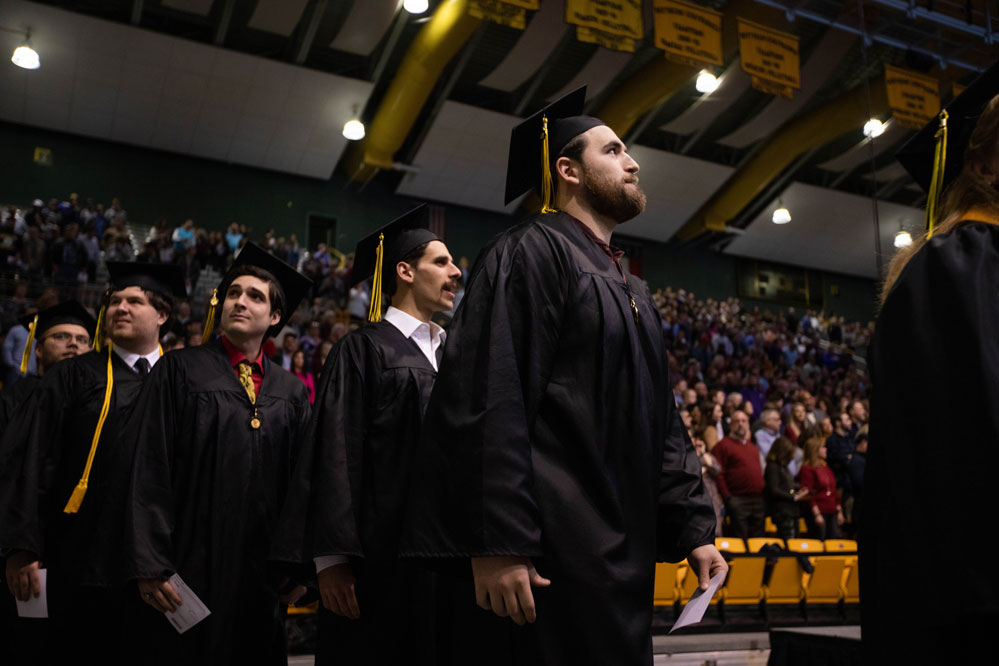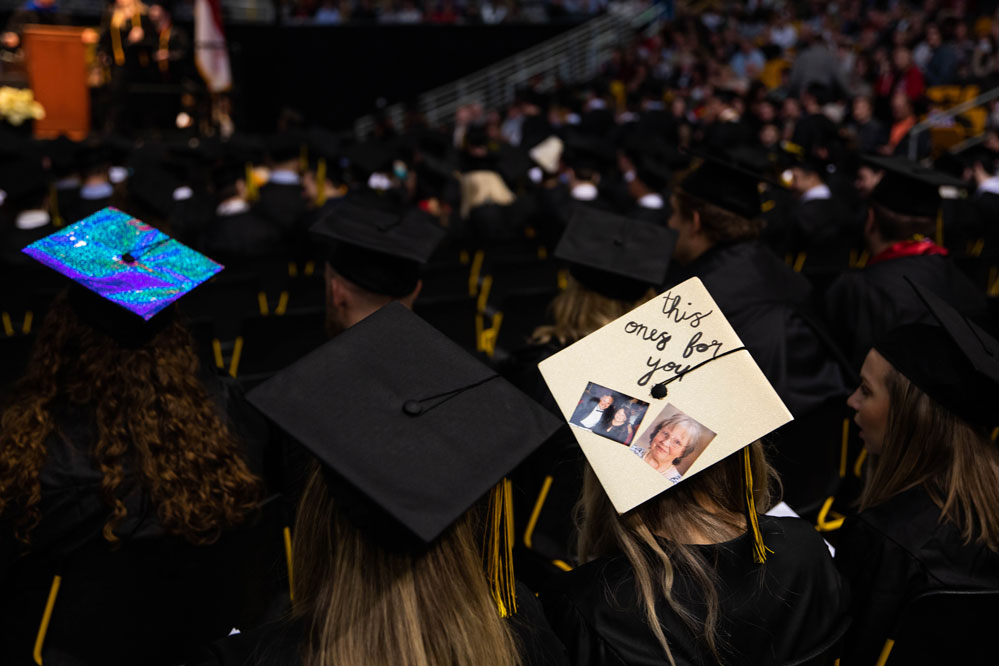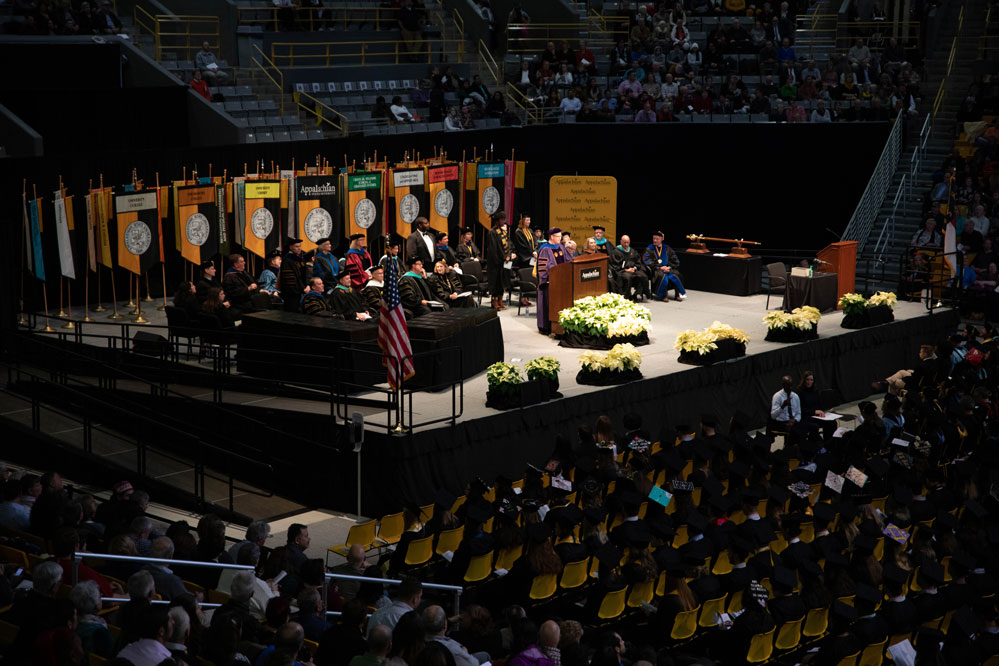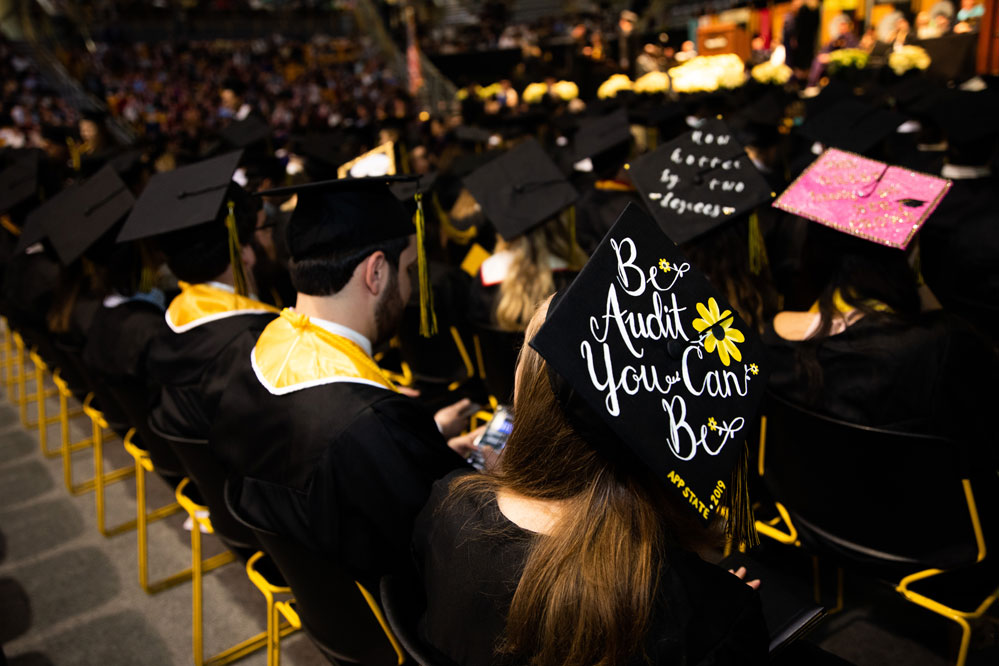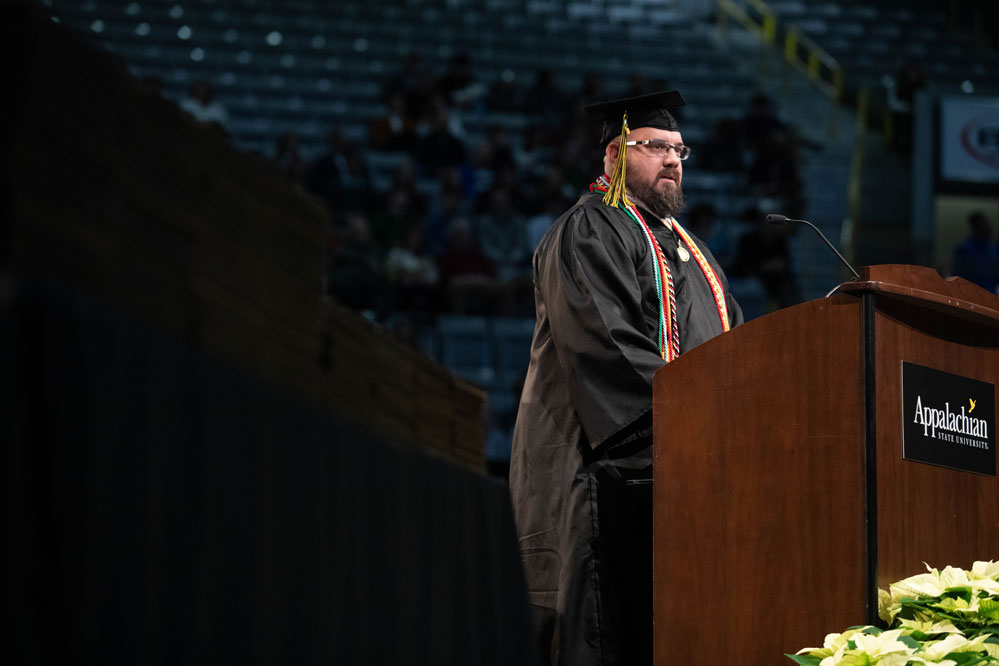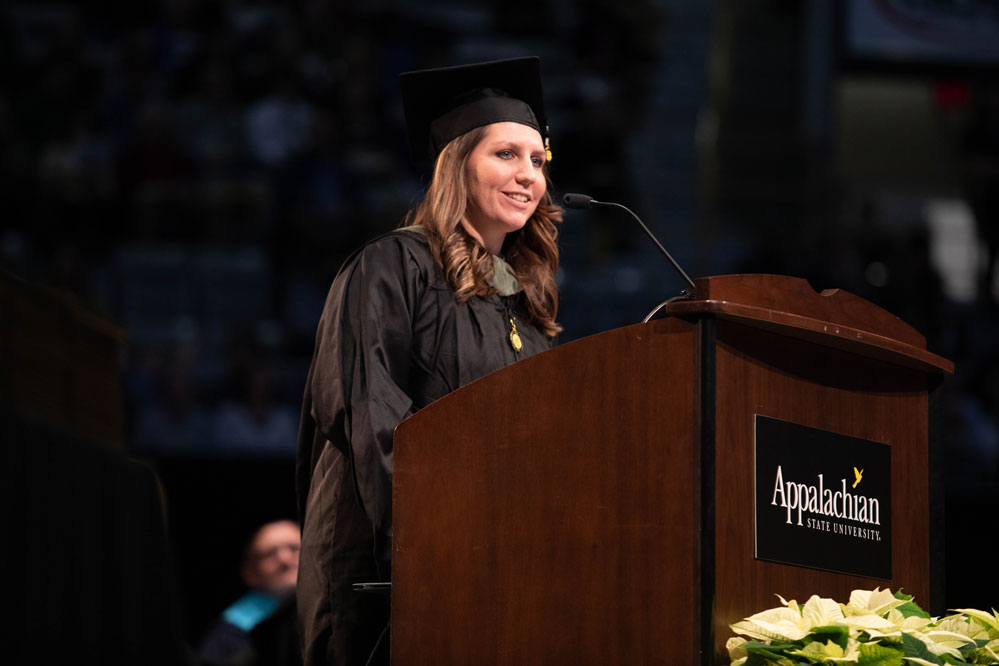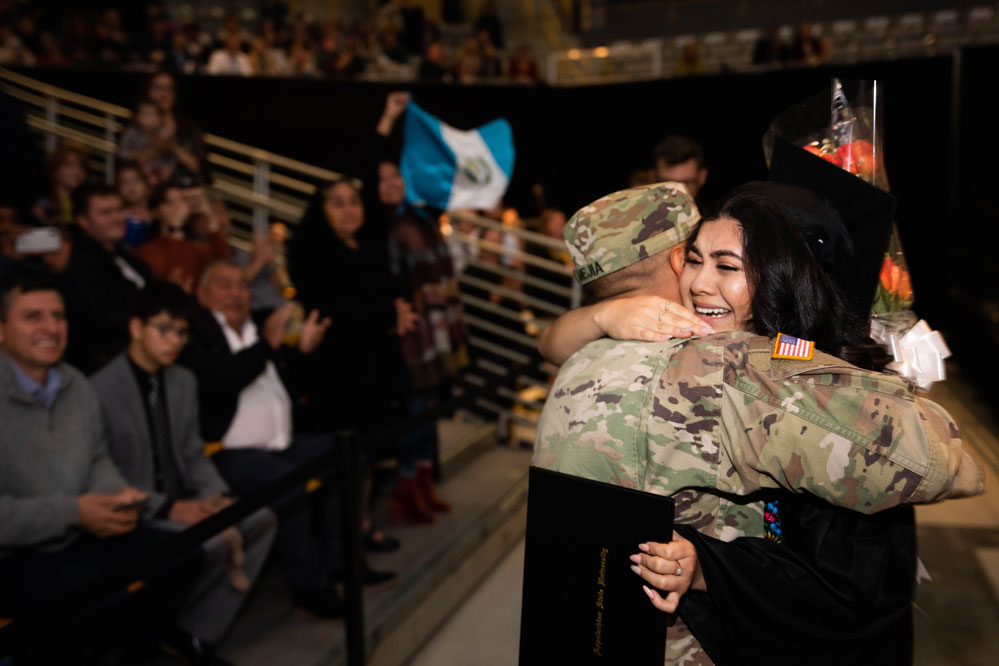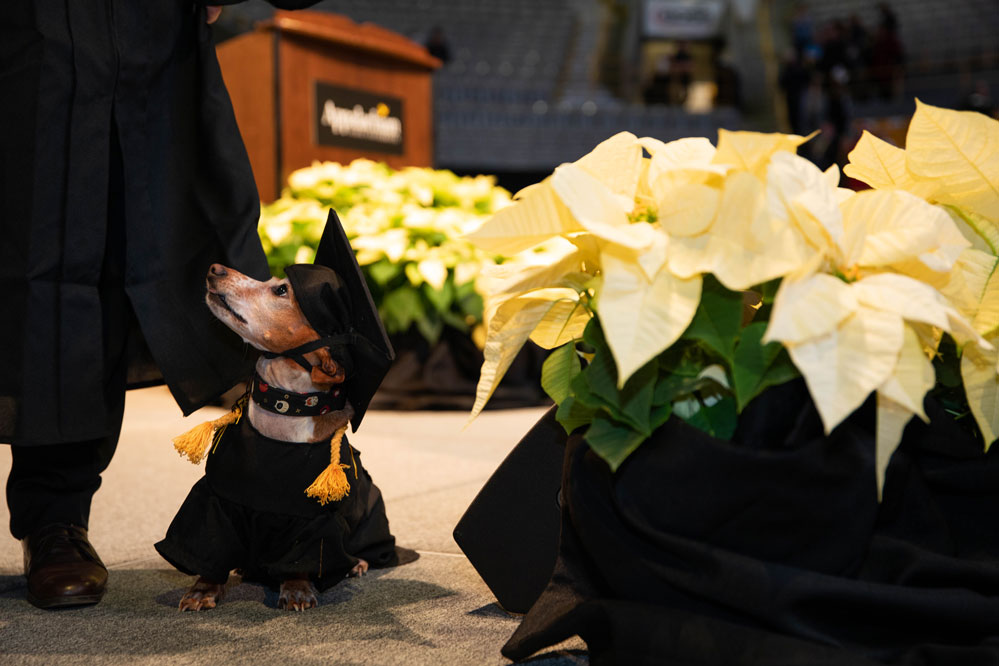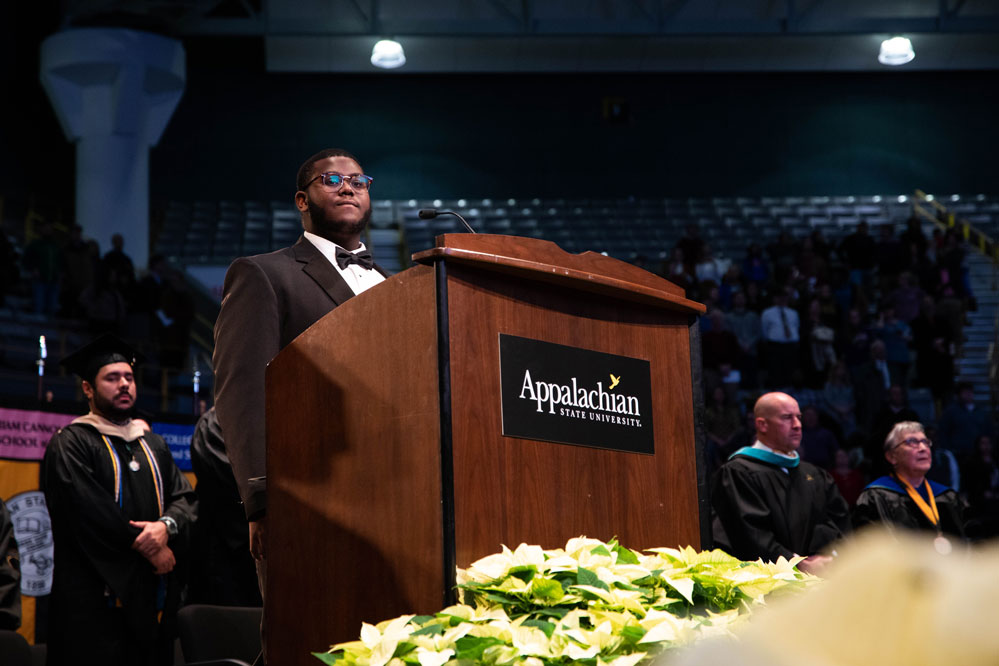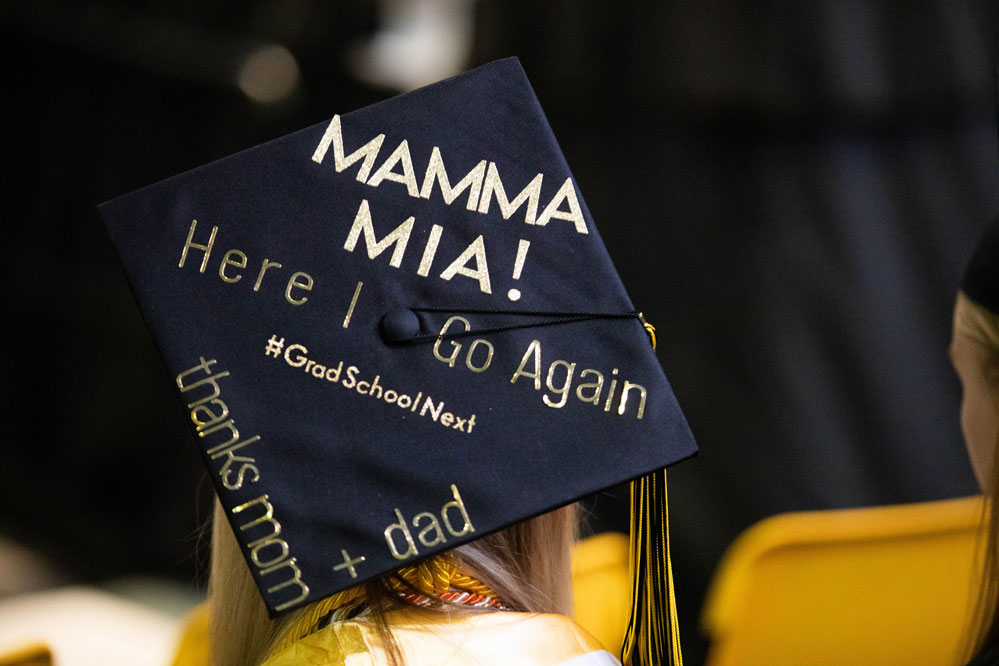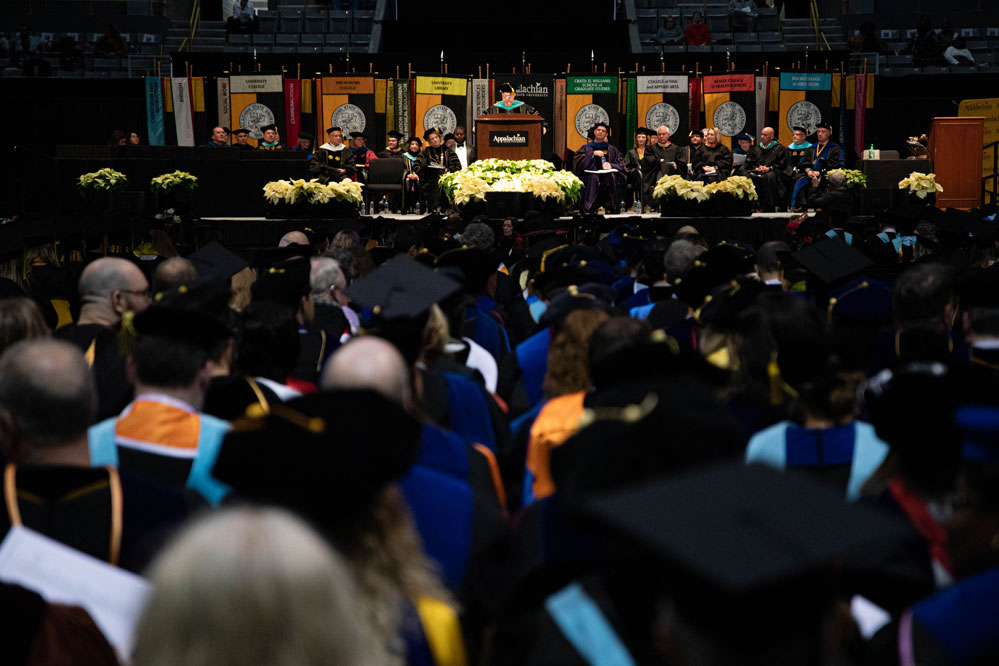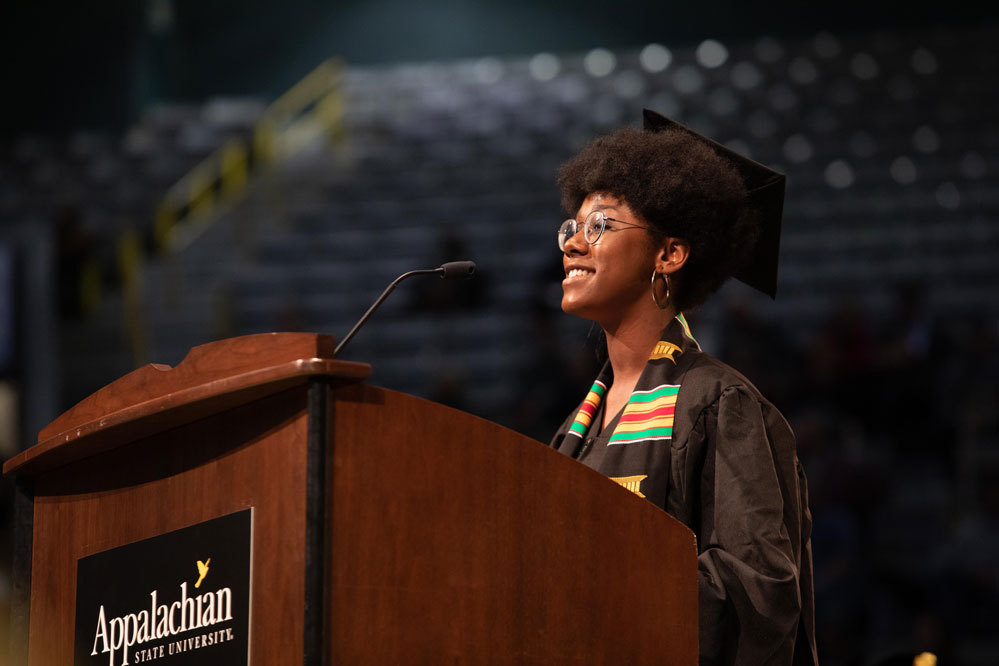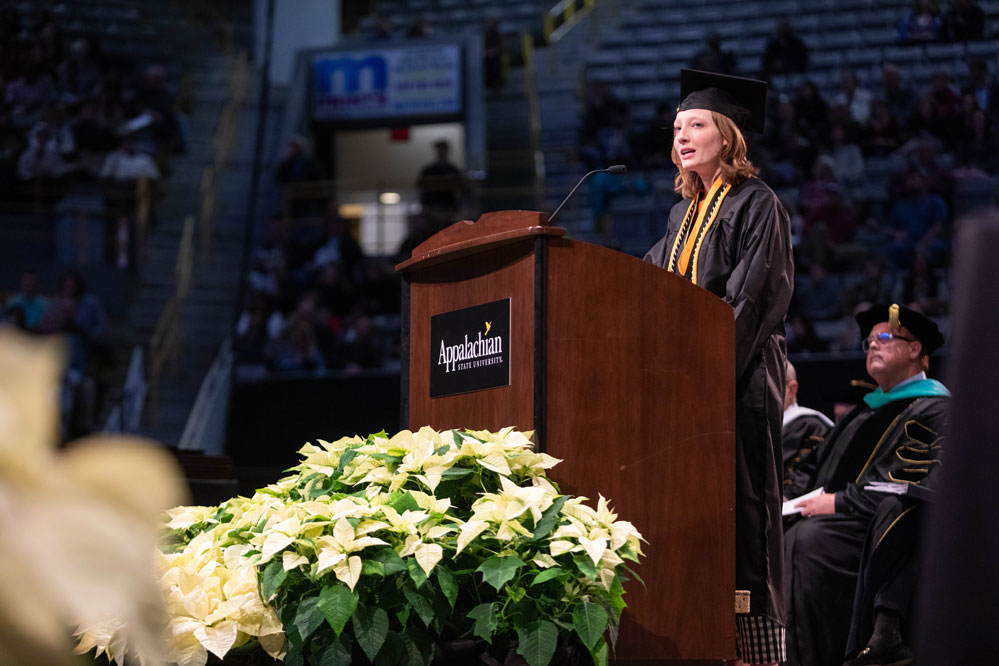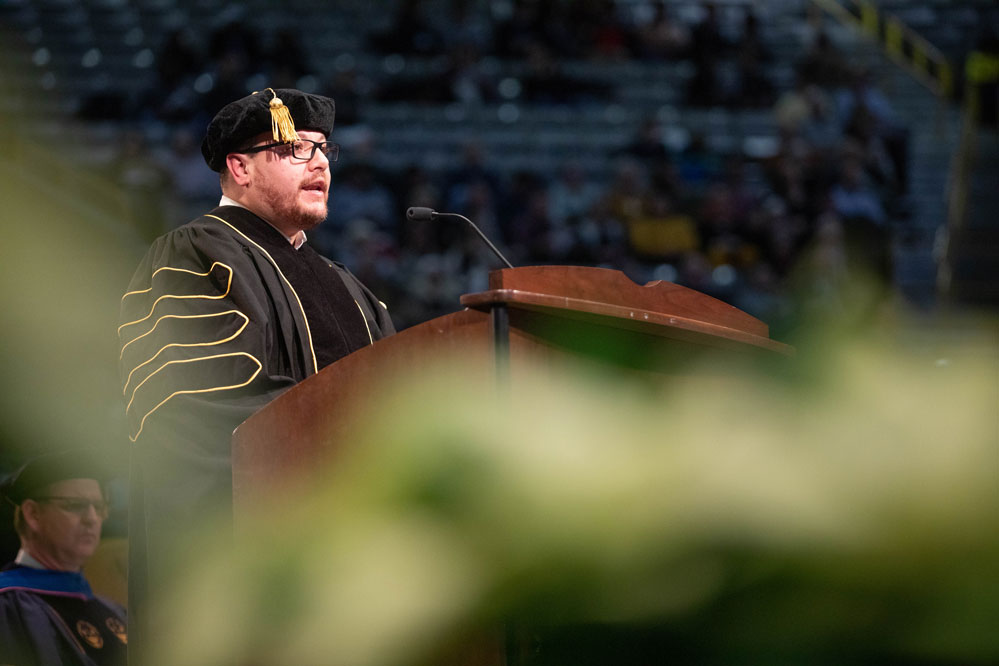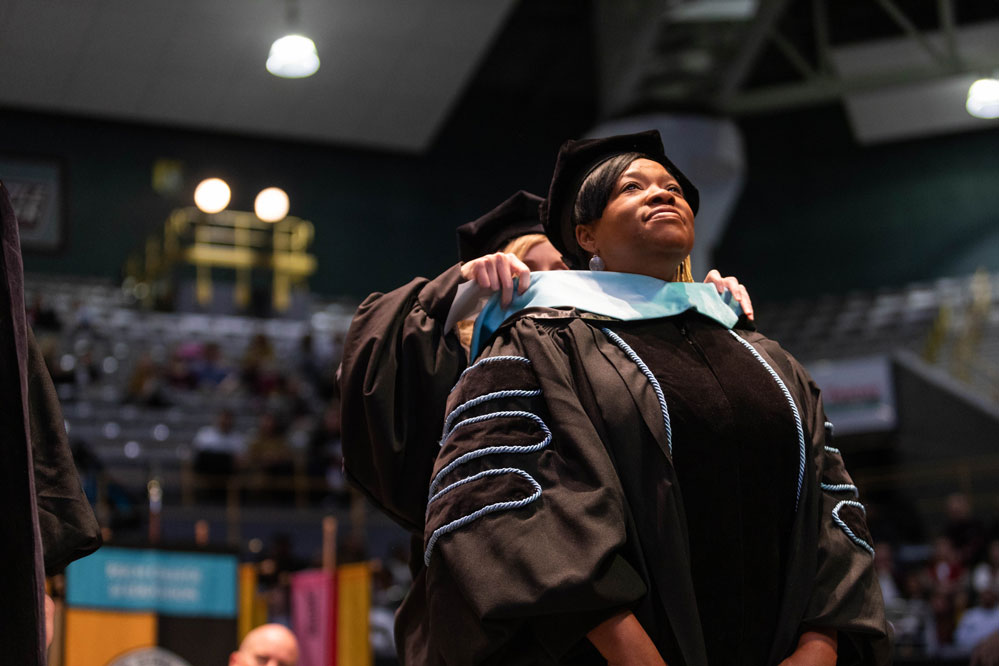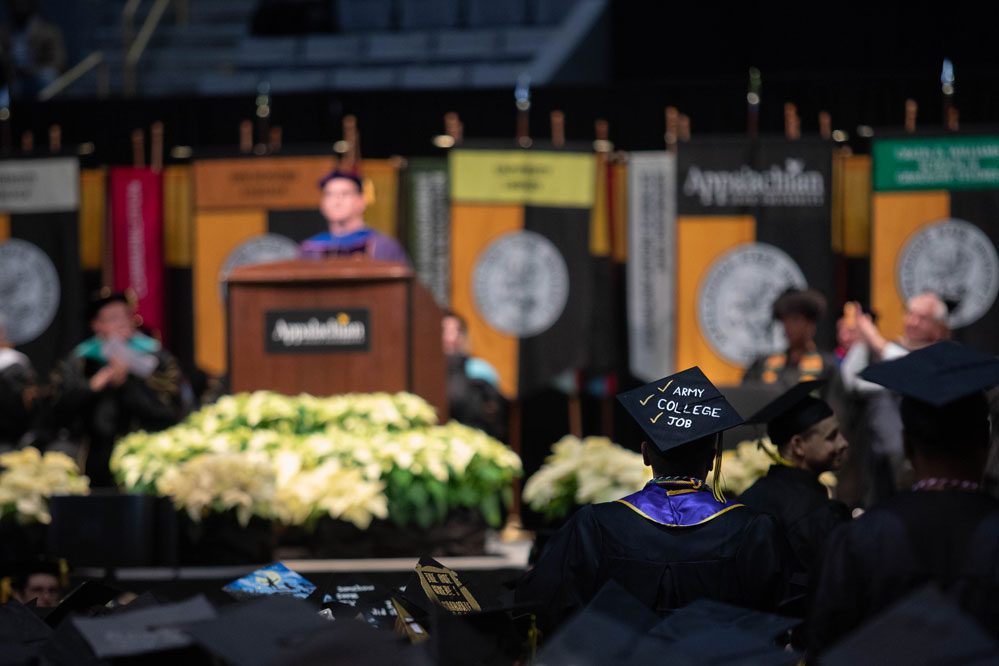 College of Arts and Sciences speaker
CAS student speaker Panagiotis "Pete" S. Lagusis, a native of the San Francisco Bay Area, has called North Carolina home for the last 15 years. He graduated with a Bachelor of Science in history with minors in Africana studies, philosophy and political science.
During his time at Appalachian, he has earned membership to both Pi Sigma Alpha (National Political Science Honor Society) and Phi Alpha Theta (National History Honor Society). Following graduation, he plans to apply to graduate school and pursue his Ph.D. in philosophy.
In his remarks, Lagusis shared how a series of challenging life experiences, including a cancer diagnosis and car accident, led him, his wife and his two oldest sons to all enroll at Appalachian. "For us, Appalachian is not merely a place of higher learning. … Appalachian is a place we will forever call home," he said.
He encouraged his fellow graduates to embrace every moment. "Ensure that your life and dreams are always fueled with love. Not just from the love you receive but more importantly, from the love you give," he said.
Hayes School of Music speaker
HSOM student speaker Miriam F. Tart, MT-BC, who spoke at the morning commencement ceremony, worked in the audio/visual industry as an analyst and project manager for five years before enrolling at Appalachian to pursue her master's degree in music therapy.
Her clinical experience includes working with children with communication and developmental delays, older adults in a rehabilitative center, adults in acute psychiatric care, at-risk youth in the community and adults in substance abuse treatment programs.
In her remarks, Tart recalled how an internship at Atrium Health Levine Children's Hospital in Charlotte inspired her to focus her thesis on the effects of music therapy on infants in the neonatal intensive care unit, specifically those who had been diagnosed with neonatal abstinence syndrome — a condition in which a child is born dependent on drugs.
Tart praised her classmates and faculty, as well as the university, for helping her learn to trust herself. "When I think of App State and how it has impacted my life, my career and hopefully the lives of the people I meet and work with, I feel an overwhelming sense of gratitude and hope," she said.
Beaver College of Health Sciences speaker
BCHS student speaker Koria Johnson, of Pinehurst, received a Bachelor of Social Work with a minor in sociology from Appalachian.
In fall 2019, Johnson served as a full-time intern at Appalachian's Blue Cross NC Institute for Health and Human Services, where she assisted with coordinating clinical services, outreach and research related to holistic health and well-being for individuals in Boone and the surrounding area.
Following graduation, Johnson plans to gain professional employment experience before pursuing her Master of Social Work.
At the afternoon ceremony, Johnson welcomed the audience and invited the crowd to join in the singing of the national anthem. She then invited Everts to the podium for her opening remarks.
College of Fine and Applied Arts speaker
Nora Smith, of Spartanburg, South Carolina, who spoke on behalf of FAA at the afternoon ceremony, graduated from the Honors College at Appalachian with a Bachelor of Science in communication, journalism, and a minor in graphic arts and imaging technology.
During their time at the university, Smith served as editor-in-chief and graphics editor of The Appalachian, the campus student-run newspaper. Smith was also a member of The Peel literary arts review, worked on The Appalachian Weekly News for AppTV, was an officer for the Appalachian Honors Association and served on the Student Affairs Leadership Advisory Council.
In their remarks, Smith thanked their family and friends, and shared their gratitude for the faculty members who helped change their outlook on their value and potential. Smith also gave thanks for the classmates who allowed them the "privilege to … tell your stories" as a member of the student media, and encouraged her peers to "find people who you can advocate for, and some who will advocate for you."
"Many of you are going on to noble pursuits … and as you do, I urge you to consider the public interest in your own field. Ingrain yourself in whatever community you join and ask relentlessly about their needs, fears and successes. We all share a responsibility to make the world a better place," Smith said.
Reich College of Education speaker
RCOE student speaker Juan E. Ramirez '13, of Medellin, Colombia, and Hickory, earned a Doctor of Education in educational leadership from Appalachian.
He works as a program manager for App State Online and site coordinator for the Appalachian Center at Caldwell in the Division of Educational Outreach at Appalachian.
Ramirez shared his experiences immigrating from Colombia to Western North Carolina in his youth without knowing English and how he learned to navigate the higher education process. He explained how he uses "curiosity and struggles as fuel to keep going" and how he is working diligently to create an easier journey for future students like him.
"Friends, being a graduate from Appalachian State University is not only an honor and a privilege but also a responsibility. Use it wisely not only to change your life but also to change the lives of others," he said.
Appalachian leadership offers encouragement and well wishes
In her opening remarks at Fall Commencement, Chancellor Everts said, "A university campus is an amazing place of confluence where great leaders and ideas emerge for the betterment of society, and Appalachian is a shining example of this work." She praised Appalachian students who "go on to touch hundreds and thousands of lives through their professions, civic engagement and service."
C. Philip Byers '85, an Appalachian alumnus and member of the University of North Carolina Board of Governors, brought greetings to Appalachian's graduates on behalf of the UNC Board of Governors and the UNC System Office staff.
Byers said, "As a graduate of this institution, you now wield something even more powerful than the diploma you will receive — and that is the power of your example. You are ambassadors of this institution. Your futures are beckoning you."
John M. Blackburn, chair of Appalachian's Board of Trustees, extended congratulations and best wishes to the graduates on behalf of the board. "As you begin a new phase in your life, we are confident that you are prepared for whatever challenges lie ahead," he said.
Donna Fiori '80, president of Appalachian's Alumni Council, also spoke to the graduating class, bringing greetings and congratulations on behalf of Appalachian's more than 130,000 living alumni. Fiori encouraged the graduates to stay connected to Appalachian. "Be an ambassador for Appalachian and wear your black and gold proudly," she said.
About Appalachian State University
As the premier public undergraduate institution in the state of North Carolina, Appalachian State University prepares students to lead purposeful lives as global citizens who understand and engage their responsibilities in creating a sustainable future for all. The Appalachian Experience promotes a spirit of inclusion that brings people together in inspiring ways to acquire and create knowledge, to grow holistically, to act with passion and determination, and to embrace diversity and difference. Located in the Blue Ridge Mountains, Appalachian is one of 17 campuses in the University of North Carolina System. Appalachian enrolls more than 19,000 students, has a low student-to-faculty ratio and offers more than 150 undergraduate and graduate majors.
What do you think?
Share your feedback on this story.