More on the project's student researchers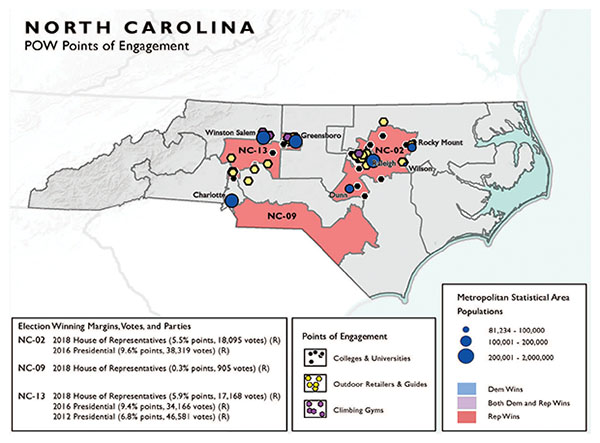 Posted March 4, 2020 at 10:20 a.m.
BOONE, N.C. — In this election cycle, the issue of climate change may factor into many voters' choice of presidential candidate.
Protect Our Winters (POW), a Boulder, Colorado-based nonprofit, is using research conducted by Appalachian State University's Dr. Johnathan Sugg, assistant professor in the College of Arts and Sciences' Department of Geography and Planning, to inform its climate advocacy efforts targeted at outdoor sports enthusiasts.
Sugg received $10,234 in grant support from POW to conduct a site suitability analysis — a technique used in geography and geographic information science (GIScience) — in order to pinpoint the locations where POW might be most effective in advocating for climate policy in the upcoming 2020 national election.
POW, founded by professional snowboarder Jeremy Jones, comprises a worldwide network of more than 130,000 supporters — including athletes, scientists, creatives and business leaders — who work to advance nonpartisan policies that protect the world today and for future generations.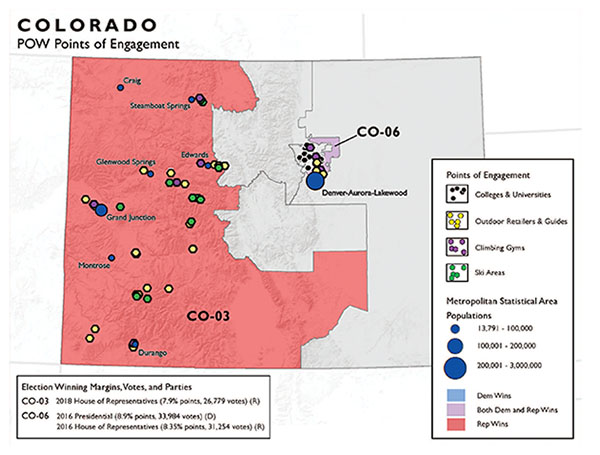 For the project, Sugg and geography students Tatiana Magee and Will Hutchinson '16 '19 worked with POW to map the key areas across the country with substantial outdoor communities that historically have close election outcomes.
"The analysis will allow us to filter out various sized cities and regions across the country that also contain ski areas, climbing gyms and universities, as well as closely decided outcomes in the previous two national elections," Sugg explained.
"By combining these data in a geographic information system (GIS), we can translate all of the spatial locations and their attributes into an effective visual design of geographic information that helps POW make decisions about its organization on this important national issue," he said.
The project took place over summer 2019.
What do you think?
Share your feedback on this story.
More on the project's student researchers
About the Department of Geography and Planning
The Department of Geography and Planning promotes the understanding of the spatial dimensions of human behavior within the physical and cultural systems of the earth, and the role of planning in achieving improvement in those systems. The department offers degrees in geography and in community and regional planning. Learn more at https://geo.appstate.edu.
About the College of Arts and Sciences
The College of Arts and Sciences (CAS) at Appalachian State University is home to 17 academic departments, two centers and one residential college. These units span the humanities and the social, mathematical and natural sciences. CAS aims to develop a distinctive identity built upon our university's strengths, traditions and unique location. The college's values lie not only in service to the university and local community, but through inspiring, training, educating and sustaining the development of its students as global citizens. More than 6,400 student majors are enrolled in the college. As the college is also largely responsible for implementing App State's general education curriculum, it is heavily involved in the education of all students at the university, including those pursuing majors in other colleges. Learn more at https://cas.appstate.edu.
About graduate education at App State
Appalachian State University's Williams School of Graduate Studies helps individuals reach the next level in their career advancement and preparedness. The school offers 80 graduate degree and certificate programs — both in person and online — in a range of disciplines, including doctoral programs in education (Ed.D.) and psychology (Psy.D.). The graduate school enrolls nearly 2,000 students. Learn more at https://graduate.appstate.edu.
About Appalachian State University
As the premier public undergraduate institution in the Southeast, Appalachian State University prepares students to lead purposeful lives. App State is one of 17 campuses in the University of North Carolina System, with a national reputation for innovative teaching and opening access to a high-quality, affordable education for all. The university enrolls more than 21,000 students, has a low student-to-faculty ratio and offers more than 150 undergraduate and 80 graduate majors at its Boone and Hickory campuses and through App State Online. Learn more at https://www.appstate.edu.