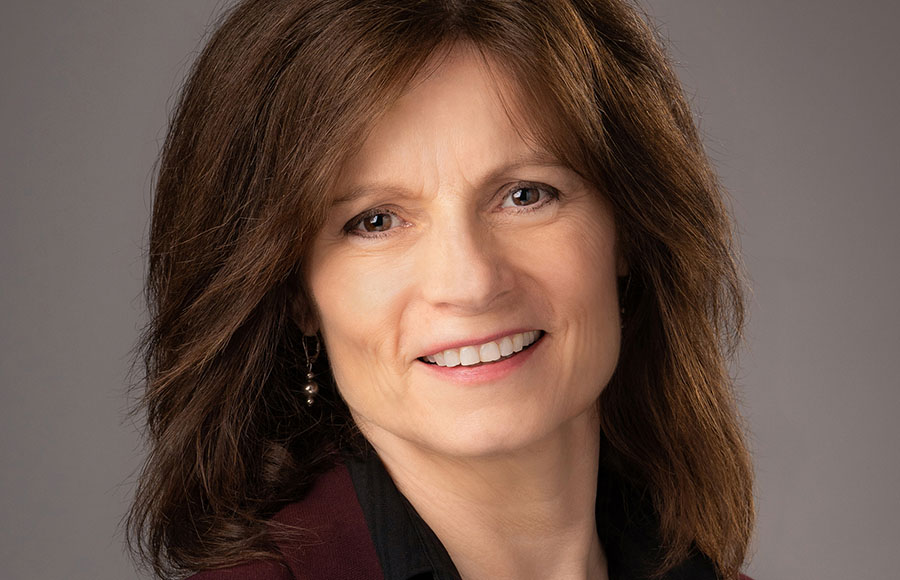 Posted March 25, 2020 at 4:59 p.m.
BOONE, N.C. — Appalachian State University's Dr. Susan Colby, director of faculty professional development in the university's Center for Academic Excellence and professor in the Reich College of Education's Department of Curriculum and Instruction at Appalachian, has been named an American Council on Education (ACE) Fellow for the 2020–21 academic year. She is one of 38 fellows selected nationally.
"The ACE Fellows Program is unique in its ability to transform the lives and enrich the careers of its participants," ACE President Ted Mitchell said. "After an intensive experience working with accomplished higher education leaders, the fellows will return to their home campuses prepared to address the challenges of tomorrow."
Since its inception in 1965, the ACE Fellows Program's mission has been to strengthen institutions in American higher education by identifying and preparing over 2,000 faculty, staff and administrators for senior positions in college and university leadership through its intensive, nominator-driven, cohort-based mentorship model.
Colby, who thanked Appalachian Chancellor Sheri Everts and the university's Division of Academic Affairs for nominating her, said, "I look forward to participating in this premier leadership development program that will provide me with the opportunity to deepen my knowledge and skill as an academic leader. After completing this fellowship, I will be better prepared to help advance the Appalachian institutional mission and serve the campus community."
About Dr. Susan Colby
Colby joined the Reich College of Education (RCOE) faculty in 2003 after serving two years as an assistant professor at East Carolina University. She served as chair of RCOE's Department of Curriculum and Instruction for four years and as the department's assistant chair for seven.
Prior to academia, she served in the public schools of Florida and Colorado as a principal, teacher, clinical professor and Title I director.
Colby earned her Ed.D. in educational leadership from East Carolina University, her M.A. in administration, supervision and curriculum development from the University of Colorado, Denver, and her B.S. in elementary education with distinction from the University of Minnesota.
In 2002, she was the recipient of the International Council of Professors of Educational Leadership Morphet Dissertation Award. Her research interests include educational development, teacher education, and educational assessment and evaluation.
She is currently serving as past president for the Consortium for Research on Educational Assessment and Teaching Effectiveness (CREATE) and is associate executive director for the Women in Educational Leadership Symposium (WIELS).
More on the ACE Fellows Program
The ACE Fellows Program combines retreats, interactive learning opportunities, visits to campuses and other higher education-related organizations, and placement at another higher education institution to condense years of on-the-job experience and skills development into a single year.
During the placement, fellows observe and work with the president and other senior officers at their host institution, attend decision-making meetings and focus on issues of interest. Fellows also conduct projects of pressing concern for their home institution and seek to implement their findings upon completion of the fellowship placement.
At the conclusion of the fellowship year, fellows return to their home institution with new knowledge and skills that contribute to capacity-building efforts, along with a network of peers across the country and abroad.
Of the fellows who have participated to date, more than 80% have gone on to serve as chief executive officers, chief academic officers, other cabinet-level positions and deans following their fellowship.
View the complete list of 2020–21 ACE Fellows.
What do you think?
Share your feedback on this story.
About the Department of Curriculum and Instruction
The Department of Curriculum and Instruction offers a broad range of comprehensive degree programs at the baccalaureate and master's levels. The department seeks to provide quality programs that emphasize the integration of academics and field experiences. Learn more at https://ci.appstate.edu.
About the Reich College of Education
Appalachian offers one of the largest undergraduate teacher preparation programs in North Carolina, graduating about 500 teachers a year. The Reich College of Education enrolls approximately 2,400 students in its bachelor's, master's, education specialist and doctoral degree programs. With so many teacher education graduates working in the state, there is at least one RCOE graduate teaching in every county in North Carolina. Learn more at https://rcoe.appstate.edu.
About Appalachian State University
As the premier public undergraduate institution in the state of North Carolina, Appalachian State University prepares students to lead purposeful lives as global citizens who understand and engage their responsibilities in creating a sustainable future for all. The Appalachian Experience promotes a spirit of inclusion that brings people together in inspiring ways to acquire and create knowledge, to grow holistically, to act with passion and determination, and to embrace diversity and difference. Located in the Blue Ridge Mountains, Appalachian is one of 17 campuses in the University of North Carolina System. Appalachian enrolls more than 19,000 students, has a low student-to-faculty ratio and offers more than 150 undergraduate and graduate majors.