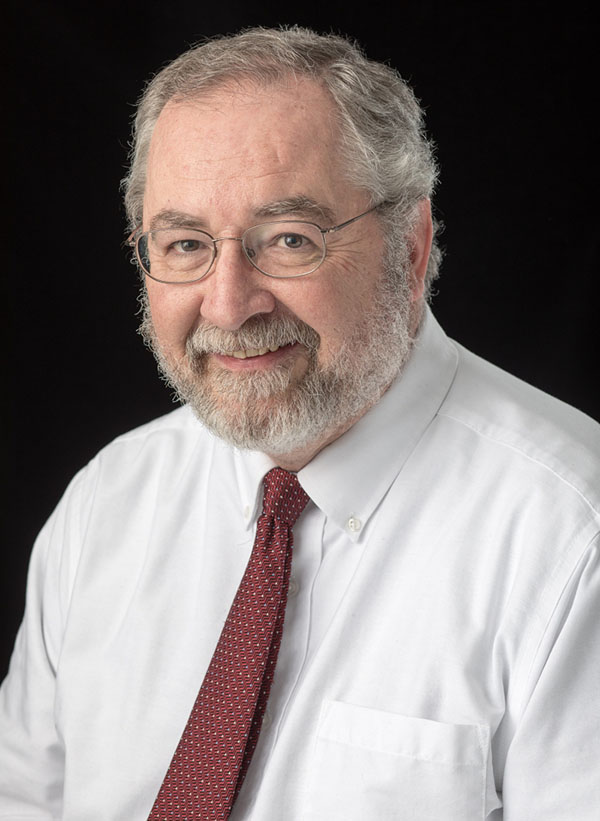 Posted March 25, 2020 at 4 p.m.
BOONE, N.C. — Dr. David Koppenhaver, professor of reading in the Department of Reading Education and Special Education (RESE) housed in Appalachian State University's Reich College of Education (RCOE), has co-authored the book "Comprehensive Literacy for All: Teaching Students with Significant Disabilities to Read and Write."
Released by Brookes Publishing in December 2019 and co-authored with Dr. Karen Erickson, professor at the University of North Carolina at Chapel Hill, the text is a resource for educators, speech-language pathologists and parents.
Koppenhaver and Erickson draw upon decades of classroom experience to present their own model for teaching students with a wide range of significant disabilities to read and write print in grades pre-K through 12 and beyond.
In its online review of "Literacy for All," Brookes Publishing calls the book a "practical guide to providing comprehensive, high-quality literacy instruction to students with significant disabilities."
The review continues, "Foundational teaching principles blend with concrete strategies, step-by-step guidance and specific activities, making this book a complete blueprint for helping students acquire critical literacy skills they'll use inside and outside the classroom."
Koppenhaver explained the origin and evolution of the book: "I had the good fortune in graduate school to meet David Yoder, a speech-language pathologist who had helped create the field of augmentative and alternative communication. He convinced me to collaborate with him in exploring the question of why people who couldn't speak also found it difficult to learn to read.
"Some of our earliest work explored students who beat the odds and teachers who helped them. That introduced me to Karen Erickson, an exceptional teacher, thinker and problem-solver. This book represents our most current thinking about how to successfully teach a wide variety of students with significant difficulties to read, write and communicate."
"Comprehensive Literacy for All" is available in paperback and e-book formats from Brookes Publishing, as well as sellers Amazon and Barnes & Noble.
Teaching Students with Significant Disabilities to Read and Write
By Karen Erickson, Ph.D., David Koppenhaver, Ph.D.
2020
About Dr. David Koppenhaver
Koppenhaver, who joined the Appalachian faculty in 2004, earned his Ph.D. in curriculum and instruction in 1991 from the University of North Carolina at Chapel Hill. He holds North Carolina teaching certification in reading (K–12), middle grades language arts (grades 6–9), intermediate education (grades 4–6) and elementary education (grades K–6).
His research focuses on literacy in children with significant disabilities, including autism spectrum disorders, intellectual disabilities, complex communication needs and multiple disabilities.
In 1998, Koppenhaver co-founded the Center for Literacy and Disability Studies, housed in the UNC School of Medicine's Department of Allied Health Sciences, and, in 2002, was a Fulbright scholar at the University of Queensland in Australia.
His current research projects include a study of early communication and literacy learning in students with significant intellectual disabilities, as well as a study on the reading abilities of students with Williams syndrome — a rare neurodevelopmental genetic disorder that features mild learning or developmental challenges, along with other characteristics.
For the latter project, Koppenhaver is working with Sydney Shadrick, a senior special education major from Lake Zurich, Illinois, as well as Tonya Moore '15 '19, of Sugar Grove, and Bronwyn Harris '16, of Hendersonville, both of whom are doctoral students in Appalachian's educational leadership program and adjunct instructors in the RESE department.
Koppenhaver was inducted into Appalachian's Academy of Outstanding Graduate Mentors in 2016 and received Appalachian's 100 Scholars Research Award in 2016–17 for exemplary research activity.
What do you think?
Share your feedback on this story.
About the Reich College of Education
Appalachian State University offers one of the largest undergraduate teacher preparation programs in North Carolina, graduating about 500 teachers a year. The Reich College of Education enrolls more than 2,000 students in its bachelor's, master's, education specialist and doctoral degree programs. With so many teacher education graduates working in the state, there is at least one RCOE graduate teaching in every county in North Carolina. Learn more at https://rcoe.appstate.edu.
About Appalachian State University
As the premier public undergraduate institution in the Southeast, Appalachian State University prepares students to lead purposeful lives. App State is one of 17 campuses in the University of North Carolina System, with a national reputation for innovative teaching and opening access to a high-quality, affordable education for all. The university enrolls more than 21,000 students, has a low student-to-faculty ratio and offers more than 150 undergraduate and 80 graduate majors at its Boone and Hickory campuses and through App State Online. Learn more at https://www.appstate.edu.