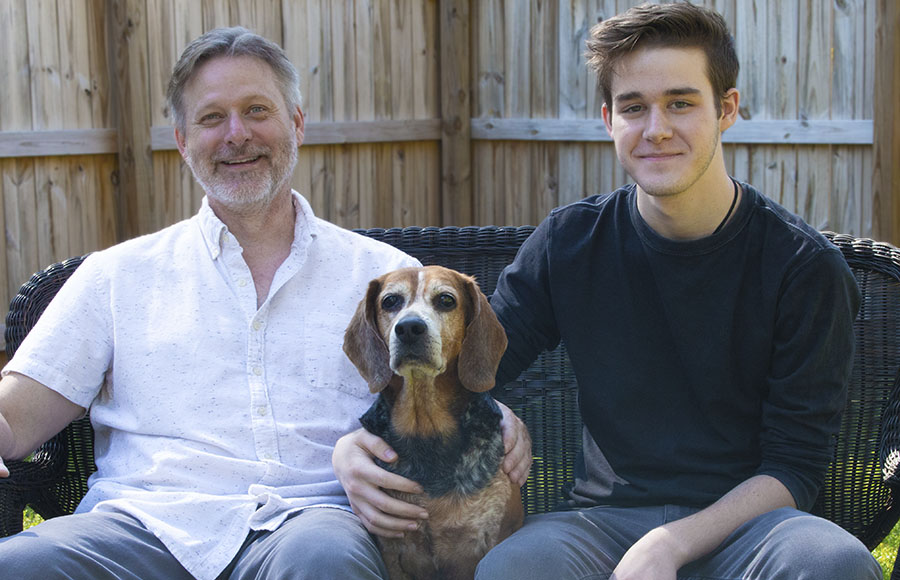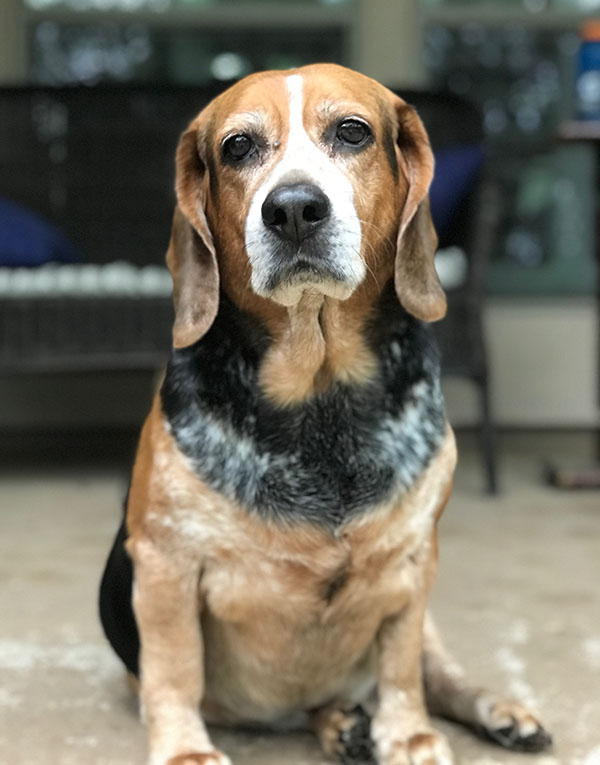 Posted April 7, 2020 at 5:06 p.m.
BOONE, N.C. — What started out as a 30-second video assignment for a video production class at Appalachian State University has morphed into a Facebook fan page, a YouTube channel and a group of fans watching the adventures of Vanya, aka "Le Fat Beagle" — a dog living the good life in Salisbury.
When Appalachian began remote instruction in late March, Jakob Minton, a sophomore communication, electronic media/broadcasting major, tackled a video assignment from his home in Salisbury, with the parameters that the video should include an interview and be at least 30 seconds long.
Enter his dad, John Paul Minton Jr., a former actor, and the Mintons' beloved pet, Vanya. What happened next was unscripted YouTube fun: In the video, John Minton narrates the joys of adopting a "mutt, the last dog chosen," as a family pet.
The approximately two-minute video, titled "The Beagle with Infinite Stories," begins with the question of why the interviewer's father loves the dog so much, to which the senior Minton responds, "Well, the short answer is because someone has to, but you probably want a longer answer."
John Minton draws upon comedic timing and delivery to persuade viewers that when choosing a dog, it's best to, as he states in the video, "find a mutt, a dog with little to no personality … because what a good dog brings into your home is stories."
Jakob Minton said that had he completed the assignment when he was still living on Appalachian's campus, he likely would have simply met the minimum requirements of a 30-second interview rather than create a video that includes b-roll, or supplementary shots. This b-roll footage includes shots of Vanya smiling and running through the Mintons' yard, along with background music, superimposed titles and a behind-the-scenes blooper moment.
The transition of moving home and continuing his classes was difficult at first, Jakob Minton said, but the silver lining has been spending more time on a project, collaborating with his dad and helping his mom grow a Facebook fan base for "Le Fat Beagle," one of Vanya's many nicknames.
"My mom is looking for subscribers for the Facebook page, and my dad is looking for views of the video," Jakob Minton said, laughing, adding that his dad is pitching him ideas and his mom wants him to shoot more Vanya videos.
Jakob Minton said his parents' experiences as actors led him to pursue aspirations behind —rather than in front of — the camera. "The type of skill my dad has — I just can't emulate that," he said. "Hearing the stories about my dad's time in Hollywood makes me think that indie filmmaking would be a much happier place to be."
The video, which initially made the rounds through the Department of Communication faculty and staff, as well as the Mintons' family and friends, is "a sign that I can make something that people will watch," Jakob Minton said.
He plans to pursue filmmaking as a career after he graduates from Appalachian. In the meantime, he's continuing to study filmmaking from home and spending extra time with Vanya, who seems oblivious to the online attention and newfound fandom.
What do you think?
Share your feedback on this story.
About the Department of Communication
One of seven departments housed in the College of Fine and Applied Arts, the Department of Communication at Appalachian State University focuses on preparing students to succeed in the varied fields within the communication industry. The department offers five majors – advertising, communication studies, electronic media/broadcasting, journalism and public relations – and a minor in communication studies. Graduates work in a wide range of positions in media, corporate, agency, government and nonprofit organizations. Learn more at https://communication.appstate.edu.
About the College of Fine and Applied Arts
Appalachian State University's College of Fine and Applied Arts is a dynamic and innovative group of seven academic departments, bringing together a variety of perspectives, experiences and real-world education to provide unique opportunities for student success. The college has more than 3,000 undergraduate and graduate majors. Its departments are Applied Design, Art, Communication, Military Science and Leadership, Sustainable Development, Sustainable Technology and the Built Environment, and Theatre and Dance. Learn more at https://faa.appstate.edu.
About Appalachian State University
As the premier public undergraduate institution in the Southeast, Appalachian State University prepares students to lead purposeful lives as global citizens who understand and engage their responsibilities in creating a sustainable future for all. The Appalachian Experience promotes a spirit of inclusion that brings people together in inspiring ways to acquire and create knowledge, to grow holistically, to act with passion and determination, and to embrace diversity and difference. Located in the Blue Ridge Mountains, Appalachian is one of 17 campuses in the University of North Carolina System. Appalachian enrolls nearly 21,000 students, has a low student-to-faculty ratio and offers more than 150 undergraduate and graduate majors.