Posted April 15, 2020 at 4:04 p.m.
BOONE, N.C. — A research article co-authored by Appalachian State University's Dr. Ellen Cowan, professor in Appalachian's Department of Geological and Environmental Sciences (GES), has been published in Nature Communications, a peer-reviewed, open-access scientific journal published by Nature Research.
The article, titled "Sediment controls dynamic behavior of a Cordilleran Ice Stream at the Last Glacial Maximum," describes results obtained by an Integrated Ocean Drilling Program (IODP) expedition off the coast of Alaska during summer 2013.
Cowan, who wrote the article with scientists from six other U.S. universities and three institutions in Germany and Australia, participated in the two-month IODP expedition alongside six of her co-authors. The remaining four authors served as shore-based investigators for the article.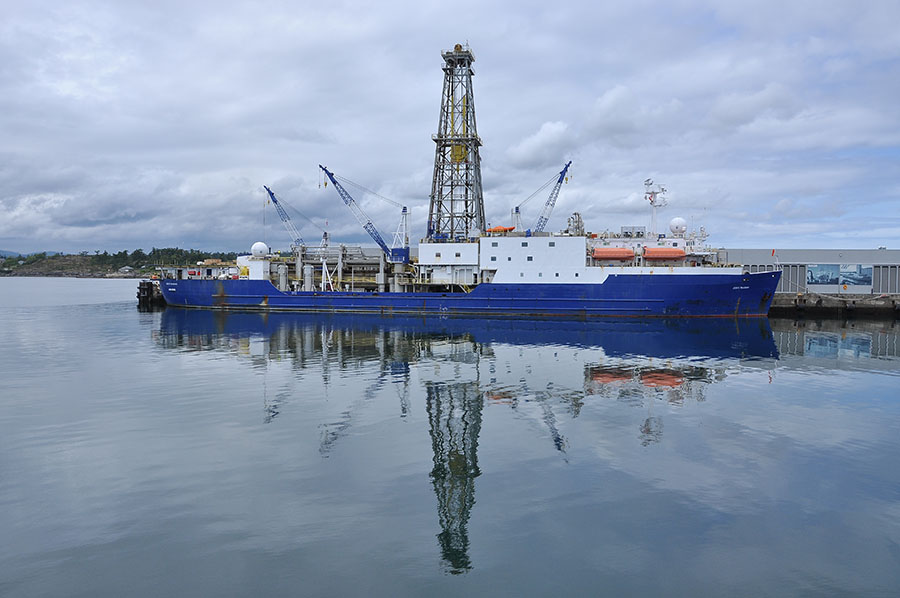 The research results show the Bering Ice Stream, located on the coast of southern Alaska, advanced and retreated numerous times over thousands of years, eventually retreating from the sea when it could no longer maintain its terminus in shallow water due to rapid sea level rise.
"We show that this behavior of an Alaskan paleo-ice stream — an ice stream that no longer exists as a result of deglaciation — on an open shelf suggests that increased glacial melting and sediment delivery may delay catastrophic retreat of large marine glaciers in Greenland and Antarctica in a warming world," Cowan said.
Appalachian alumnus Jacob Pratt '19, a graduate of the university's B.S. in geology program from Havelock, contributed to Cowan's research as part of his senior honors thesis. Pratt is currently pursuing an M.S. in geophysics at the University of Alaska Fairbanks.
About Dr. Ellen Cowan
Cowan joined the GES department faculty at Appalachian in 1988 and teaches the courses Introduction to Physical Geology, Oceanography, Geomorphology and Geoarchaeology.
Cowan received her M.S. and Ph.D. from Northern Illinois University.
She is a member of Appalachian's College of Arts and Sciences Academy of Outstanding Teachers and a recipient of the Don Sink Outstanding Scholar Award (1999) and the Office of Student Research Undergraduate Research Mentorship Excellence Award (2018).
She was a Geological Society of America Fellow in 2018, and she received the Chancellor's Award for Excellence in Research, Scholarship and Creative Activity in fall 2019.
What do you think?
Share your feedback on this story.
The research article
co-authors
About the Department of Geological and Environmental Sciences
Located in Western North Carolina, Appalachian State University provides the perfect setting to study geological and environmental sciences. The Department of Geological and Environmental Sciences provides students with a solid foundation on which to prepare for graduate school or build successful careers as scientists, consultants and secondary education teachers. The department offers six degree options in geology and two degree options in environmental science. Learn more at https://earth.appstate.edu.
About the College of Arts and Sciences
The College of Arts and Sciences (CAS) at Appalachian State University is home to 17 academic departments, two centers and one residential college. These units span the humanities and the social, mathematical and natural sciences. CAS aims to develop a distinctive identity built upon our university's strengths, traditions and unique location. The college's values lie not only in service to the university and local community, but through inspiring, training, educating and sustaining the development of its students as global citizens. More than 6,400 student majors are enrolled in the college. As the college is also largely responsible for implementing App State's general education curriculum, it is heavily involved in the education of all students at the university, including those pursuing majors in other colleges. Learn more at https://cas.appstate.edu.
About Appalachian State University
As the premier public undergraduate institution in the Southeast, Appalachian State University prepares students to lead purposeful lives. App State is one of 17 campuses in the University of North Carolina System, with a national reputation for innovative teaching and opening access to a high-quality, affordable education for all. The university enrolls more than 21,000 students, has a low student-to-faculty ratio and offers more than 150 undergraduate and 80 graduate majors at its Boone and Hickory campuses and through App State Online. Learn more at https://www.appstate.edu.