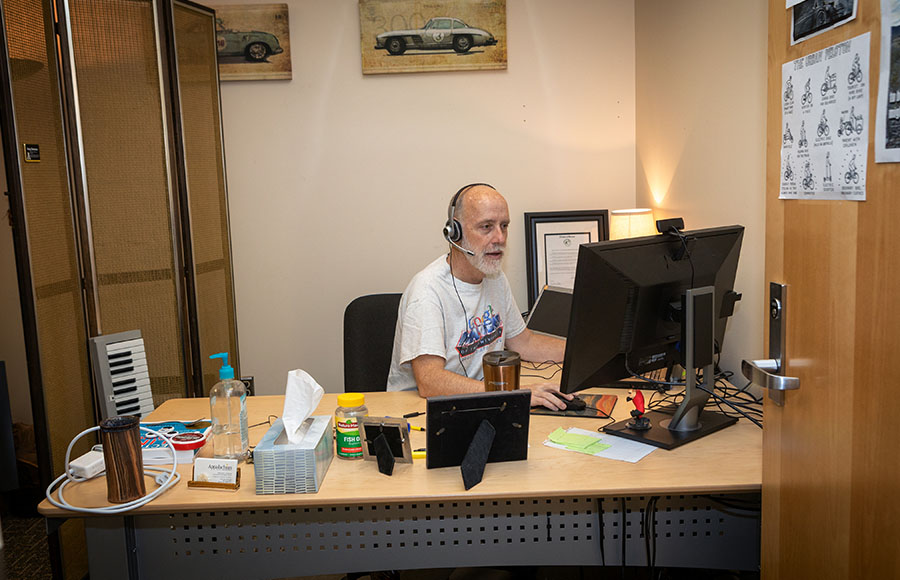 Posted April 17, 2020 at 10:39 a.m.
BOONE, N.C. — Appalachian State University identified approximately 50 key faculty to provide technical and instructional support to their colleagues as the university switched to online instruction in March due to social distancing recommendations related to COVID-19. These faculty, who represent colleges and departments across the university, were selected by the university's Center for Academic Excellence (CAE) to serve as faculty champions.
"The ongoing support from these faculty champions has been critical to the academic continuity of the spring semester. We couldn't have done it without them," said Tom Van Gilder, CAE's director of learning technology services.
He added, "It was a daunting task for the CAE team to help the campus move 2,600 face-to-face courses into an alternative format. With the help of the faculty champions, we were able to do just that."
Faculty champions provide assistance with online delivery systems such as Zoom, an audio and video conferencing software, and AsULearn, the university's learning management system; facilitate consultations and workshops in collaboration with each college's instructional technology consultants; and help faculty with efforts for accessible course content.
Synchronous vs. Asynchronous
Two of the faculty champions, Dr. Ellen Key, associate professor and honors program director in the College of Arts and Sciences' Department of Government and Justice Studies, and Dr. Jason Xiong, assistant professor in the Walker College of Business' Department of Computer Information Systems, shared that faculty needs have varied.
For instance, Key has helped her colleagues with requests related to the following topics:
Managing discussion boards and file sharing.
Adjusting assignments to account for disability accommodations.
Troubleshooting lecture capture using Zoom.
Merging multiple sections of the same course so the faculty member has to update one course page rather than a page for each section.
"The biggest challenge is that face-to-face classes are designed completely differently from online courses," Key said. Research shows that online courses are often delivered asynchronously (students and faculty do not meet together in person and students have the option to access course materials at their own convenience) while face-to-face courses are generally synchronous, with professor–student interactions taking place in real time. Asynchronous courses require the course content to be tailored to available technology.
Xiong said he emphasizes that it is important to make sure students and faculty recognize online instruction does not mean "solo performance" — instead, it should be viewed as teamwork. He also has advised faculty to focus on learning outcomes and learning goals and set reasonable expectations for themselves and their students.
Xiong said he feels Appalachian faculty and students have grown even closer as a result of the mid-semester switch to online teaching. "I am proud of the grit and good spirit that defines our community and who we are. We will get through this together," he said.
What do you think?
Share your feedback on this story.
Synchronous vs. Asynchronous
About the College of Arts and Sciences
The College of Arts and Sciences (CAS) at Appalachian State University is home to 17 academic departments, two centers and one residential college. These units span the humanities and the social, mathematical and natural sciences. CAS aims to develop a distinctive identity built upon our university's strengths, traditions and unique location. The college's values lie not only in service to the university and local community, but through inspiring, training, educating and sustaining the development of its students as global citizens. More than 6,400 student majors are enrolled in the college. As the college is also largely responsible for implementing App State's general education curriculum, it is heavily involved in the education of all students at the university, including those pursuing majors in other colleges. Learn more at https://cas.appstate.edu.
About the Walker College of Business
The Walker College of Business at Appalachian State University delivers transformational educational experiences that prepare and inspire students to be ethical, innovative and engaged business leaders who positively impact our community, both locally and globally. The college places emphasis on international experiences, sustainable business practices, entrepreneurial programs and real-world applications with industry. Enrolling approximately 3,000 undergraduates in 10 majors and more than 180 graduate students in three master's programs, Walker College has the highest enrollment of full-time undergraduate students in the University of North Carolina System. Walker College is accredited by AACSB International — the premier global accrediting body for business schools. Learn more at https://business.appstate.edu.
About Appalachian State University
As the premier public undergraduate institution in the Southeast, Appalachian State University prepares students to lead purposeful lives. App State is one of 17 campuses in the University of North Carolina System, with a national reputation for innovative teaching and opening access to a high-quality, affordable education for all. The university enrolls more than 21,000 students, has a low student-to-faculty ratio and offers more than 150 undergraduate and 80 graduate majors at its Boone and Hickory campuses and through App State Online. Learn more at https://www.appstate.edu.