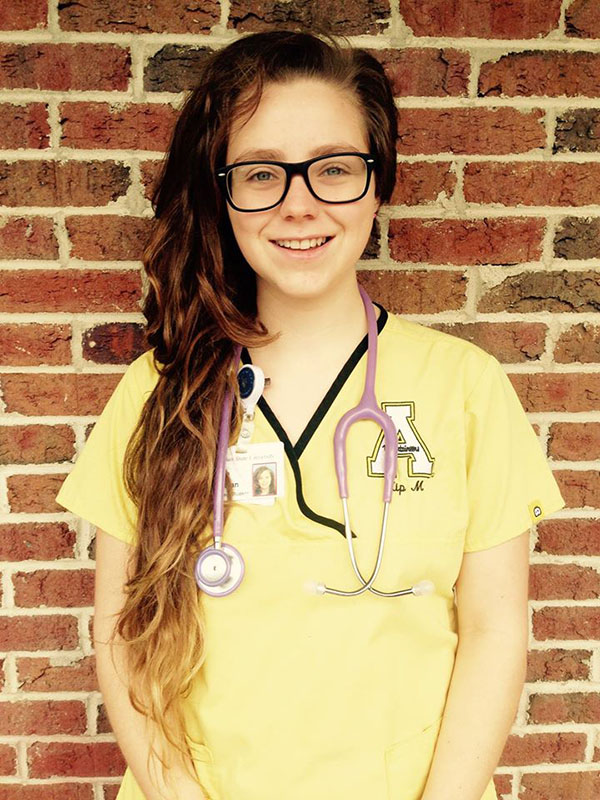 Posted May 7, 2020 at 12:04 p.m.
BOONE, N.C. — Sarah "Kip" McMillan, a 2017 graduate of the Bachelor of Science in nursing degree program at Appalachian State University, found her "dream job" in the intensive care unit at Porter Adventist Hospital in Denver, Colorado. Recently, she felt called to help, she said, and volunteered for duty as a travel nurse in New York City during the outbreak of the COVID-19 pandemic there.
McMillan, who also holds a Bachelor of Arts in languages, literatures and cultures with a concentration in Spanish and Hispanic studies from Appalachian, said her Appalachian education and postgraduate experience prepared her for the challenge.
Originally from Raleigh, she moved to Denver, Colorado, the summer after graduation. "I was one of the few nursing graduates who left the state, so I was a little nervous about finding work," she said.
"And while I did not find my dream job right away," she continued, "I did gain critical experience working in a long-term acute care hospital. I learned to use the resources I had and juggle many other challenges in order to provide adequate patient care."
She has also used her Spanish skills during her New York stint and on many occasions in her Colorado work, she said.
McMillan had worked for two years in the Denver ICU when the COVID-19 pandemic hit.
"I had not thought seriously about leaving until I started hearing horror stories coming out about New York City and the nurses being crushed by the high number and acuity of patients coming in," she said. "As a young, experienced ICU nurse with no medical history and no family depending on me in Colorado, I felt called to come and help."
McMillan started work in New York April 20 and will remain there until mid-June. She is currently working at Staten Island University Hospital, floating between all of the hospital's ICUs.
"Things are still fairly critical," she said of the COVID-19 situation in New York. "The nursing staff, both those caring for patients and those in administration, have essentially been through war and are starting to see the other side. So, as a travel nurse, I just try to be flexible and take whatever is thrown at me because it's nothing compared to what these nurses were facing even just last week."
Before the COVID-19 pandemic reached the United States, McMillan had applied to an ICU nurse practitioner intensivist program. She was accepted into Grand Canyon University just before leaving for New York and begins her online studies May 7.
"I didn't necessarily plan to make so many life changes at once, but I wouldn't do it any other way," she said.
When things start to improve in New York, McMillan said she may no longer be needed. "If that happens, I will look to whatever city needs me next, be it Boston or, who knows, maybe Denver will need me back," she said.
"I've always thought about what I'd do during the apocalypse, and I said I'd go where I'm needed as a nurse. At times, this has certainly seemed like the apocalypse, so I'll do what I'm doing for as long as they need me," McMillan said.
Over the past few months, she has been in touch with the nursing program staff in Appalachian's Beaver College of Health Sciences, who continue to support her, she said.
"Every time I post about my next steps in life, my professors are commenting and wishing me luck. They've sent me so many articles and connections with other nurses who are in New York doing the same thing," McMillan said.
"I will always be grateful for my time at Appalachian and my very special Mountaineer family," she added.
What do you think?
Share your feedback on this story.
Appalachian tracks where its graduates go, notes high success rate
About the Department of Nursing
The Department of Nursing in Appalachian State University's Beaver College of Health Sciences provides an evidence-based nursing education in an intellectually stimulating and challenging environment that is designed to prepare the beginning nursing professional with the knowledge and skills to practice in diverse settings in a highly complex health care system. The department offers two accredited Bachelor of Science programs: the nursing pre-licensure program and the online RN to BSN program, designed for current registered nurses seeking the bachelor's degree. The department also offers a Master of Science in nursing program that prepares registered nurses for leadership roles as educators. Learn more at https://nursing.appstate.edu.
About the Beaver College of Health Sciences
Appalachian State University's Beaver College of Health Sciences (BCHS), opened in 2010, is transforming the health and quality of life for the communities it serves through interprofessional collaboration and innovation in teaching, scholarship, service and clinical outreach. BCHS offers nine undergraduate degree programs and seven graduate degree programs, which are organized into six departments: Nursing, Nutrition and Health Care Management, Public Health and Exercise Science, Recreation Management and Physical Education, Rehabilitation Sciences, and Social Work. The college's academic programs are located in the Holmes Convocation Center on App State's main campus and the Leon Levine Hall of Health Sciences, a state-of-the-art, 203,000-square-foot facility that is the cornerstone of the Wellness District. In addition, the college supports the Blue Cross NC Institute for Health and Human Services and has collaborative partnerships with the Wake Forest School of Medicine's Physician Assistant Program, the Appalachian Regional Health System and numerous other health agencies. Learn more at https://healthsciences.appstate.edu.
About Appalachian State University
As the premier public undergraduate institution in the Southeast, Appalachian State University prepares students to lead purposeful lives. App State is one of 17 campuses in the University of North Carolina System, with a national reputation for innovative teaching and opening access to a high-quality, affordable education for all. The university enrolls more than 21,000 students, has a low student-to-faculty ratio and offers more than 150 undergraduate and 80 graduate majors at its Boone and Hickory campuses and through App State Online. Learn more at https://www.appstate.edu.