Posted May 8, 2020 at 4:29 p.m.
BOONE, N.C. — With graduation approaching, finals looming and COVID-19 stay-at-home orders in place, three Appalachian State University graduating seniors changed course, adapting while socially distanced to finish their original movie production.
"I wrote a story about a group of broadcasting students who were about to graduate and there's a major shake-up," said Samuel Jacob "Jake" Smith, the movie's writer/director and a senior communication, electronic media/broadcasting major from Burlington. "The movie is primarily about uncertainty — it's about how they react and how their relationships change as a result."
The movie, titled "Where You Should Be," premiered simultaneously on AppTV and AppTV's YouTube channel April 30. For the movie premiere, the cast and crew dressed up, watched the movie together and held a Zoom after-party.
Adapting the movie to COVID-19 restrictions
COVID-19 impacted the group's ability to finish the film as planned, Smith said — reducing the length of the final product from 60 minutes to 35 minutes and creating a situation where production had to be completed virtually.
Before the university's 2020 spring break, on-campus shooting locations for the film included Appalachian's George G. Beasley Media Complex and Walker College of Business' Peacock Hall, with off-campus scenes shot at Lily's Snack Bar in Boone and Elevations Restaurant in Banner Elk.
"We had several 18-hour days of shooting, which was brutal," Smith said. "We were caught in a situation where we didn't have enough to finish the movie exactly as it was written, but we had too much footage shot to leave it where it was. We decided to do a condensed version."
Smith, along with two other principal students involved in the film — senior communication, electronic media/broadcasting majors Ciera Thompson, of Raleigh, who served as the movie's producer, and Joe Dacchille, of Boone, the movie's editor — collaborated to finish the movie's production while also completing their final classes as Appalachian undergraduates.
While editing the movie, Dacchille was able to use video conferencing to show and discuss scenes with Smith and Thompson.
"We'd planned to do reshoots the week after spring break and to grab additional scenes," said Dacchille, who was also the second video shooter and technical adviser on set. "When we started editing, we realized we had to modify the story because one of the subplots wasn't working without the additional footage."
Award-winning filmmaker Dr. Kelly Davis — the movie's executive producer and associate professor in and assistant chair of Appalachian's Department of Communication — said the student production, completed without a budget and during the students' free time, is something special.
"This film comes from a place of anxiety and ambivalence, showing a group of students about to graduate from their college experiences," Davis said. "I think by tapping into these feelings and dramatizing them, they've made something truly meaningful. The film is a delight to watch, and they've definitely set a high bar for everyone who follows in our program."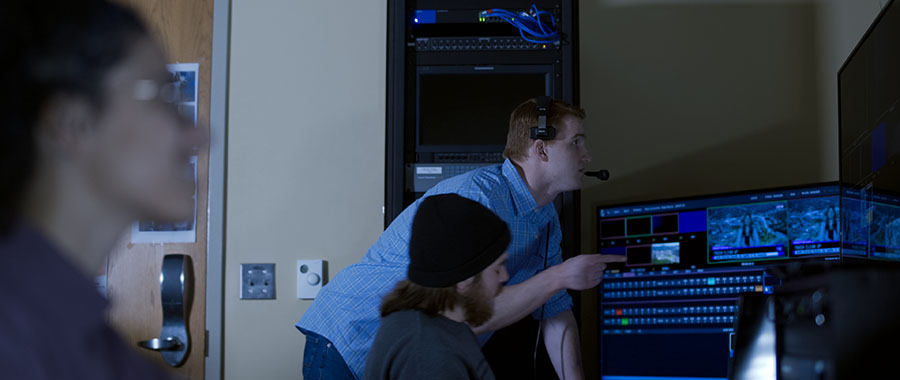 Reflecting on their college experiences and futures
Despite the unexpected way the project ended, all three students agree they're proud of the finished product and what they've accomplished as soon-to-be graduates of Appalachian's communication, electronic media/broadcasting program.
"I can remember my first Video 1 project, my first class in the major in Dr. Stephen McCreery's class, when I was paired with Jake to make a three-minute film. It took us the entire semester and seemed really hard," Thompson said.
She continued, "Flash forward to now, where we are making an entire film. It feels really good seeing the growth in the project and makes me more confident as I enter the workforce. I feel very lucky to have had the professors I've had, who've treated us like professionals and supported us being super passionate. It's bittersweet to be leaving because it's been so much fun."
Dacchille said that even though the project is a student film, it looks professionally made. "This major and AppTV have shown me that this, what I'm doing now, is what I'm supposed to be doing," he said. "Looking back, I think that freshman me would be really happy that I'm pursuing something I want to do."
"As excited as I am for this to be over, and for everyone to see it and recognize all that we've overcome to make this happen, I realize that after the premiere and the cast after-party, when we hit that 'end Zoom call for all,' for me, that means that college is over," Smith said. "This project represents my entire senior semester, and when that is over, it will be bittersweet."
"This group of seniors is extraordinarily talented and passionate, and it's sad to think they're leaving and that we won't be able to say goodbye in person," said Davis, who has taught many of the students in video production classes. "However, it's incredibly exciting to think about where they'll go from here."
All three students plan to pursue careers in the broadcasting field after graduating from Appalachian in May during the university's virtual Spring 2020 Commencement.
What do you think?
Share your feedback on this story.
'Where You Should Be' student cast and crew
About the Department of Communication
One of seven departments housed in the College of Fine and Applied Arts, the Department of Communication at Appalachian State University focuses on preparing students to succeed in the varied fields within the communication industry. The department offers five majors – advertising, communication studies, electronic media/broadcasting, journalism and public relations – and a minor in communication studies. Graduates work in a wide range of positions in media, corporate, agency, government and nonprofit organizations. Learn more at https://communication.appstate.edu.
About the College of Fine and Applied Arts
Appalachian State University's College of Fine and Applied Arts is a dynamic and innovative group of seven academic departments, bringing together a variety of perspectives, experiences and real-world education to provide unique opportunities for student success. The college has more than 3,000 undergraduate and graduate majors. Its departments are Applied Design, Art, Communication, Military Science and Leadership, Sustainable Development, Sustainable Technology and the Built Environment, and Theatre and Dance. Learn more at https://faa.appstate.edu.
About Appalachian State University
As the premier public undergraduate institution in the Southeast, Appalachian State University prepares students to lead purposeful lives as global citizens who understand and engage their responsibilities in creating a sustainable future for all. The Appalachian Experience promotes a spirit of inclusion that brings people together in inspiring ways to acquire and create knowledge, to grow holistically, to act with passion and determination, and to embrace diversity and difference. Located in the Blue Ridge Mountains, Appalachian is one of 17 campuses in the University of North Carolina System. Appalachian enrolls nearly 21,000 students, has a low student-to-faculty ratio and offers more than 150 undergraduate and graduate majors.