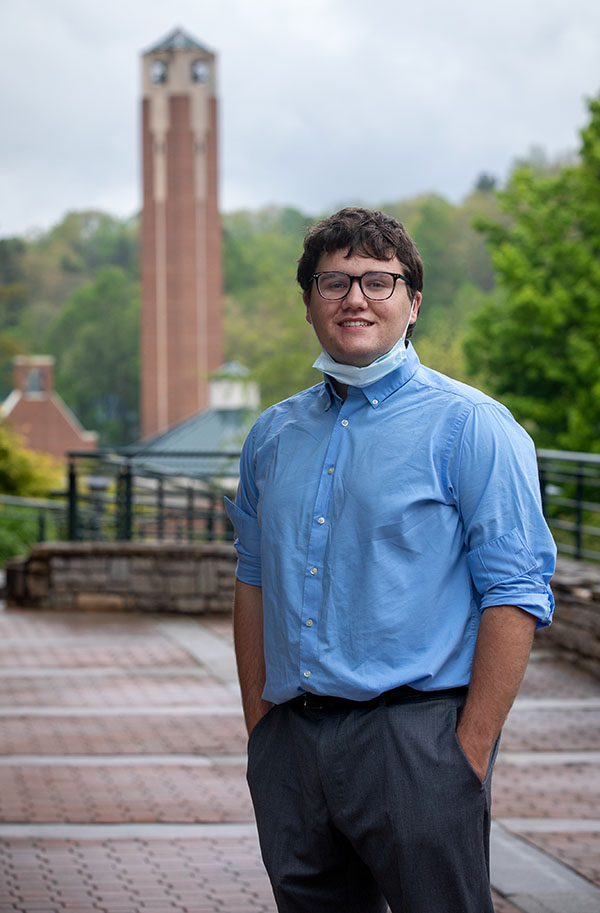 Posted May 28, 2020 at 3:53 p.m.
In rain, sleet, snow or sand, Moss Brennan is dedicated to breaking news from wherever he is. This Appalachian State University senior, majoring in communication, journalism, has written news stories while riding in the back of a cab, while walking down the beach and while standing under a tree in a rainstorm — driven by passion to share stories and be a source of relevant news.
Brennan, who is from Durham, rose through the ranks at the university's student newspaper, The Appalachian, beginning as an opinion writer during his first year and moving up to news editor and then editor-in-chief as a junior.
He interned as a foreign desk reporter at The Washington Times after his sophomore year and has just begun a summer internship at The Virginian-Pilot as part of the Dow Jones News Fund (DJNF).
Brennan and Rachel Greenland, an Appalachian senior communication, journalism major from Greensboro, were two of the 79 graduate and undergraduate students selected nationwide to participate in internships at media organizations through the DJNF.
In this Q&A, Brennan shares stories from his internship in Washington, D.C., some of the highlights during his time at The Appalachian and the choices and experiences that have helped him define his career goals.
How did you end up as a communication, journalism major at Appalachian?

I've always loved to write and tell stories, but I didn't really know I wanted to do journalism until 10th grade. My family watched "Spotlight" — a movie about investigative journalism — and I realized that's what I wanted to do. In particular, my goal is to be a foreign correspondent and report from hot zones around the world. Not necessarily on the big story that everyone is reporting, but on the impacts of whatever is happening to people in that particular place.

When I first visited App State, I fell in love with the campus and the community. I picked up a copy of The Appalachian and thought it was a really good student newspaper and knew I wanted to write for them.

What was your most memorable moment writing for The Appalachian?

One of my most meaningful stories was actually one of my hardest and saddest. It was an in-depth piece on the student death protocol at App State.

Nora Smith '19, the editor-in-chief at the time, and I met with and interviewed Megan Hayes, Appalachian's associate vice chancellor and chief communications officer; J.J. Brown, vice chancellor of student affairs; Elisabeth Cavallaro, assistant director of wellness and prevention services and coordinator of student mental wellness; and Dr. Chris Hogan, director of Appalachian's Counseling and Psychological Services.

They gave us a lot of information and guided us on how to write about mental health in a way that does not sensationalize issues, as well as how to provide resources for readers who might be adversely affected by reading the story. I wanted to make sure my reporting didn't cause any harm to anyone and was careful to talk about that with all of my sources.

I interviewed people who had tough stories that were really difficult to hear. But afterward, someone from the counseling center told me they were going to use my article when they trained people. That was a great feeling because I want to help people and sometimes be a resource. That story showed me I had chosen the right major.

What was it like being editor-in-chief at The Appalachian during the outbreak of the COVID-19 pandemic?

It was nothing short of crazy. When the pandemic hit the U.S. over our spring break, I was in Florida and wrote the article about the University of North Carolina System extending spring break and moving to online classes on my phone while walking on an empty beach at dusk.

The first few days, a lot of my staff were on spring break and some didn't have great internet connection, so it was hard to coordinate. I wrote another story by dictating it to my friend while I was driving back to North Carolina.

I think we wrote close to 50 articles about the coronavirus in the first three weeks after it really hit. Our main goal was to report on what was happening at App State as well as be a news source for the community. I think we accomplished that and published some great stories.

I treated the pandemic like any other event I'd cover as a journalist — including the who, what, when, where, why and how. I think the experience made everyone on my staff better reporters, and all of the editors, including myself, better leaders. We had a lot of change in a short period of time. We had to stop our print paper and shift to all-online. We had a pretty stringent editing process and had to really communicate and work together to make sure everything was ready to be published.

Everyone was dealing with online classes, the threat of getting sick, moving out of dorms and all sorts of personal issues. But the work they did was incredible and I am so proud.

We couldn't have produced all the content without the hard work of the editors, especially the news editor, Jackie Park, who is now taking over as editor-in-chief. She did a great job and helped make all the coronavirus coverage possible.

Tell us about your internship at The Washington Times.

The adviser for The Appalachian, David Levy, introduced me to a program that led to the opportunity at The Washington Times. David had one of the biggest influences on me. While his weekly critiques of the paper were long and grueling, he made all of us on staff become better reporters.

During my internship, I worked on the foreign desk and wrote about Ukraine, Venezuela, Russia and many other countries, which meant I had to do a lot of research in a short period of time. I learned a lot about the world and got to interview different experts.

One of the highlights from that time was covering a protest/counter-protest between a far-right neo-fascist organization and an opposing group. I volunteered to cover it even though my editor was a bit worried, as those events can get violent. One of the protesters used a stick to knock my camera phone out of my hand, but I got a small taste of on-the-scene reporting, which is what I really want to do.

I also got to cover a naturalization ceremony at Mount Vernon on the Fourth of July. I wrote that story in an Uber on the way back to the Washington Monument, where President Donald Trump was giving a speech, then transcribed interviews under a tree in the rain to get the story sent.

What's next for you?

I was selected for the data journalism program by the Dow Jones News Fund and was assigned to the Virginian-Pilot. Due to the COVID-19 pandemic, I will work remotely and will most likely use Zoom to meet with editors and get my assignments for each week.

I think I'll learn more about enterprise stories — in-depth news stories that explore the forces shaping events — and working with data. I have a passion for investigative or long-form pieces, so I'm excited to work with data to make those stories.

After graduation, I hope to report on the military and become a foreign correspondent working wherever there is conflict or where stories need to be told.
What do you think?
Share your feedback on this story.
About the Department of Communication
One of seven departments housed in the College of Fine and Applied Arts, the Department of Communication at Appalachian State University focuses on preparing students to succeed in the varied fields within the communication industry. The department offers five majors – advertising, communication studies, electronic media/broadcasting, journalism and public relations – and a minor in communication studies. Graduates work in a wide range of positions in media, corporate, agency, government and nonprofit organizations. Learn more at https://communication.appstate.edu.
About the College of Fine and Applied Arts
Appalachian State University's College of Fine and Applied Arts is a dynamic and innovative group of seven academic departments, bringing together a variety of perspectives, experiences and real-world education to provide unique opportunities for student success. The college has more than 3,000 undergraduate and graduate majors. Its departments are Applied Design, Art, Communication, Military Science and Leadership, Sustainable Development, Sustainable Technology and the Built Environment, and Theatre and Dance. Learn more at https://faa.appstate.edu.
About Appalachian State University
As the premier public undergraduate institution in the Southeast, Appalachian State University prepares students to lead purposeful lives as global citizens who understand and engage their responsibilities in creating a sustainable future for all. The Appalachian Experience promotes a spirit of inclusion that brings people together in inspiring ways to acquire and create knowledge, to grow holistically, to act with passion and determination, and to embrace diversity and difference. Located in the Blue Ridge Mountains, Appalachian is one of 17 campuses in the University of North Carolina System. Appalachian enrolls nearly 21,000 students, has a low student-to-faculty ratio and offers more than 150 undergraduate and graduate majors.