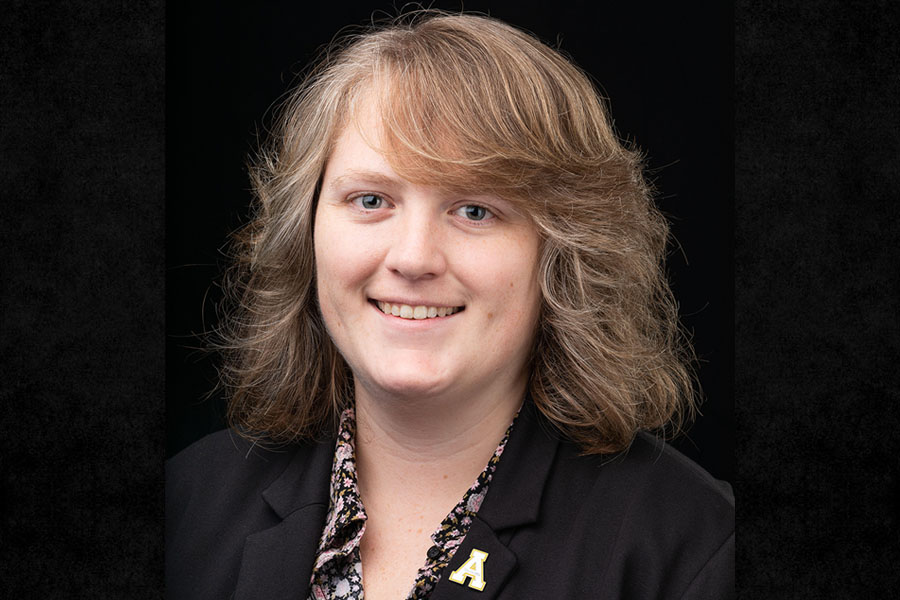 Rebecca Murray '14 '20
Academic adviser
James Center for Student Success and Advising
Staff Shout Out monthly drawing winner
Appalachian State University Staff Shout Out program
Posted May 29, 2020 at 4:22 p.m.
BOONE, N.C. — Appalachian State University's Staff Shout Out program has named the winner of its April drawing — Rebecca Murray '14 '20, an academic adviser for undergraduate teacher education students in the James Center for Student Success and Advising in Appalachian State University's Reich College of Education (RCOE).
Murray, who graduated from Appalachian in May with a Master of Arts in higher education with a concentration in community college and university leadership, is one of more than 2,000 Appalachian staff members who have been recognized to date for their Shout Out-worthy service to the university.
In her April Shout Out, given by Dr. Dionne Busio, assistant professor in RCOE's Department of Family and Child Studies, Murray was recognized for "going above and beyond" in advising students in Appalachian's child development, birth–kindergarten degree program.
"It has been a pleasure working with Rebecca this semester. Her desire to help every student is evident!" Busio said.
Of her Shout Out, Murray, who previously served as assistant director in the university's Office of Admissions, said, "It really means a lot when the work you do, that is often behind the scene, is recognized. It means even more coming from someone I respect and look up to. I love working with the birth-kindergarten program and am so grateful to be part of the James Center!"
The Staff Shout Out program, an informal recognition initiative created by Staff Senate's Staff Recognition Committee, aims to highlight Appalachian staff members for their positive contributions to the university. The committee works to improve employee engagement and encourage an environment of support and appreciation.
Examples of actions for which Appalachian staff members have received Shout Outs:
Going above and beyond to help a fellow co-worker or student.
Picking up trash on campus grounds just because.
Encouraging recycling among officemates.
Having an infectious positive attitude.
Taking initiative.
Helping a co-worker complete a task voluntarily.
Random acts of kindness.
Recipients of a Shout Out are notified the month following their nomination and receive a card detailing why they were nominated. Although this card is typically handwritten and delivered by a Staff Senate member, the program has suspended deliveries of cards amid the COVID-19 situation but continues to email the Shout Out details to both recipients and their supervisors. Each recipient is also entered into a monthly drawing for a gift from the University Bookstore.
Murray will receive a gift from the University Bookstore as part of her drawing prize, along with her handwritten Shout Out once COVID-19 stay-at-home orders are lifted and staff return to Appalachian's campus.
View a complete list of April Staff Shout Out recipients. For lists of Appalachian staff members who have received a Shout Out to date, visit https://staffsenate.appstate.edu/committees/staff-recognition.
What do you think?
Share your feedback on this story.
About the James Center for Student Success and Academic Advising
The James Center for Student Success and Advising at Appalachian State University, located in the Reich College of Education, works to recruit, advise and retain teacher education majors during their tenure at Appalachian to ensure success for a career in education. The center, which also provides professional development seminars for education majors, is home to the Appalachian Educators Club, two Residential Learning Communities — Appalachian Community of Education Scholars (ACES) and Transfer Educators — and the Educator Peer Ambassador program. It is named for Appalachian alumna Judy James, who earned her B.S. in elementary education in 1969, and her husband, Steve James. Learn more at https://jamescenter.appstate.edu.
About the Reich College of Education
Appalachian offers one of the largest undergraduate teacher preparation programs in North Carolina, graduating about 500 teachers a year. The Reich College of Education enrolls approximately 2,400 students in its bachelor's, master's, education specialist and doctoral degree programs. With so many teacher education graduates working in the state, there is at least one RCOE graduate teaching in every county in North Carolina. Learn more at https://rcoe.appstate.edu.
About Appalachian State University
As the premier public undergraduate institution in the state of North Carolina, Appalachian State University prepares students to lead purposeful lives as global citizens who understand and engage their responsibilities in creating a sustainable future for all. The Appalachian Experience promotes a spirit of inclusion that brings people together in inspiring ways to acquire and create knowledge, to grow holistically, to act with passion and determination, and to embrace diversity and difference. Located in the Blue Ridge Mountains, Appalachian is one of 17 campuses in the University of North Carolina System. Appalachian enrolls more than 20,000 students, has a low student-to-faculty ratio and offers more than 150 undergraduate and graduate majors.