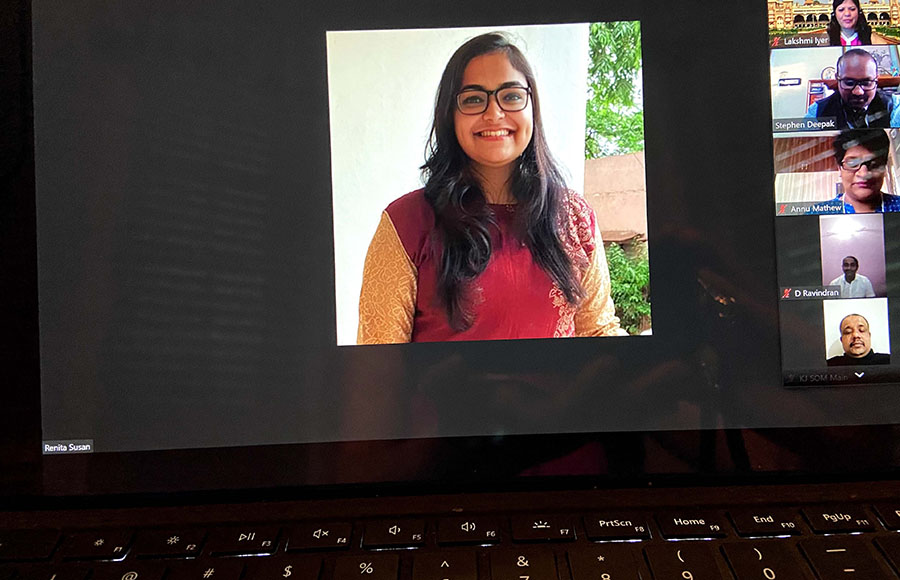 Posted June 2, 2020 at 3:17 p.m.
BOONE, N.C. — While a global pandemic kept most American citizens home, faculty in the Walker College of Business (WCOB) at Appalachian State University found a way to show students the world — while maintaining safe social distance — and also model a program that could open the study abroad experience to a much larger student population.
Because students could not travel, 14 Appalachian students and 12 students at Kristu Jayanti College (KJC) in Bengaluru, India, spent two weeks in May in virtual collaboration as part of the first faculty-led study abroad in this format.
With the support of their colleagues at KJC, Dr. Lakshmi Iyer, professor in WCOB's Department of Computer Information Systems and director of Appalachian's applied data analytics graduate program, and Dr. Dinesh Davé, professor in WCOB's Department of Marketing and Supply Chain Management and director of the university's supply chain management program, converted an in-person study abroad to India into a virtual learning experience.
Global learning during a pandemic
Starting May 11, with a combination of virtual meetings with business executives in India and lectures from KJC faculty, students tackled three case studies exploring the effects of COVID-19 on supply chain and logistics in India.
They also participated in the international 2020 Data Challenge, a competition organized by Teradata University for Academics in which student teams analyzed identical data sets and answered questions for the competition's chosen nonprofit partner, Taproot Foundation.
The students collaborated remotely via videoconference, email and the messaging platform WhatsApp to complete their work and make recommendations, which they presented to executives from sponsor companies at the program's conclusion.
"As future business professionals, our students used a virtual team environment to analyze and discuss a variety of business situations with their counterparts abroad," Davé said. "This process provides a great learning opportunity to students, especially when they are faced with environmental challenges, including a pandemic."
And the experience offered teachable moments through virtual challenges. Along with technical glitches, the students juggled differences in time zones, languages and diverse cultural expectations.
Davé and Iyer said making this opportunity possible for both sets of students strengthened the university's relationship with KJC.
"The KJC team has outdone themselves in their hospitality and effort by putting together a fantastic program with executive speakers, relevant studies and virtual tours to retain much of that experience online," Iyer said.
Broadening horizons virtually
Although the experience differs greatly from last summer's Appalachian–KJC program on the ground — when students experienced, in person, the sights and sounds of the bustling city of Bengaluru and saw a herd of elephants grazing in Thekkaddy, India — the virtual experience allowed students to connect with peers across the world and discuss problems from another's perspective.
"Hearing about business operations across the globe was thrilling," said Appalachian supply chain management major Matthew Scott, a senior from Huntersville. "I also enjoyed learning from the KJC students about their collegiate experiences — comparing and contrasting our daily lives."
Scott said his sessions included speakers in data analytics, human resources and supply chain management. His case study created a revised supply chain model to address impacts of COVID-19 on the pharmaceutical industry.
Creative solutions to challenges
Dr. Martin Meznar, who is associate dean for global and civic engagement in WCOB and who has hosted multiple travel abroad trips with students, said this flexibility in the face of changing circumstances gives hope for maintaining a strong level of global education, even in uncertain times.
This model, he said, provides a workable solution for what is a more enduring challenge — the affordability of international experience.
Meznar said the associated expense of international travel for Appalachian students, which averages around $4,000, is a deterrent to participation, even with supplemental financial aid and scholarships. And the pandemic-related loss of income and employment may affect an even larger group of students in the coming academic terms.
"A virtual alternative gives a broader range of students the chance to expand their perspectives," Meznar said.
Appalachian's Office of International Education and Development (OIED), which is responsible for spearheading the internationalization efforts at Appalachian, collaborated with Walker College in support of the college's efforts to innovate.
"We hope that faculty across campus can benefit from this model as we grapple with how to provide students international experiences in the age of COVID-19," said Mark Hagen, OIED assistant director of education abroad.
What do you think?
Share your feedback on this story.
About the Walker College of Business
The Walker College of Business at Appalachian State University delivers transformational educational experiences that prepare and inspire students to be ethical, innovative and engaged business leaders who positively impact our community, both locally and globally. The college places emphasis on international experiences, sustainable business practices, entrepreneurial programs and real-world applications with industry. Enrolling approximately 3,000 undergraduates in 10 majors and more than 180 graduate students in three master's programs, Walker College has the highest enrollment of full-time undergraduate students in the University of North Carolina System. Walker College is accredited by AACSB International — the premier global accrediting body for business schools. Learn more at https://business.appstate.edu.
About the Office of International Education and Development
The OIED is responsible for spearheading the internationalization efforts at Appalachian. The internationalization mission of Appalachian is to develop awareness, knowledge, appreciation and respect of cultural differences in both domestic and international contexts in its students, faculty, staff and the surrounding communities. The university is also dedicated to creating a campus environment that builds the theoretical and practical skills needed to interact effectively in a global society. Learn more at https://international.appstate.edu.
About Appalachian State University
As the premier public undergraduate institution in the Southeast, Appalachian State University prepares students to lead purposeful lives. App State is one of 17 campuses in the University of North Carolina System, with a national reputation for innovative teaching and opening access to a high-quality, affordable education for all. The university enrolls more than 21,000 students, has a low student-to-faculty ratio and offers more than 150 undergraduate and 80 graduate majors at its Boone and Hickory campuses and through App State Online. Learn more at https://www.appstate.edu.