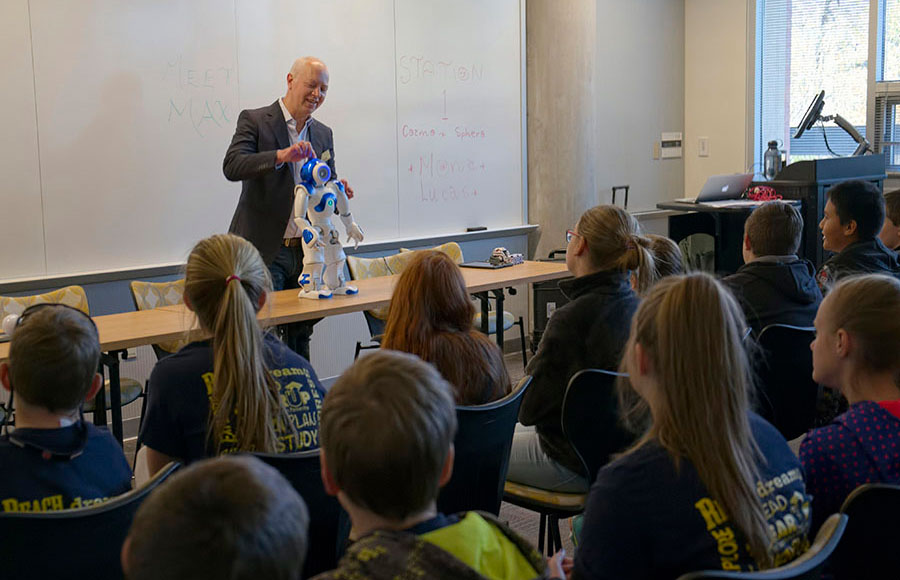 Posted June 2, 2020 at 1:46 p.m.
BOONE, N.C. — Instructional technology professor Dr. Paul Wallace said he joined the faculty at Appalachian State University because the university's Department of Leadership and Educational Studies is a leader and pioneer in immersive online environments.
His 2019–20 Fulbright scholarship in Russia, during which he was teaching and developing curriculum, was interrupted by the COVID-19 pandemic. However, his research into social robotics, telepresence and immersive environments continues and may have broader applications because of the pandemic.
Social robotics is a field that deals with robots that work together with people in industries such as education, health care, retail and therapy.
Wallace is exploring how online users interact with avatars that differ from their own ethnic or cultural backgrounds as well as the role avatars and virtual reality play in understanding a concept from an alternative point of view.
"I do research on social robots as tutors, looking at the emotional response and anxiety that people feel when working with and learning from humanoid robots. These types of robots will be very useful in schools, community centers, malls and other public places to educate about proper hygiene, use of masks and other ways of engaging the public about health and safety," Wallace explained.
Wallace said as social robots become more advanced in natural language processing, they will be used as tutors in schools, working one-on-one with students. For instance, Wallace has created a prototype robot for use as a conversation partner in the foreign language classroom, which was funded by a 2017 Chancellor's Innovation Scholars Program grant. View the prototype.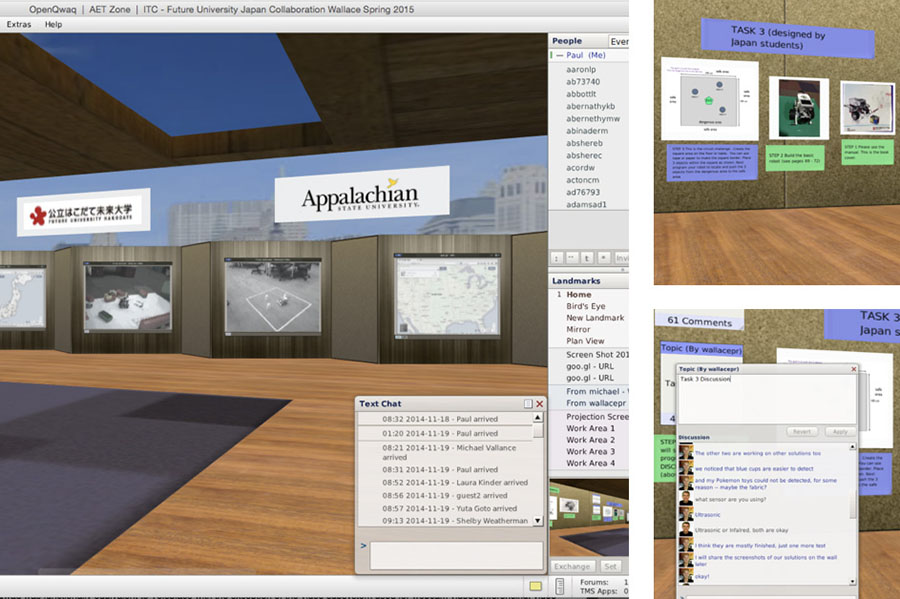 Telepresence robots allow a user to operate a machine in order to be present in another location. Most of these include some form of wheels, so the robot can move about a physical space, and a tablet or screen to display the live video capture of the operator — "think of this as a videoconference where you can move around in another space," Wallace said.
"Over the next few years, this will be very useful for students who are not able to attend school physically to be present in the classroom, as they can operate a telepresence robot from their laptop or mobile device at home, display their webcam on the screen and move around the classroom or school building," Wallace explained.
Wallace has been using telepresence robots in his RCOE courses for several years, allowing students from Future University Hakodate in Japan to interact and work with his students on collaborative tasks.
Synchronous vs. Asynchronous
Immersive environments, in which participants use avatars to represent themselves and meet together in 3D virtual spaces, provide options beyond videoconferencing for more engaging synchronous and asynchronous activities.
"Desktop video conferencing, such as Zoom, is very widely used at present but often is draining for both students and teachers. Online video conference course meetings are not the same as face-to-face meetings and should be used only sparingly," Wallace said.
According to Wallace, one benefit of immersive environments is the persistence of learning materials within these spaces.
Wallace provided this example: "Within an immersive meeting space resembling a room, the instructor can place resources such as web links, documents, charts, video tutorials and interviews within media panels on the walls of the 3D space, whereby students can visit and interact with the content at any time."
Immersive environments Wallace uses for his course at Appalachian, including LearnBrite, allow him to create "bots" — avatars that can interact with students based on programmed responses and branches — to develop real-life scenarios and game-like learning experiences.
What do you think?
Share your feedback on this story.
Synchronous vs. Asynchronous
About the Department of Leadership and Educational Studies
The Department of Leadership and Educational Studies at Appalachian State University prepares traditional and nontraditional students to assume educational leadership roles in community colleges, universities, public schools, public libraries and related educational settings through active scholarship, reflection, professional discourse and interdisciplinary programs of study based on the integration of theory and practice. The department, housed in App State's Reich College of Education, offers a doctoral program in educational leadership, as well as support courses in educational foundations and research. Learn more at https://les.appstate.edu.
About the Reich College of Education
Appalachian State University offers one of the largest undergraduate teacher preparation programs in North Carolina, graduating about 500 teachers a year. The Reich College of Education enrolls more than 2,000 students in its bachelor's, master's, education specialist and doctoral degree programs. With so many teacher education graduates working in the state, there is at least one RCOE graduate teaching in every county in North Carolina. Learn more at https://rcoe.appstate.edu.
About Appalachian State University
As the premier public undergraduate institution in the Southeast, Appalachian State University prepares students to lead purposeful lives. App State is one of 17 campuses in the University of North Carolina System, with a national reputation for innovative teaching and opening access to a high-quality, affordable education for all. The university enrolls more than 21,000 students, has a low student-to-faculty ratio and offers more than 150 undergraduate and 80 graduate majors at its Boone and Hickory campuses and through App State Online. Learn more at https://www.appstate.edu.