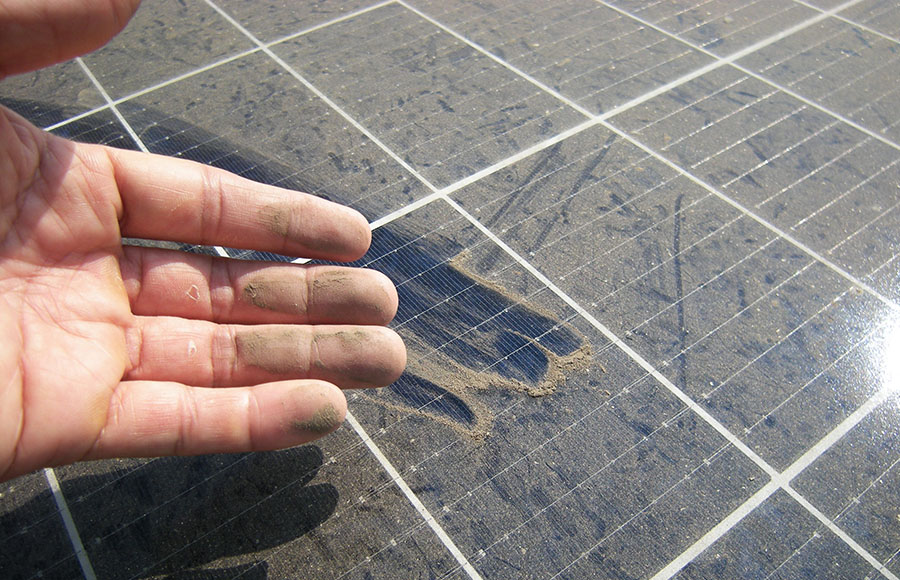 Posted June 8, 2020 at 9:40 a.m.
BOONE, N.C. — For photovoltaic (PV) panels, which convert sunlight into clean, renewable energy, what's on their surface matters — a layer of dust and/or dirt buildup could lead to significant decreases in both annual energy yield and revenue for PV power plants, according to Dr. Jaewon Oh, assistant professor in Appalachian State University's Department of Sustainable Technology and the Built Environment (STBE).
Oh received $5,000 in grant funding from Oak Ridge Associated Universities (ORAU) as part of its Ralph E. Powe Junior Faculty Enhancement Awards Program and $5,000 in matching funds from Appalachian to analyze the soiling loss of a PV power plant in North Carolina using a soiling monitoring station developed by the Arizona State University Photovoltaic Reliability Laboratory (ASU-PRL). Soiling loss refers to the loss of energy resulting from dirt, dust, pollen or other particles covering a PV module's surface.
Oh said he plans to install the soiling monitoring station at the plant during the fall semester and hopes to include his students as part of the process.
Additionally, Oh partnered with ASU-PRL members to compare the results of the analysis with the soiling loss analyses of five other PV power plants across the U.S. The Appalachian–ASU-PRL research team also evaluated the soling loss of PV modules (or solar panels) coated with commercial anti-soiling material.
In the U.S., soiling causes up to a 7% reduction of a PV system's annual energy yield, according to Oh. "This is a significant number for utility-scale PV system owners because revenue scales directly with energy yield," he said.
"Solar photovoltaic (PV) energy has been growing rapidly over the last few years in the United States. Among the various PV applications, utility-scale PV systems, also known as PV power plants or solar farms, have become a major PV industry sector in the U.S.," Oh explained. "In a utility-scale PV system, several tens of thousands of glass-covered PV modules are deployed."
Oh explained PV soiling causes a decrease of sunlight reaching the solar cell and, therefore, a decrease in PV power output, which is typically measured using a dedicated soiling monitoring station. However, only one data monitoring system for soiling loss currently exists in North Carolina, although the state is ranked No. 2 for installed PV capacity in the U.S., he said.
To mitigate soiling losses, several methods have been used in the PV industry, including a recently developed method that involves applying an anti-soiling coating on the PV module glass, Oh said.
"This method remarkably reduces time and cost in cleaning PV modules in power plants since it does not require regular cleaning. However, this passive method has not been well verified in a real PV power plant," Oh said.
The data collected through the analyses will be useful to system owners, PV operations and maintenance companies, PV engineering, procurement and construction companies, PV system designers and researchers in order for them to assess the PV system performance correctly.
The Appalachian–ASU-PRL research, which began in May 2019, will conclude in October.
What do you think?
Share your feedback on this story.
About the Department of Sustainable Technology and the Built Environment
One of seven departments housed in the College of Fine and Applied Arts, the Department of Sustainable Technology and the Built Environment at Appalachian State University features an integrated array of programs spanning the fields of sustainable design and technology. Its mission is to foster a strong and vibrant culture of inquiry, discovery and innovation that integrates theory with application, problem seeking with problem-solving, local issues with global perspectives and technological progress with environmental stewardship. It offers bachelor's degrees in sustainable technology and building science, and a master's degree in technology. Learn more at https://stbe.appstate.edu.
About the College of Fine and Applied Arts
Appalachian State University's College of Fine and Applied Arts is a dynamic and innovative group of seven academic departments, bringing together a variety of perspectives, experiences and real-world education to provide unique opportunities for student success. The college has more than 3,000 undergraduate and graduate majors. Its departments are Applied Design, Art, Communication, Military Science and Leadership, Sustainable Development, Sustainable Technology and the Built Environment, and Theatre and Dance. Learn more at https://faa.appstate.edu.
About Appalachian State University
As the premier public undergraduate institution in the Southeast, Appalachian State University prepares students to lead purposeful lives as global citizens who understand and engage their responsibilities in creating a sustainable future for all. The Appalachian Experience promotes a spirit of inclusion that brings people together in inspiring ways to acquire and create knowledge, to grow holistically, to act with passion and determination, and to embrace diversity and difference. Located in the Blue Ridge Mountains, Appalachian is one of 17 campuses in the University of North Carolina System. Appalachian enrolls nearly 21,000 students, has a low student-to-faculty ratio and offers more than 150 undergraduate and graduate majors.