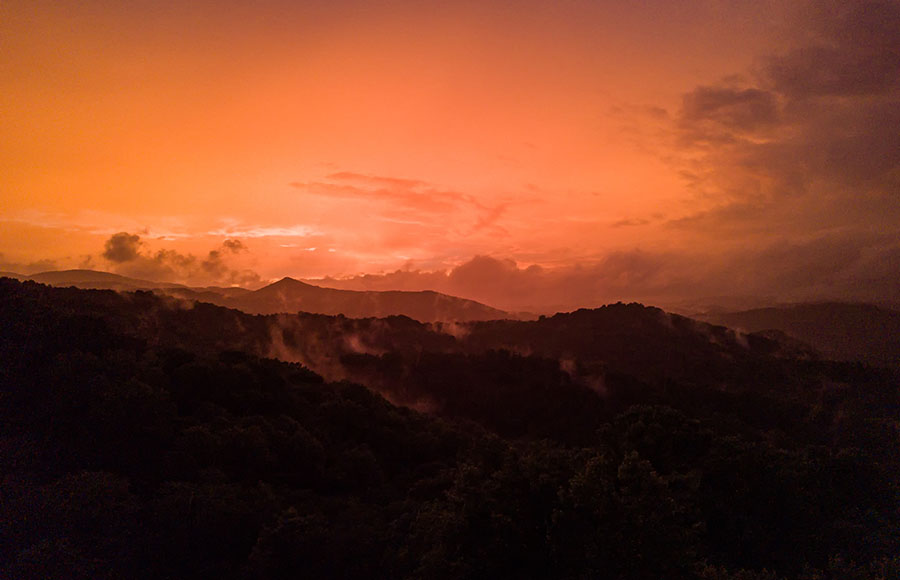 Posted June 26, 2020 at 3:06 p.m.
BOONE, N.C. — A sweeping plume of dust — traveling 5,000 miles from the Sahara Desert to the U.S. — will offer an unexpected bright spot for the High Country, along with an opportunity for university researchers at Appalachian Atmospheric Interdisciplinary Research (AppalAIR), this weekend and into early next week.
According to CNN, though it is common for dust from the African desert to move across the Atlantic Ocean to the U.S., this storm is the largest of its kind in more than five decades — and with it comes stunning sunscapes and potential health risks.
While much is known about these dust plumes, Dr. Bob Swarthout, an assistant professor who holds dual appointments in Appalachian's A.R. Smith Department of Chemistry and Fermentation Sciences and Department of Geological and Environmental Sciences, said there is "still uncertainty about the mineral composition and size of Saharan dust particles transported to the U.S. and how much they contribute to air quality decreases."
This uncertainty presents opportunities for researchers like Dr. James Sherman, a professor in Appalachian's Department of Physics and Astronomy, to contribute to the growing knowledge base.
Sherman serves as senior research scientist at AppalAIR, where he manages National Oceanic and Atmospheric Administration (NOAA) and National Aeronautics and Space Administration (NASA) atmospheric monitoring sites. There, he and his research students from Appalachian study the effects of atmospheric aerosols — haze, smoke and dust — on climate change in the Southeast. AppalAIR's field sites on Appalachian's campus will be continuously monitoring and measuring the dust storm.
"The unique capabilities of the collocated NASA/NOAA sites at Appalachian should provide quantitative information on the amount of dust, how high up it is in the atmosphere and its effect on sunlight, visibility and air quality," Sherman said.
Sherman added that the NOAA and NASA sites at Appalachian have been acquiring data continuously for more than a decade. "App State is one of only two locations in the U.S. with such a suite of instruments and the only one relying exclusively on students for help with operations," he said.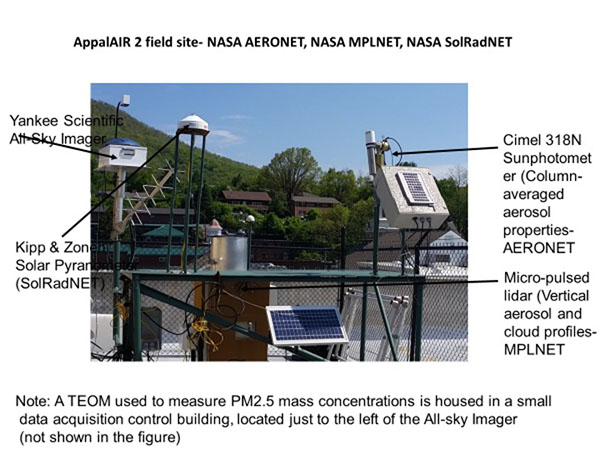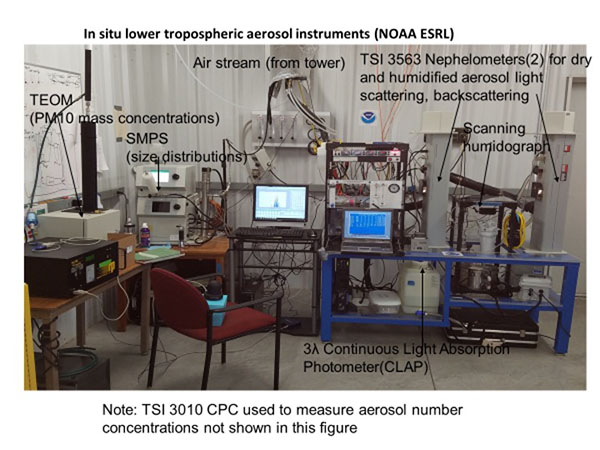 What effects can the High Country expect from the dust storm?
Swarthout said there are several positive effects of this dust storm. For instance, the dust will scatter more light than is normally scattered in the atmosphere, which will produce "strikingly red sunsets and sunrises" from Saturday night to Sunday.
Additionally, Swarthout said the formation of tropical storms and hurricanes will be disrupted during the dust storm because "the dust is highly reflective compared to the surface of the ocean, so it blocks and reflects incoming sunlight, cooling the air and water."
The dust plume also has the potential to present health considerations related to air quality.
"We are primarily concerned with exposure to the very smallest particles — those less than 10 micrometers in diameter and especially those smaller than 2.5 micrometers in diameter," Swarthout said. "These are the size classes of particles that are associated with increases in respiratory problems and increased incidence of heart problems."
According to Swarthout, reports from monitoring stations in the Caribbean have shown particle concentrations at the heart of the plume that are considered "hazardous" to all people.
Though the concentrations of particles will be diluted before reaching the High Country, Swarthout advised the area will probably see "concentrations considered to be unhealthy or unhealthy for sensitive groups" by Environmental Protection Agency standards.
What do you think?
Share your feedback on this story.
Instrument sites that will be used to capture data during the dust plume
About the A.R. Smith Department of Chemistry and Fermentation Sciences
The A.R. Smith Department of Chemistry and Fermentation Sciences offers a Bachelor of Arts in chemistry, a Bachelor of Science in chemistry with eight different concentrations and an interdisciplinary Bachelor of Science degree in fermentation sciences. The department's programs prepare students to attend graduate and professional schools, as well as for employment in the pharmaceutical and fermentation industries and other business sectors. Learn more at https://dcfs.appstate.edu.
About the Department of Physics and Astronomy
The Department of Physics and Astronomy's curriculum has an applied nature that includes a core of fundamental physics courses and laboratory experiences. The department prepares graduates for a variety of scientific, teaching or engineering professions, as well as future educational endeavors. Learn more at https://physics.appstate.edu.
About the Department of Geological and Environmental Sciences
Located in Western North Carolina, Appalachian State University provides the perfect setting to study geological and environmental sciences. The Department of Geological and Environmental Sciences provides students with a solid foundation on which to prepare for graduate school or build successful careers as scientists, consultants and secondary education teachers. The department offers six degree options in geology and two degree options in environmental science. Learn more at https://earth.appstate.edu.
About the College of Arts and Sciences
The College of Arts and Sciences (CAS) at Appalachian State University is home to 17 academic departments, two centers and one residential college. These units span the humanities and the social, mathematical and natural sciences. CAS aims to develop a distinctive identity built upon our university's strengths, traditions and unique location. The college's values lie not only in service to the university and local community, but through inspiring, training, educating and sustaining the development of its students as global citizens. More than 6,400 student majors are enrolled in the college. As the college is also largely responsible for implementing App State's general education curriculum, it is heavily involved in the education of all students at the university, including those pursuing majors in other colleges. Learn more at https://cas.appstate.edu.
About Appalachian State University
As the premier public undergraduate institution in the Southeast, Appalachian State University prepares students to lead purposeful lives as global citizens who understand and engage their responsibilities in creating a sustainable future for all. The Appalachian Experience promotes a spirit of inclusion that brings people together in inspiring ways to acquire and create knowledge, to grow holistically, to act with passion and determination, and to embrace diversity and difference. Located in the Blue Ridge Mountains, Appalachian is one of 17 campuses in the University of North Carolina System. Appalachian enrolls nearly 21,000 students, has a low student-to-faculty ratio and offers more than 150 undergraduate and graduate majors.