Posted July 13, 2020 at 1:26 p.m.
BOONE, N.C. — More than 100 people, and a likeness of the late Mildred the Bear, recently gathered for a virtual send-off of one of Appalachian State University's longest-serving leaders. Dr. Randy Edwards '77 '78 is retiring after 37 years of service.
Former students, colleagues and friends spoke of their gratitude and respect for the man they said has been a generous and caring leader, mentor and faculty member — and who, throughout his career, has maintained a deep passion for supporting students.
"Randy has touched many lives in his decades at Appalachian," Chancellor Sheri Everts said during the event. "As I have worked with and learned about Randy, personally and professionally, over the last six years, I have been repeatedly inspired by his deep, unwavering belief in the mission of Appalachian. He has used that drive to elevate our university at every turn."
She continued, "To so many, including me, his balanced leadership style, broad institutional knowledge and business acumen make him a highly effective colleague. His compassion, generosity and pragmatism make him a valued friend."
The Appalachian Alumni and University Advancement websites hosted a live tagboard — an online platform that aggregates and displays comments on a certain topic — on which dozens of friends, colleagues and former students added kind messages.
Gifts and a catered meal from Appalachian's Campus Dining were brought to the front door of his home, where Edwards and his wife, Margaret Edwards '79, engaged with well-wishers through videoconferencing — with lots of laughter, smiles and a few happy tears.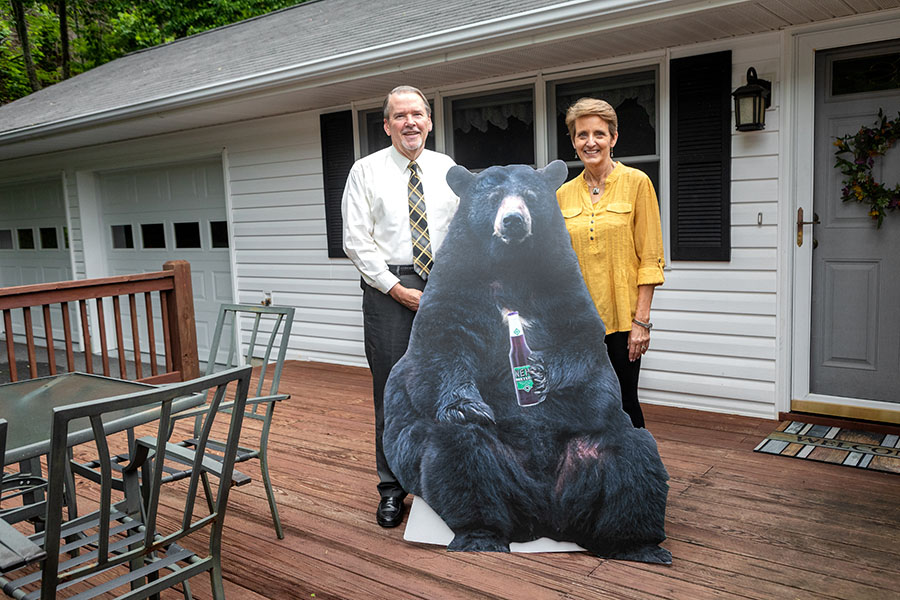 Among the gifts was a poster of Mildred the Bear, the longtime mascot of Grandfather Mountain, holding a bottle of soda. The gift acknowledged Randy Edwards' earliest career in the High Country — that of "bearkeeper" at Grandfather Mountain, where Edwards worked while a student at Appalachian.
The photo of Mildred used for the poster was taken by the late Hugh Morton and digitally enhanced with the addition of a soda bottle. Grape soda was said to be one of Mildred's favorite drinks and a successful method of Edwards' to coax her from her den for public appearances.
Edwards' legacy
A first-generation college student who earned two accounting degrees from Appalachian — a bachelor's in 1977 and a master's 1978, Edwards has served in a number of leadership roles. He joined the Department of Accounting faculty in 1981 and served as the department's chair for 13 years before serving as dean of the Walker College of Business (WCOB) for nine years. He later served as vice chancellor and chief of staff and served as interim vice chancellor and vice chancellor for university advancement since 2016.
"He certainly has a heart and concern for our students and their success. That will be his legacy," said Dr. Heather Hulburt Norris, interim provost and executive vice chancellor. A finance professor, she was part of Edwards' leadership team in the WCOB — first as assistant dean and later as senior associate dean and interim dean.
Recent graduates spoke of the support, friendship and sense of family Edwards created within the WCOB.
Whitney Evans '10 told the virtual crowd how the Edwards and his wife attended her wedding and baby shower. "I loved being a Walker Fellow because I was so proud of the Walker College of Business and the staff and faculty I got to know personally, as well as the professional activities that prepared me well for my career and life," she said.
"You took me under your wing … you were there for the highs and lows … you helped an 18-year-old boy go from where he was to having a career and being able to provide for a family," said Boris Salvador Maldonado '16, of Greenville, South Carolina, a first-generation college student and scholarship recipient while at Appalachian. "That's a really beautiful thing to be known for. Thank you."
"I can't even count the number of Appalachian alumni I work with now, who all now have successful careers that in some way stem from something amazing you did," said Yesenia Olguin '15, of Charlotte. "Thank you for the passion and the great support you offered our school and our amazing college."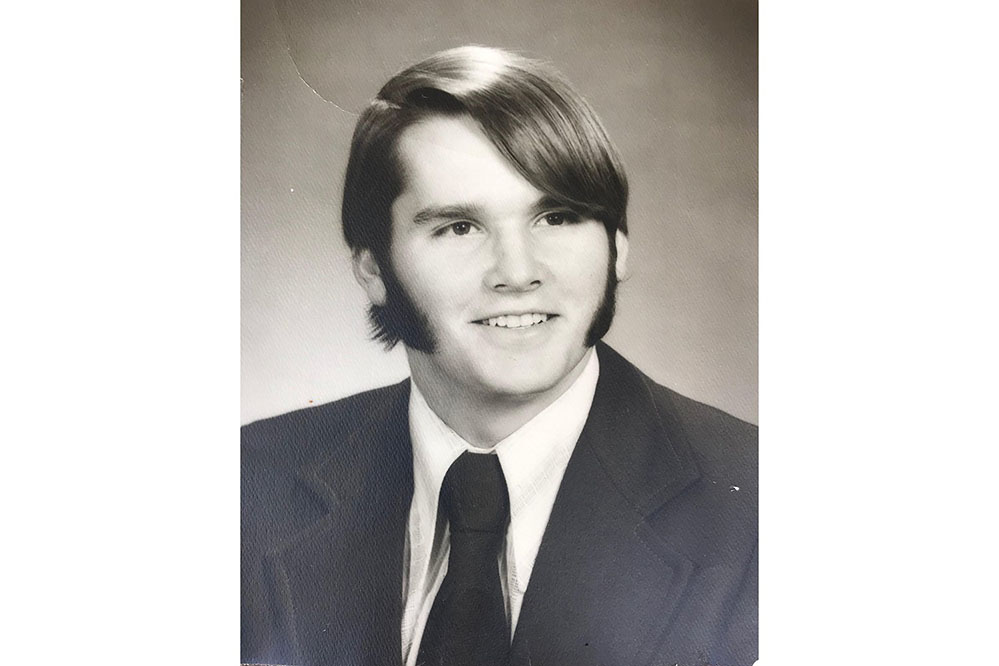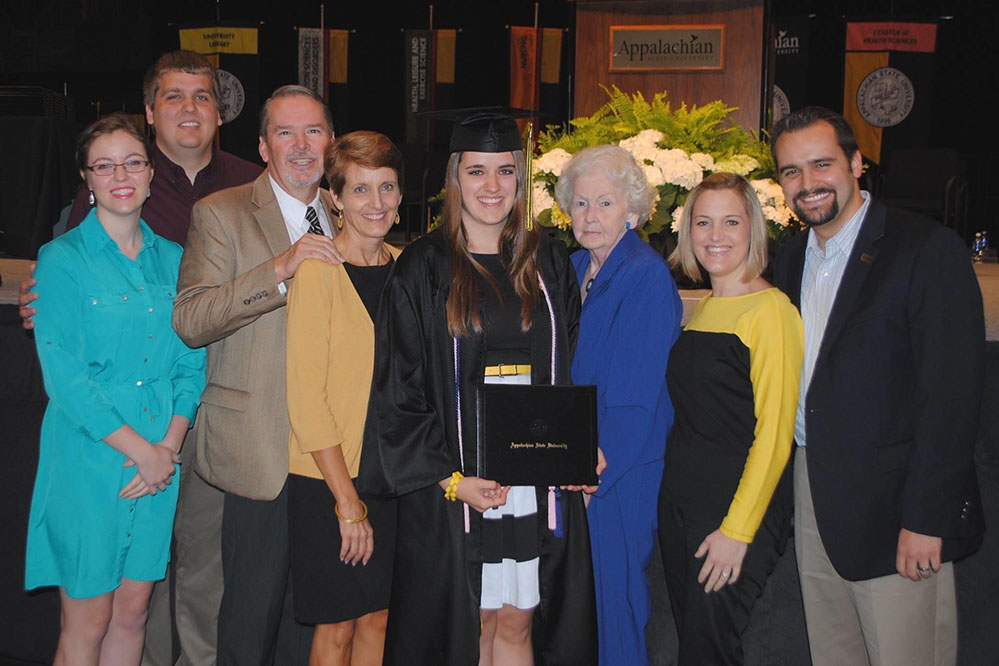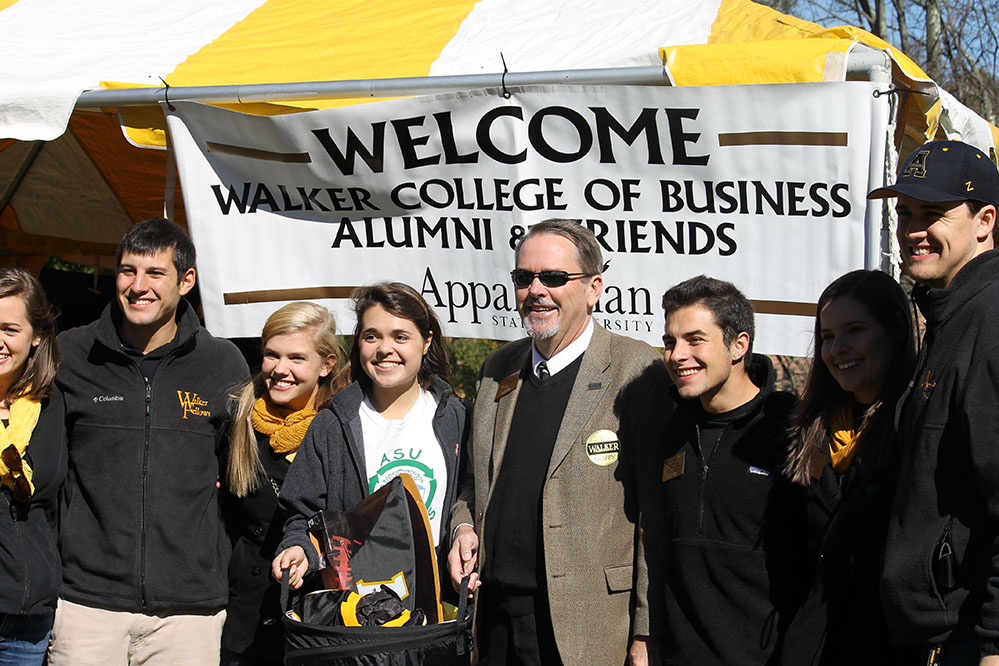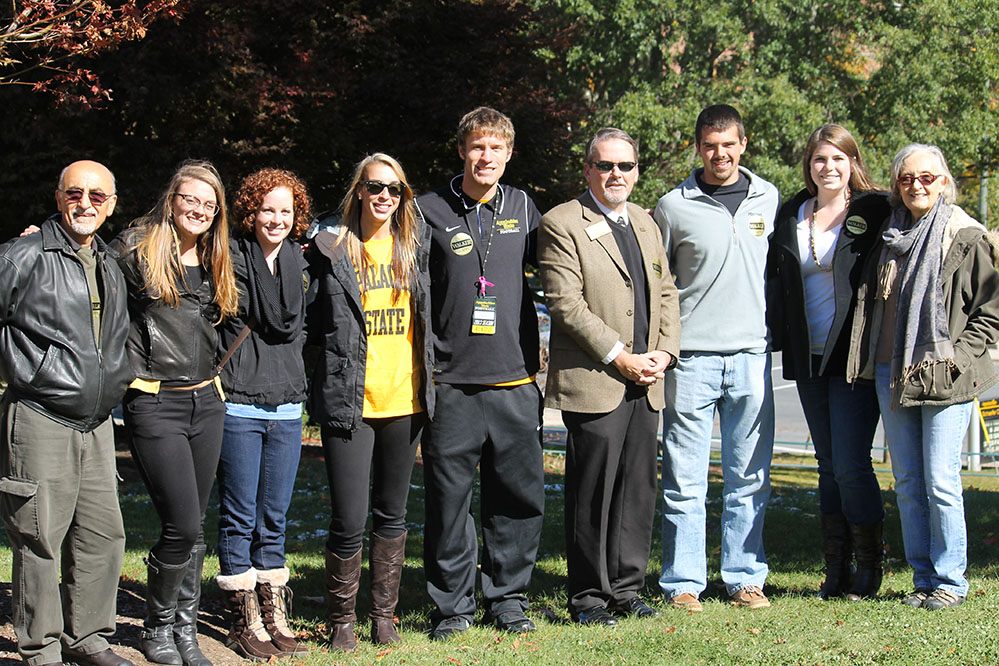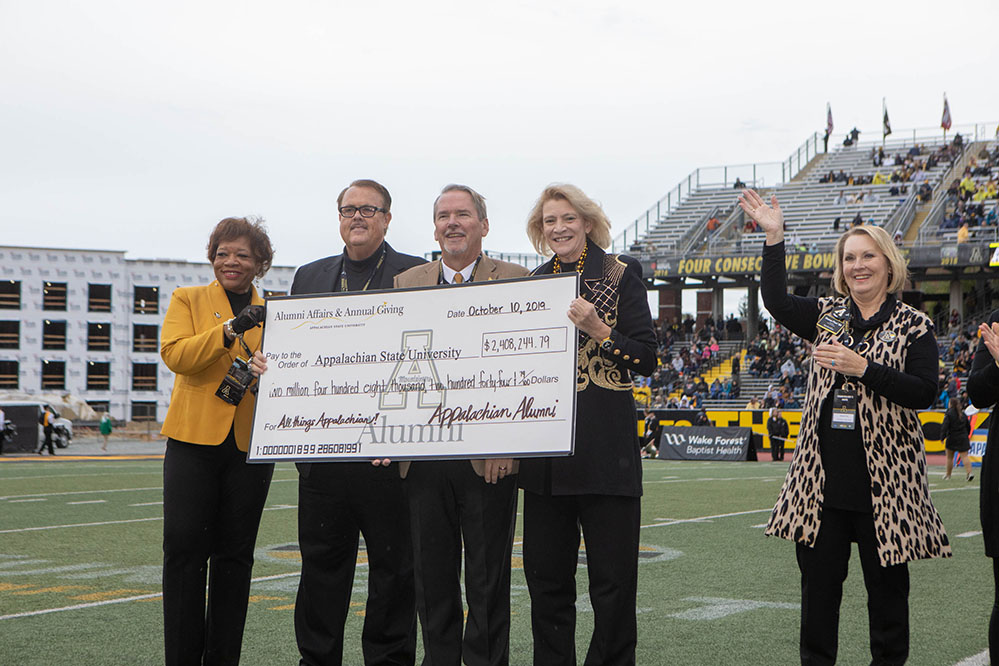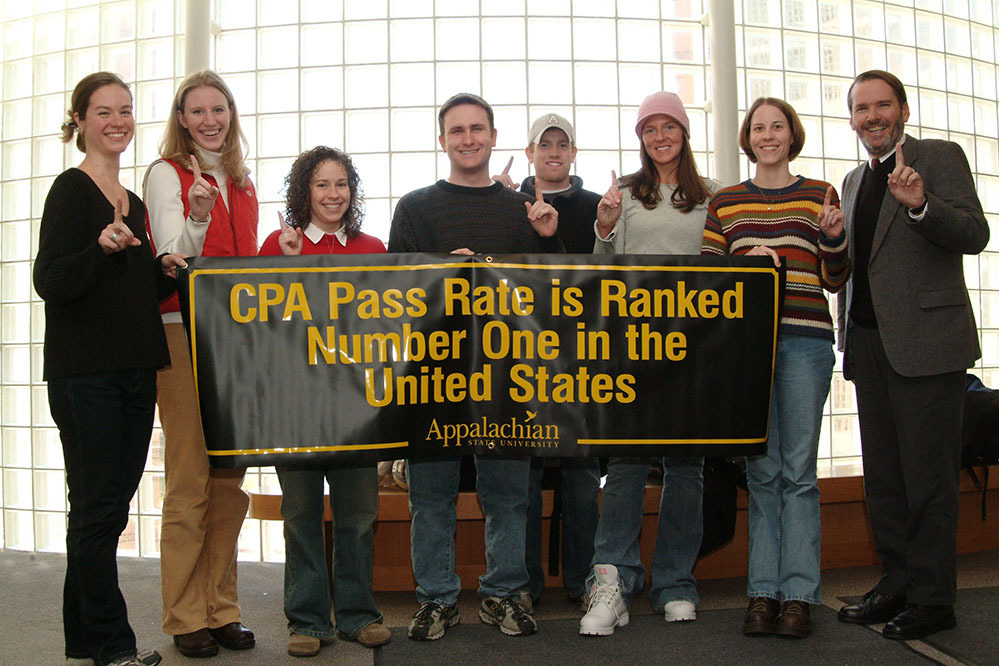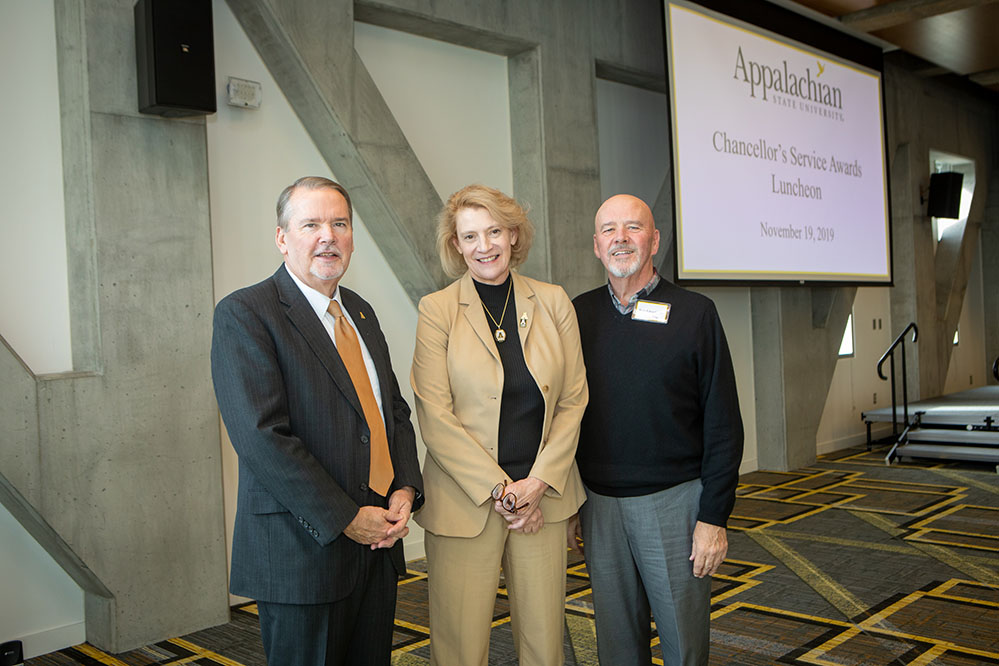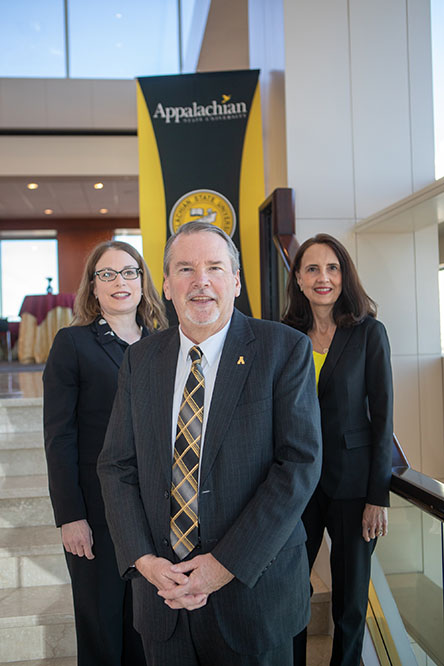 Edwards' accomplishments within the WCOB included development of Business Career Services, the BB&T Student Leadership Center and the Transportation Insight Center for Entrepreneurship. Edwards greatly enhanced scholarship support, especially for first-generation college applicants. He also helped many programs initiated by prior leadership thrive, including the Martha Guy Summer Institute, Holland Fellows, Bowden Investment Group and the Dean's Council of Student Advisors (replaced by the Walker Fellows).
As leader of the Division of University Advancement, Edwards was instrumental in securing $4 million in scholarship support through the Appalachian State University Foundation Inc. in the 2019–20 academic year and facilitating growth of the university's endowment fund from $68 million to $95 million in four years, shared Geoff Graham, assistant vice chancellor of gift planning and real estate management.
"We thank him for the positive impact he's had on our university," Graham said at the event.
The Council for Advancement and Support of Education (CASE), an international professional organization, recently selected Appalachian for a 2020 CASE Educational Fundraising Award for Overall Performance for demonstrating the highest levels of professionalism and best practice in fundraising.
Michael Steinback, whose children attended Appalachian and who served on numerous Appalachian boards and committees, praised Edwards for his "soft-spoken, wise temperament." Former scholarship recipient Dr. Brandy Handley '09 '11, now an assistant professor in the WCOB's Department of Finance, Banking and Insurance, thanked Edwards for his "selfless service" in supporting the life and career aspirations of her and other students.
Former students James K. Reaves '93, Scott Lampe '94 and Phil Ostwalt '83 spoke of his familial nature and attention to their learning and personal development. Reaves and Lampe both serve on Appalachian's Board of Trustees and Ostwalt serves on the Appalachian State University Foundation Board of Directors.
Richard Sparks '76 '78, retired president of Watauga Medical Center Inc. who serves on the WCOB Advisory Council, said following the 2008 recession, when employment opportunities for recent graduates dipped, Edwards "became passionate that we were responsible for helping students find their path" and raised additional funds for the WCOB to support career development for students and alumni.
Recently, in response to COVID-19, Edwards' leadership helped create the Mountaineer Emergency Fund for students experiencing significant and sudden financial challenges. As of July 10, the Mountaineer Emergency Fund had awarded $437,752.67 to 979 students.
Edwards will stay on at Appalachian as part-time senior director of development.
What do you think?
Share your feedback on this story.
About University Advancement
Appalachian State University's Division of University Advancement supports and encourages the university's mission by engaging alumni, friends and the greater community. University Advancement staff help connect these constituents with Appalachian through one-on-one contact and special programming, thereby securing the resources necessary to create the best possible learning environment for Appalachian students and to positively impact the community, region and state. The division incorporates the offices of Alumni Affairs, Development and the Appalachian State University Foundation Inc. Learn more at http://give.appstate.edu.
About the Walker College of Business
The Walker College of Business at Appalachian State University delivers transformational educational experiences that prepare and inspire students to be ethical, innovative and engaged business leaders who positively impact our community, both locally and globally. The college places emphasis on international experiences, sustainable business practices, entrepreneurial programs and real-world applications with industry. Enrolling approximately 3,000 undergraduates in 10 majors and 175 graduate students in three master's programs, the Walker College is accredited by AACSB International – the premier global accrediting body for schools of business. Learn more at https://business.appstate.edu.
About Appalachian State University
As the premier public undergraduate institution in the Southeast, Appalachian State University prepares students to lead purposeful lives as global citizens who understand and engage their responsibilities in creating a sustainable future for all. The Appalachian Experience promotes a spirit of inclusion that brings people together in inspiring ways to acquire and create knowledge, to grow holistically, to act with passion and determination, and to embrace diversity and difference. Located in the Blue Ridge Mountains, Appalachian is one of 17 campuses in the University of North Carolina System. Appalachian enrolls nearly 21,000 students, has a low student-to-faculty ratio and offers more than 150 undergraduate and graduate majors.